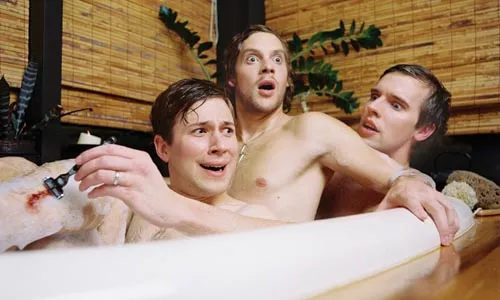 Menomena's Justin Harris recalls his initial reaction to learning that the trio's self-released debut, I Am the Fun Blame Monster, had received a glowing review from Pitchfork.
"A friend from school said, 'Great review on Pitchfork,'" Harris says. "And I was like, 'What's that?' At that point, I had no idea what it was, much less what impact it could have on anything. I read it and right after that review ran, overnight, there were all these orders for our album, which we'd been making by hand and distributing ourselves, so it was like, 'OK, I guess this Web site does have some sort of pull.'"
Pitchfork is also raving about the trio's latest effort, Friend and Foe, proclaiming it the first great indie-rock record of the new year. Which, back in January, it probably was. Hailing from the willfully eccentric side of indie-pop, the trio spends its latest effort navigating constantly evolving art-rock soundscapes without losing sight of the melody. At times the record recalls early Genesis, if Peter Gabriel had been more into tape loops; "Boyscout'n" features a solid contender for best whistling solo since Gabriel's classic "Games Without Frontiers."
Harris sees a connection between the sound of Friend and Foe and old-school art-rock, "if you're talking about Led Zeppelin, Pink Floyd and T. Rex -- my three favorite bands of all time. I mean, we're not trying to replicate that era. Not like Wolfmother or something. But there are no new ideas, right? It's all recycled."
One common reaction to the trio's adventures in sound has been to label their textured loop-based sound collage and traditional pop sensibilities "experimental." Even Menomena's label, Barsuk, did it in press materials for Friend and Foe. But Harris isn't sure the label fits.
"I don't even know what experimental music is anymore," he admits, with a laugh. "But apparently, we're it. When I describe what our music is, I usually just give the instrumentation. I try to let people figure it out based on that. To me, our sound is kind of a jumbled mix of all of our different tastes. There's definitely a Menomena sound."
Then, with another laugh, he adds, "It's that experimental sound that everybody's talking about."
Menomena with Field Music and Land of Talk. 8 p.m. Thu., March 22. Lawrenceville Moose, 120 51st Street, Lawrenceville. 412-361-2262