Everybody dies, and during some eras, death played out differently than it does now. On Tue., Sept. 17, the Frick Pittsburgh will examine one such era with
Memory and Mourning: Death in the Gilded Age
, a tour exploring period-specific grief.
Created to commemorate the 100th anniversary of the death of the museum's namesake, industrialist Henry Clay Frick, the guided, one-hour tour takes visitors through the Clayton, the Frick family's historic home, and uses various archival materials to demonstrate what a press release describes as Gilded Age "social customs and rituals related to sentiment, grief and memory," as well as to "provide an intimate view of the family's bereavement."
Among the items on view will be letters, telegrams, illustrations, photographs, jewelry, and clothing.
Frick Pittsburgh associate curator of decorative arts, Dawn Brean, develops the thematic tours of the Clayton, and says
Memory and Mourning
will reflect on Frick's life and legacy "a bit more deeply."
In 1919, Frick died of a heart attack and was buried in Pittsburgh's Homewood Cemetery, leaving behind a complicated trail of influence that included major charitable contributions along with connections to the deadly Homestead labor strike and the devastating Johnstown flood of 1889.
Brean says the tour is also an opportunity to investigate the perceptions of "death, mourning, and sentiment" at the turn of the 20th century.
"Death was a more commonplace reality for people living during the Victorian era in America," says Brean, adding that Frick and his wife, Adelaide, lost two of their four children.
In the Gilded Age — the period between the 1870s and the turn of the 20th century — millions of people in the United States died from poverty, poor working conditions, or outbreaks of smallpox, typhoid, malaria, yellow fever, cholera, and tuberculosis. This era occurred right after the American Civil War, which saw the deaths of approximately 618,000 soldiers.
But as Brean points out, death practices at that time came with more expectations compared to modern standards.
"There was a strict code of etiquette that governed social behavior and this included how to properly grieve a loved one," says Brean. "Mourning was a public, highly visible ritual compared to today."
Some rituals may now seem macabre or extreme by comparison. For example, wreaths woven from the hair of the deceased were often displayed and widows wore black for up to two years after the death of their husbands.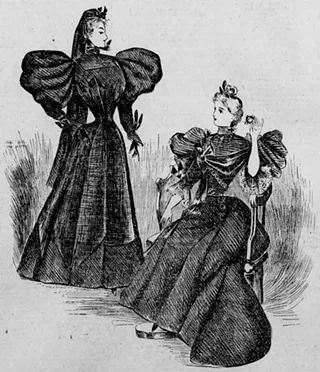 Besides the loss of two children, the possibility of death closely followed the Frick family throughout their lives. In 1892, Frick survived an assassination attempt that resulted in two serious bullet wounds. As the story goes, he survived, recovered, and was back to work within days. He and his wife Adelaide also canceled a trip on the maiden voyage of the RMS
Titanic
and, well, we all know how that went.
When it finally did happen, the death of Frick was met with mixed reactions. One account provided by PBS'
American Experience
describes how, upon learning of Frick's demise, Russian-born political activist and anarchist leader Alexander Berkman, who was about to be deported from the U.S., replied that Frick had been, "deported by God," adding, "I'm glad he left the country before me."
On the other hand, a
New York Times
obituary printed on Dec. 3, 1919 read, "News of his death was heard in Wall Street with many expressions of regret." The obit also outlined how a "quiet funeral service" was to be held in Frick's New York City home before his remains were placed aboard his private rail car and taken to Pittsburgh, where the burial would take place.
Regardless of your feelings towards Frick's legacy, Brean says the tour focuses more on a subject that, at one point or another, affects everyone.
"This tour is less about death and more about how the living honored and memorialized their loved ones and how they found comfort within their grief," says Brean. "It's been a fascinating and heartbreaking topic to research, but one I think visitors will really connect with."
Tours will be offered daily at 11 a.m., 1 p.m., and 3 p.m., and will run through Nov. 10, 2019.
Memory and Mourning: Death in the Gilded Age
at The Frick Pittsburgh.
Sept. 17-Nov. 10. 7227 Reynolds St., Point Breeze. $8-15. Free for Frick members. thefrickpittsburgh.org