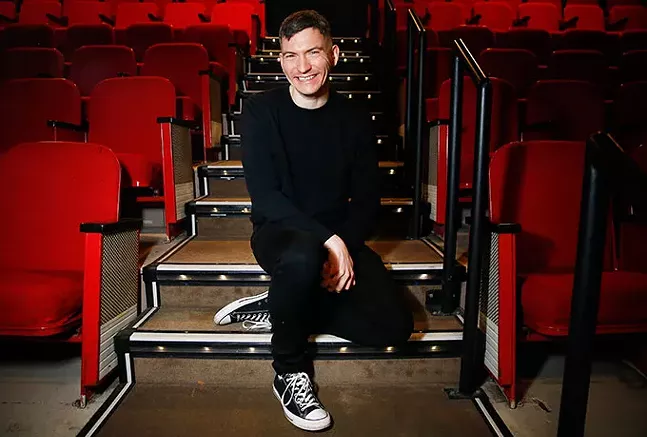 What does a senior producer do?
I work between the institution and artists to realize what happens on the stage and support artists through programs that are not necessarily performance-oriented, working with artists in all capacities throughout the institution. We do all sorts of performances, both in our 350-seat theater and in the Dance Alloy Studios: musical concerts, theatrical productions, dance performances, symposiums, community events, neighborhood happy-hour programs, various opportunities for folks in the community to come together. I'm coordinating with all those artists and with our teams internally to work on communication for the event.
Are you putting the projects together with the artists, or are they coming in as finished works?
Sometimes we're working with national artists on works that might have been premiered elsewhere and are touring in. They might have a rider that we realize, or sometimes it's a straight-up rental that comes in ready to go.
Sometimes we're conceptualizing what the event is going to be. An artist might come in and say, "I have an idea," and we'll work with them to say, "What does that look like? How do we put that together?" For example, the Freshworks program is an application-based program where an artist will get 80 hours of space in the studios, then a one-night work-in-progress showing. In that instance, I'll build the application, put together a panel to review applicants, and think about what's urgent and compelling — what wants to be seen, what wants to be heard, who has the capacity to do what they say what they want to do? I then work with the artists to make all that happen throughout the process.
How does that all translate into what you do when you come to work every day?
There's a lot of emailing, looking at calendars and planning, trying to anticipate things constantly in terms of, "What is this thing gonna need? We're two months out from it, and the show hasn't been created, but how can we anticipate what the needs of the production are going to be?" There's a bit of guessing involved, but I've been doing this work for over ten years, so there's a lot of, I think for me, stuff that I've sort of learned and accumulated along the way that will inform my practice.
How long have you been here?
I came to Kelly Strayhorn in April. I feel like I've got some impression of the landscape of Pittsburgh, but my role has still been really figuring out the bobs and weaves through it.
What were you doing previously?
For the past ten years or so, I was working independently in New York. The majority of my career has been working as an independent manager for choreographers, and I then ran a festival in New York that I started in 2010. Mostly in the experimental vein of dance, I was a musical theater kid growing up but also grew up with a mom who was a publicist for a contemporary classical composer.
How did you get from musical theater to arts administration?
While I was in school, I was not in the place where I was going to walk into a cattle call for a Broadway show, nail a double pirouette, and impress them with my vocals. So I started doing administration. I needed to work, so somehow arts admin is where I ended up.
I think my mom had a lot to do with it. I was stuffing press kits as a seven-year-old to earn an allowance and grew up going to atonal music concerts and having to stand in the corner quietly while she schmoozed.