Jamie Hamilton has built a career on being what she calls a "plus-size creative," something she believes would not have been possible a decade ago.
"If things hadn't changed, I wouldn't be able to make money doing what I do," says Hamilton, a freelance creative director and photographer. Hamilton goes by Jamie JeTaime on her popular Instagram account, where she directs, styles, and posts images of herself wearing stylish outfits and swimwear to her over 49,000 followers.
She attributes much of this change to the body-positivity movement — or BoPo for short — a growing social push that seeks to challenge and change societal standards of beauty and wellness. While its history can be traced as far back as the 1960s, the movement has gained major traction over the past several years on social media.

Hamilton represents one person bringing the movement to Pittsburgh, along with local fitness, dietary, and yoga specialists trying to undo the mental and physical harm inflicted by a culture that leaves little room for anyone who doesn't fit a certain slim, athletic, and predominantly white image. They believe confronting this culture with direct action and body positivity can move the Pittsburgh region into a more inclusive future.

Addressing this bias includes seeing more body types in media. "It's hard to feel good about your body when you don't see it anywhere," says Hamilton, who, besides identifying as plus-size, is also taller than the average woman at 5 feet 10 inches.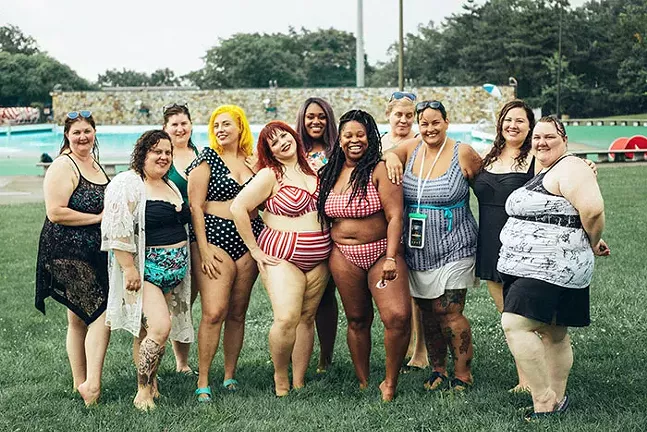 She believes BoPo also means respecting peoples' bodies for what they are, not "some kind of preconceived notion of what bodies should be."
And, as research shows, lack of acceptance can have major consequences. Studies from the International Journal of Obesity and the National Association to Advance Fat Acceptance have noted the prevalence of weight discrimination in the workplace, health care, and education, to the point where cities across the United States have had to outlaw the practice.
Hamilton says that, to some degree, the fashion industry has taken note. "I'm seeing more clothing companies and brands and designers wanting to expand their size ranges or have more inclusive fits," she says, adding that she has worked with Nike, ModCloth, Almay, and Dove, among others.

But while Hamilton embodies the BoPo movement in her own work, she wanted to do more to spread that message and empower others. To do that, the Western Pennsylvania native created Yinz Bopo, an inclusive body-positive Pittsburgh Facebook group where people can go to feel comfortable, regardless of their abilities or what they look like.

"Think about all the things we could be doing with our lives if we weren't always wondering what's wrong with us. There's nothing wrong with us."

tweet this
Hamilton says one of the reasons she started the group was to bring to Pittsburgh the BoPo swimming meet-ups she saw going on in other cities. So far, the group has hosted pool meet-ups at various public pools and at Sandcastle Water Park in West Homestead.
Hamilton says the outings mean a lot to group members who have long felt uncomfortable with their bodies.
"For a lot of people, it's their first time as an adult in a swimsuit ever," she says. She also believes it's important for others to see people who look different or have different abilities "hanging out and having fun."
"I wanted it to be a visual representation, to kind of change the way people think about bodies in general," says Hamilton.
Since it launched in June 2018, the group has attracted more than 430 followers. While Hamilton moved to Tucson, Ariz. in April, she says the group has kept going thanks to the efforts of her fellow page administrators and the members who often reach out to each other for advice and support.
"We have so much power, and I truly believe that the world could change more if people just stopped hating what they looked like and stopped putting their energy toward telling somebody else that they look wrong," she says. "Think about all the things we could be doing with our lives if we weren't always wondering what's wrong with us. There's nothing wrong with us."
---
Hamilton has also experienced the bias of basing a person's health or ability on their weight or appearance, primarily as a runner.
"People wouldn't expect plus-size people to be doing that," she says, adding that she's currently training for a 10K.
INSPIRD Nutrition in Monroeville has been working against the long-held stigma attached to certain body types, as the desire to be thin and "healthy" often drives the development of eating disorders or, at the very least, an unhealthy, inflexible relationship with food.
Run by Haley Goodrich and Kaley Sechman, INSPIRD Nutrition takes what is described as a "weight-inclusive approach" by not measuring healthiness based on weight and helping clients develop sustainable choices by rejecting harmful, restrictive diets.
"A lot of times, people have been dieting for years, decades sometimes, and are just tired of cycling through dieting, and just feeling bad about themselves and their bodies, and kind of waiting for their body to change to live their lives," says Sechman, a registered dietitian. "That's definitely something I hear often."
While restrictive dieting fads come and go, studies and many people's life experiences have shown that they do little to help people achieve the "perfect body." The National Eating Disorder Association (NEDA) recognizes body image as a major motivation behind restrictive eating and estimates that over 30 million Americans struggle with an eating disorder at some point in their lives.
Over the years, countless studies and surveys have found that restrictive, weight-loss dieting simply doesn't work — one 2007 report from UCLA even stated that, while dieters typically lose five to 10 percent of their starting weight in the first six months, a vast majority end up regaining more weight than they lost after they return to their usual routine.

"It's hard to feel good about your body when you don't see it anywhere."

tweet this
Sechman says one way INSPIRD hopes to help people is by defining food "neutrally, as opposed to good versus bad," in effect combating the practice of food-shaming inherent to dieting.
"Making those moral attachments has some pretty strong negative repercussions," says Sechman. "We're working to remove that which is really difficult to do, especially since the culture feeds those messages all the time of 'good versus bad,' and, 'if you eat the good foods, you're good and superior; if you eat the bad foods, you're bad and clearly don't care about yourself,' and all of the subtext that goes with that."
To do this, Sechman adopted Health At Every Size, a set of principles created by the Association for Size Diversity and Health, and Intuitive Eating, an anti-dieting approach, after becoming disillusioned with the way she was taught to treat patients.
"Like most of us in health care, we're trained in the weight-centered paradigm, which is a traditional health care model that focuses on weight as a proxy for health and wellbeing," she says. "I started thinking critically about, 'Why are things like this, and why am I not feeling secure in my job, why am I feeling like I'm not helping people?'"
Now she and Goodrich take a therapeutic approach based on trying to undo decades of toxic thinking around food and body image.
"Most of [our clients] are looking for a way to feel better, and by that, I don't just mean physically, but mentally," says Sechman. "I think a lot of people are coming in just wanting to be heard and listened to … Sometimes I think that's what people are looking for, just a space where they can feel safe to explore these things without feeling judged or shamed or pressured to feel like they have to change their body."
---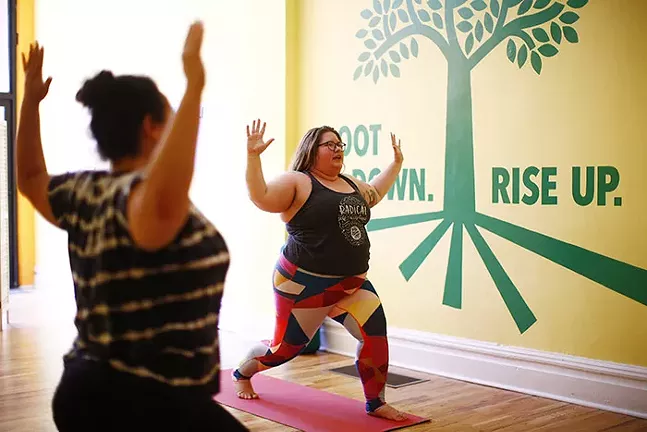 Through her work, Emily Anderson demonstrates that you don't have to change your body in order to teach yoga. After becoming a certified yoga instructor in June 2018, she founded All Bodies Welcome
Yoga and has worked to make yoga more accessible and inclusive by teaching at locations throughout Pittsburgh.
"Everyone has body insecurities, everyone feels weird about their body, but there are marginalized groups that have actual barriers to their health and wellness," she says, "and that commitment to making those marginalized groups feel comfortable and feel safe takes a lot of insight and a lot of work."
Her mission reflects a problem in a fitness culture that can be intimidating, where personal trainers have been called out for body-shaming clients. Even when gyms or other fitness spaces claim they are open to everyone, the images they project say otherwise.

To help combat this, Anderson adheres to a more radical version of the BoPo movement.

"I think that people are just looking to see themselves represented in fitness spaces more and more."

tweet this
"To me, the body-positive movement is really rooted in fat activism and body politics," says Anderson, adding that she feels comfortable identifying as fat. "There are definitely a lot of brands and businesses wanting to promote self-love and self-acceptance, but they don't necessarily have that same radical commitment to accessibility."
This includes diverting from the one-size-fits-all idea of yoga as something reserved for a select few. Anderson recalls taking yoga classes in which instructors would physically try to make her body move in ways that were not possible.
"They don't understand that it's just because my body is larger than theirs is," she says. "I have more bits than they do. So, that transition from how bodies look to how bodies are moving and feeling is important."
She would like to see the Pittsburgh yoga community work on being more inclusive by adapting to accommodate all students and trying to make it more accessible to wheelchair users and people who are differently abled. She believes they should also create a culture that includes a more diverse array of instructors.
"I think that people are just looking to see themselves represented in fitness spaces more and more," says Anderson.
---
Like Anderson, Felicia Savage Friedman, founder and CEO of YogaRoots on Location, has worked to expand representation in Pittsburgh's yoga scene and beyond.
Friedman, a certified yoga instructor with 24 years of experience, teaches a variety of yoga classes at the Kingsley Association and Ace Hotel. She also developed a Certified Rāja Yoga Teacher Training program with an anti-racist and social-justice framework.
"It's just how I navigate racism, capitalism, and sexism and patriarchy, and still wake up with joy, because it's an all-out assault on my personhood," says Friedman. "As a Black woman, I'm very much aware that the value of my life is close to nil in this society, so part of my practice as a Rāja yoga practitioner is that I stay as positive as I can, but I hold myself to standards of humanity every day, and Rāja yoga practice has been awesome for me as a way to do that."
In addition to learning physical and Rāja yoga, the 200-hour, year-long teacher training course includes exploring various social-justice topics through the Undoing Racism principles of the People's Institute for Survival and Beyond, a national and international collective dedicated to building an "effective movement for social transformation."
Since launching the program in 2016, Friedman has graduated 55 yogis, some of whom have gone on to teach her regular classes.
The success of the program has enabled Friedman to take it beyond Pittsburgh, including to Greensboro, N.C., in October. She's also looking to do trainings in cities like Brooklyn, Cleveland, and Seattle.
As part of the anti-capitalist component of her approach, her yoga classes are free or low-cost, and she offers scholarships and other financial aid to those unable to afford the training program.
She believes that she's "actively changing" the yoga landscape by bringing in people of color, LGBTQ people, and others who thought they could never be yoga teachers because they didn't fit the stereotypical yoga image.
"It's been wonderful to bring in marginalized groups and students of color, and they're going out and teaching, and opening yoga studios themselves," she says, adding that she's not trying to create "mini-Felicias," but wants to give students the tools to teach from their own experiences. "I feel really honored."
---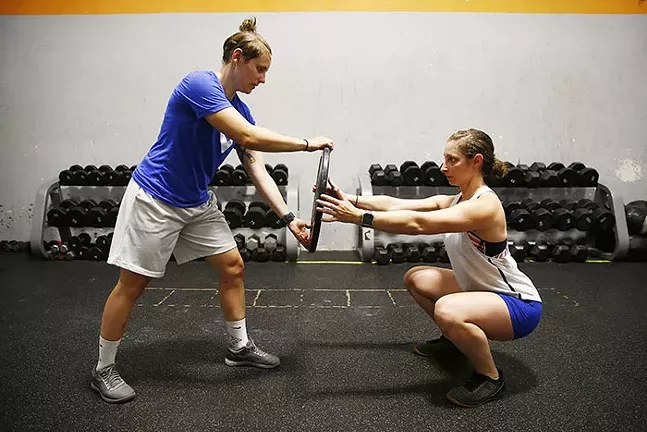 Anderson and Friedman aren't the only ones shaping the future of Pittsburgh's wellness culture for the better.
Erica Gadelmeyer, the director of operations and healthy living at the Allegheny YMCA and the head coach at CrossFit War Streets, has set out to help make all YMCA of Greater Pittsburgh Association facilities more explicitly welcoming. This includes adding gender-neutral restrooms and locker rooms.
She says the YMCA of Greater Pittsburgh Association is also working with the local LGBTQ services nonprofit, the Persad Center, to conduct audits that will make facilities more inclusive. She expects Persad to present its findings at a YMCA staff town hall meeting next year.
"I think it's really important to communicate that out [loud] to people and let your population know that these are the steps we're taking," says Gadelmeyer. "To put action behind those words and show that you're working toward that really goes a long way."