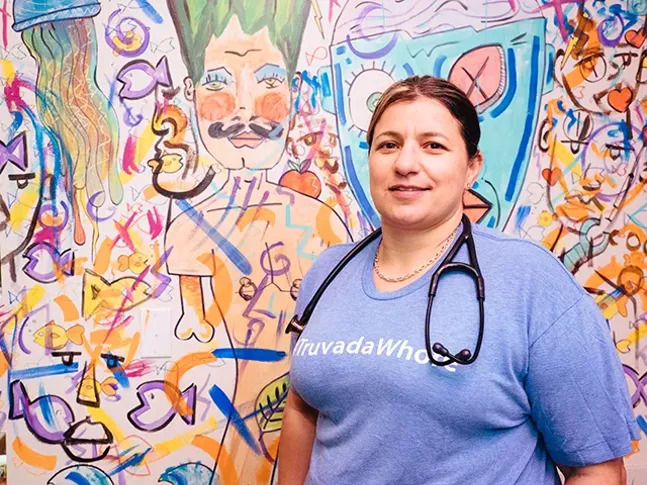 Dr. Stacy Lane has been fired from every job she's ever had.
Every time she's worked somewhere as a doctor, she says, her contract never seemed to get renewed. Usually, she says her employers didn't like the types of patients she attracted, or they disagreed with the way she practiced.
"I was told that I get too involved in people's social issues," says Lane.
Now, as the director and owner of Central Outreach Wellness Center, Lane is accountable only to her patients, the state of Pennsylvania — "for my license" — and God. And as her own boss, she's free to address her patients' social issues head on.
The Wellness Center, located in the North Side, offers trans health care, STD testing, and HIV treatment to the underserved populations of Pittsburgh. But it also has psychiatric professionals on staff, and a rack of donated clothing that patients can take home if need be.
According to Lane, Central Outreach has cured over 1,000 patients of hepatitis C since the clinic opened in the summer of 2015. Currently, the clinic and its sister location in Washington, Pa. have over 7,000 patients, including more than 500 who are HIV positive and close to 1,000 transgender patients who come to the clinic for hormone therapy.
And the center has grown a lot in the last few years.
When Central Outreach first opened, Lane treated all the patients herself, but as its numbers have grown, and demands have drawn more of her efforts to the business side, that's no longer possible. Like the rest of her employees, though, she still dresses casually, in the dark gray Central Outreach "Got Hep C? Get the cure" T-shirt. That's part of the welcoming environment she wants to maintain at the center, she says.
"I can't have anybody who tromps around here in a polyester suit and Easy Spirit shoes," Lane says. "It doesn't work here. It's intimidating to people."
Many of the patients who come to the clinic are recovering addicts or active drug users. Lane tries to treat everyone as she wants to be treated, she says. Her patients are grateful for it. In one glowing testimonial on Central Outreach's website, an AIDS patient called her "an angel on earth."
"People that are marginalized for any reason, when you take care of them and treat them with dignity and respect, they think I'm the best doctor in the world and they think I'm the smartest doctor in the world," Lane says. "And I'm not."
At times during her career, Lane says she has felt "marginalized" within the medical community. But her path was never in question — she always knew she wanted to end up treating the kinds of patients she treats now. Growing up in Crafton Heights, she felt the calling as early as high school, when she lost her uncle to AIDS.
Hugh Lane had been like a grandfather to his nieces and nephews, and Lane remembers him as a soft-spoken, Mr. Rogers-like figure. When Lane was 15, her uncle was checked in to a hospital, telling his family he had lung cancer. They found out the truth when they discovered a bottle of the AIDS medication AZT in his house.
Watching him deteriorate and finally succumb to the disease over the next two years was one of the hardest things she's ever done, Lane says.
"Even at that time, I remember thinking 'This could happen to anybody. It's got to be different. It has to change,'" Lane says.
Now, Central Outreach is doing its best to make that change. The clinic is growing and shows no signs of stopping. At this point, Lane says, the biggest thing limiting them is physical space. Lane certainly doesn't plan on leaving anytime soon.
"I love it now," she says. "When I go back and look at life and think about all the shitty things that have happened, all of it is the perfect storm that led me to be able to really pursue my dream."