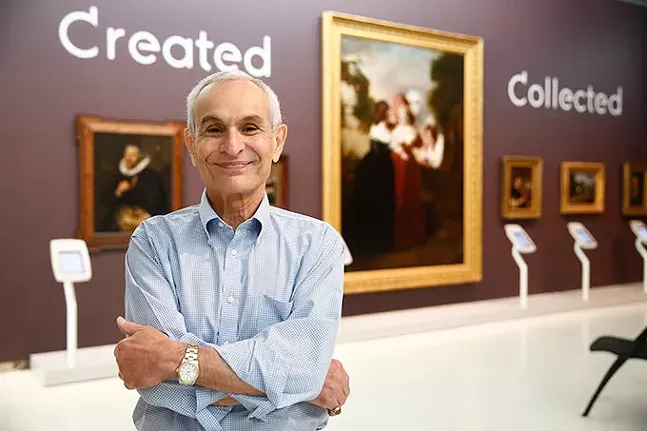 Name: Costas Karakatsanis, Shadyside
Work: Collections Research, Carnegie Museum of Art
What do you do?
Investigate the background and history of works in the collection, the provenance and various stories associated with the artist or the work itself. I go methodically through the archives sequentially. If we have specific interest because of an exhibition or questions, we focus on that work. My broader emphasis is to go through everything; the purpose is to learn as much as we can. What's on view is a relatively small percentage of what we own. With modern work, you don't have to do very much, but with an old master painting, you may do a lot more.
I imagine the nuts and bolts comes easily–
It never comes easy. You have to assess the validity of information because people write whatever they want. So the reliability and the confidence you have in a source has to be evaluated.
Is there a paper trail?
In an ideal situation. Some collectors are very meticulous, keeping records of everything they bought, where, what they paid. But some of our most important collectors didn't keep any. You have to do a little more detective work.
How is information used practically?
We had a painting by a British old master we wanted to exhibit in very bad shape. Research showed it was in at least one, maybe two fires. When we discovered that, we could understand why it was the way it appeared. Now that we knew the circumstances, we understood how to treat the painting.
Stories can be very interesting for our audience. We have a painting, completely unrecognized for a hundred years in a dental school, by a major impressionist painter, [Édouard] Manet. It is a long story. But the dental school no longer owns the painting. It sold for seven figures in the 1980s.
They must have been happy.
Actually, they had two. The researcher said, "Yes, this is a Manet, but there should be two." They went back in the basement and found the other one. It's a very interesting story. And what's more interesting is that a person decided that he had very happy memories of Pittsburgh, so [they] bought it and gave it to us.
Do you have a favorite artist?
I like a lot of different kinds of things. I started traditionally like most people with certain areas of art history. Then, you grow; the more you look, the more you grow.
Do you have works that are particularly interesting to you?
Every day. I started interested in the history of collecting in Pittsburgh and why we lost a lot made with Pittsburgh money that didn't stay in Pittsburgh. I've progressed to people who I didn't know at the time were collectors in Pittsburgh and studied their collecting habits, what kind of passions they had, why they left or didn't leave things to the Carnegie. That's an ongoing interest.
You studied art history in school?
I have a Ph.D. in chemistry. I was a research director for many years at Bayer, retired early, and didn't want to stay home. I have two main interests, music and art, and wanted to do something in one. The former president of the Carnegie was a carpool buddy of mine from my years at Bayer. I ran into him at the symphony. He says, "What are you gonna do?" I said, "You know, I don't know." He said, "Have lunch with me, maybe I have something." That was thirteen years ago.
What are your favorite museums besides CMOA?
The two museums at Yale, the Frick in N.Y. The Louvre, Musée Versailles. Last year we were at the Louvre, and I pointed to my wife, "They have a mistake on their label."
Did you tell them?
I meant to write to them. I haven't yet. My wife says, "Only you."