Country singers like to salute their peers and predecessors in song. David Allan Coe recorded "Dakota the Dancing Bear, Part 2," a reference to Kris Kristofferson's "Dakota the Dancing Bear." Coe also put himself in good company in "Waylon, Willie and Me." 
"That's a classic country [device]. You don't make your legacy — you have to place yourself in the legacy," says Read Connolly, who plays dobro, lap steel and pedal steel in The Beagle Brothers.
While The Beagle Brothers might not be known by many devotees of the Grand Ole Opry, they're ready to place themselves in the country continuum. Their song "That Hard Luck" begins with guitarist Gabriel Smith crooning, "This is a song for Dwight for singing songs for Buck," a tip of the hat to both Dwight Yoakam and the late country-music legend Buck Owens, whom Yoakam honored on Dwight Sings Buck. 
If all of this sounds like mere name-dropping in the hopes of gaining credibility, it should be noted that "That Hard Luck" possesses the authentic twang that would make Owens proud. 
And this comes on a new release that pushes the country envelope.
When the Brothers prepared their sophomore album, the ragged-but-right Architects of the Bloomfield Sound, in 2010, they abandoned plans for a vinyl-only release in favor of a limited-edition CD that quickly sold all 200 copies. After they finished the studio sessions for what would be their third disc, Dancers of the Drunken Two-Step, they hit upon another idea borrowed from musicians they admired: to release a two-in-one disc that includes both albums. The result presents the band in the studio on Drunken Two-Step, adding a little bit of polish to 14 tracks, and in the basement for the 10 tracks from Architects, recreating the loose feel of a good night at their Bloomfield haunt, Sonny's Tavern.
The band has opened for David Allan Coe twice (with a 2013 date already booked), so it makes sense that they wrote "Dakota the Dancing Bear Part III," which continues the surreal (for country, especially) storyline of the hard-living bruin. And it has a twist. 
"At the end of it, we do this long Rocket from the Crypt reference," says Smith. "They were my favorite band growing up. There's a song on Circa Now called 'Glazed' that we reprise at the end."
In a genre known for sticking to a rather predictable harmonic formula, the local quintet keeps things fresh and vital thanks to sharp arrangements and an extremely literate take on country-music subject matter. "Previously we had written mostly about alcohol," says Gabriel's (real-life) brother Noah, who also plays guitar and sings many of the leads. "I don't think we've stepped away from that entirely — drinking-related songs — but we've branched out."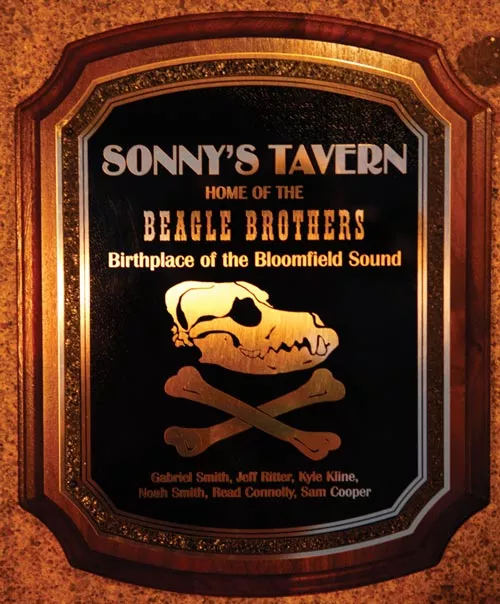 As an example, he mentions "I Found Heaven in a Gram Parsons Song," which was inspired not only by the late Burrito Brother but by a visit to the hotel room at the Joshua Tree Inn where Parsons died. Another tune, "Garbage Truck," reports without either pathos or glibness on a true accident that occurred in the Smith brothers' hometown.
Noah adds that their songs are "melody-driven. No matter what chords you're using, our songs have different melodies." This is borne out by two tracks penned by auxiliary guitarist Sam Cooper (who lives in Washington, D.C., but returns this weekend for dual leads with Jeff Ritter). "Waimea Bay" could have come straight out of a Hawaiian-music album, thanks to Connolly's genuine pedal-steel work, and nearly all the Brothers harmonize like choir boys here. They repeat the layered voices in the more poppy "My Other Car's a Hot Rod," which they confess would've been a lead-off single were it not for several f-bombs in the chorus.
The band was able to press the album after they successfully launched a Kickstarter account. "We are the worst band at self-promotion," Connolly says. "We can't sell a CD at a show. So the fact that multiple people wanted to pay for the CD up front and finance it, that took a lot of load off our backs. Everyone wins in this scenario. If we didn't do Kickstarter, we would not be having this conversation for another year or two." They also had enough to release a forthcoming single by Oh Dang, Cobra Fang! — a rock project featuring the Smiths, Connolly and bassist Kyle Kline. (Also unlike the Beagle Brothers, it includes drums, courtesy of Noah.)
The band celebrates the new release twice this weekend. The night before Saturday's performance at the Thunderbird Cafe, they'll host a listening party at Sonny's Tavern, where Kline and the Smiths booked their first gig seven years ago — before they even had a set list. They're to receive a plaque that night, which declares the bar "the home of the Beagle Brothers — birthplace of the Bloomfield sound."