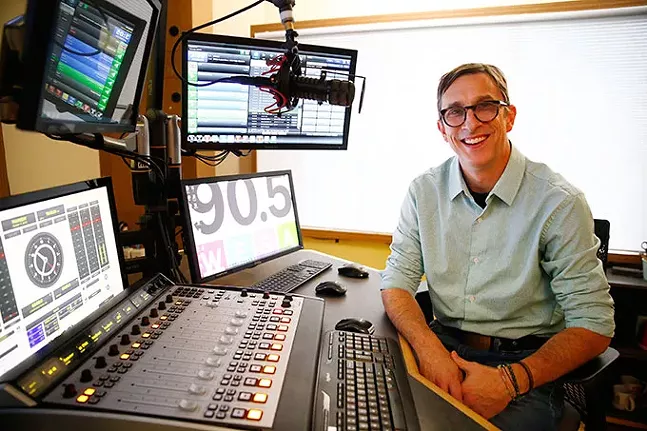 Name: Russ Loyd, South Hills
Work: Director of Technology, Pittsburgh Community Broadcasting (WYEP & WESA)

What does a Director of Technology do?

There are a lot of individual systems utilized in operating a radio station. Here, that includes towers, two main studios, four production rooms, and a full newsroom with news booths. They all come together to create content. I install and maintain every wire from the microphone to the tower.

Is there a routine that takes you from one area to another or is it constantly changing?

It's whack-a-mole. Remote studios, automation systems, audio-routing console systems —whatever pops up, wherever it pops up. Generally, if you see me, something went wrong and I'm fixing the problem. It's 2019 and computers still break, so they require full-time care.

Is your work done at a computer?
There's a substantial amount of computer work, but also studio-related stuff with microphones, consoles, transmitters. There's a long air chain and a lot of pieces of gear in between.

When you talk about "the tower," are you actually out there climbing up it?

They won't let me do that.

How long have you been doing this?

I've been in radio for 20 years; here since 2011. I've been in rock and roll since I was 10.

What were you doing in rock and roll when you were 10?

My uncle owned a company in Macon, Ga., that supplied stagehands for concerts. My grandmother was a seamstress, I was backstage. Working in rock and roll while attending the University of Georgia in Athens, Ga., and then living in Charleston, S.C., I met a guy who was an engineer for some radio stations. He was building a new large facility, so he needed help. He asked me if I wanted to do it and I kinda got [taken] down a path. That's how I got into radio, by building a studio.
How did you learn to do what you do?
I always played music but I didn't have ... let's just say the drive to practice all the time. I love music and being around rock and roll, and being behind the scenes, and mixing consoles and flying rigs and just how live performance operated. So I kinda niched into the engineering side of it. I was good enough to get by to start with, then developed that craft picking up little things on the job and in different experiences that put the whole audio thing together. It's a passion to keep learning.


What's your favorite part of your job?
I'm good at fixing things. That's my comfort zone; everything breaks and I come fix it. But also I really like when your colleagues and the people that you support get the accolades that they deserve. Our newsroom does fantastic work and is racking up awards; the content that WYEP produces, I mean I love music, so they're so much fun, they care so much about what they do. Watching them succeed is satisfying.
Can you turn off what you do professionally when experiencing music?
Nope. I'm always coming from the technical perspective, I go to the show and acknowledge the riggers and the sound guys and all the stagehands, knowing what it takes to pull it off.
I saw TOOL; the whole stage was black and they had a guy come out in a white lab coat with a Swifter, going all around the stage and cleaning up the space and I thought that was hysterical. It was definitely a prop but a statement — all perfect, everything ready to go. I get that statement.