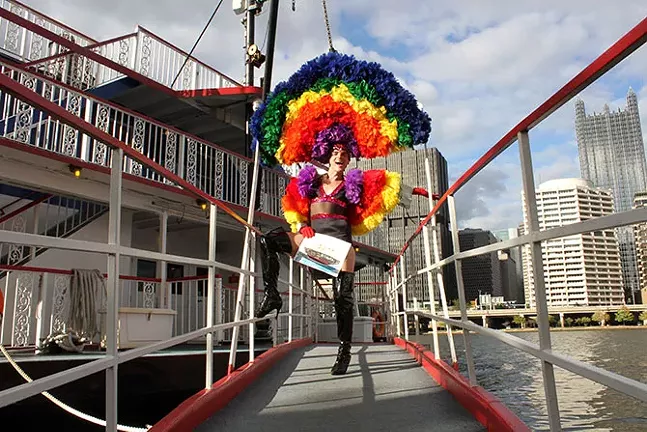 Name: Alistair McQueen, Lawrenceville
Work: Event Producer, Promoter, Artiste
What are your responsibilities in producing an event?

Everything. Contact and book performers, contract negotiations, press releases, flyers galore — all sizes and types because you want to get stuff out there on a regular basis and you need it to be different. Creating videos, all the social media, and planning and planning and planning. Then the show run-through, who's going to be where, when. We like to throw in lots of art everywhere, organizing all that. Who's at the door, seating people, pre-show entertainment, intermission entertainment. All that.
Who do you do events for?

Steel City Kitty Burlesque and Variety Show. We've always got events in the Blue Moon Bar where I work — Award Winning Bartender! [Editor's note: McQueen's alter-ego "Mildred the Lunch Lady" was voted Best Bartender in Pittsburgh City Paper's 2018 Best of Pittsburgh readers' poll.] Dump Star Media is our film production company and we're about to have our first live event coming up, the Rob Boss Penis Painting Party.
Does this mean paintings of penises or painting with a penis?

I paint with my tallywacker!
So you perform as well?

Yes! And when it's the day of the show, I'm part of setting up everything. It's nuts. It's a huge process with everything from arranging chairs to preparing food, who knows? Then I'm several different characters in one night. Rob Boss started as a one-off at Blue Moon. We had a Mr. Exotic World and he did a banana act, so I wasn't gonna do my banana act! I decided, OK, I'm just gonna dress like Bob Ross and paint with my penis! And then everyone demanded I do it again! Same thing with Mildred the Lunch Lady, the bar started serving food; I just happened to have a lunch lady costume around, wore it, everyone demanded I do it every Monday. I thought I'd never get laid again.
How did you get involved in this?

I've been a boylesque performer for 12 years. I won the Mister Great Southern Exposure in Charlotte, N.C. In the women's bathroom, I met [burlesque performer] Kat De Lac, and I told her I was moving to Pittsburgh to go to Pittsburgh Filmmakers, and she was like, "Well, I'm the mayor of Pittsburgh!" I was like, "Who is this crazy woman?" We started working together doing the shows every month, back when they were at Lava Lounge and I just helped any way I could and learned on the go.
Do you find performers or do they find you?

We contact them, but this year we started having them contact us, like, "Here's our rates!" We always book a winner! Someone who's won a very prestigious title. Every event is a one-time experience you'll never get again. At our last show at the Mattress Factory, we had a cabaret performer from London, a voodoo priestess from New Orleans, burlesque queen LouLou D'Vil from Finland — she got real naked!
Is content ever an issue with venues?

Our next show's on the Gateway Clipper, Pittsburgh boating icon! Obviously we're big fans of the Gateway Clipper, I mean who in Pittsburgh isn't? It's a legend! We were nervous that they might not want us, but they were just like, "No bubbles, no glitter!"
Nobody wants to clean up glitter at the end of the night.

Nobody!
How do you plan and structure all of this happening at once?

I spend a lot of time at my computer. I make to-do lists a lot, every day, normally. And I work with very strong independent women and recommend it for everyone. We'll go into meetings and men will just treat them, like, they'll talk just to me. And it's, like, what the hell? No, no, no. If you can have a strong powerful woman kicking ass, fuck yeah. I want that.