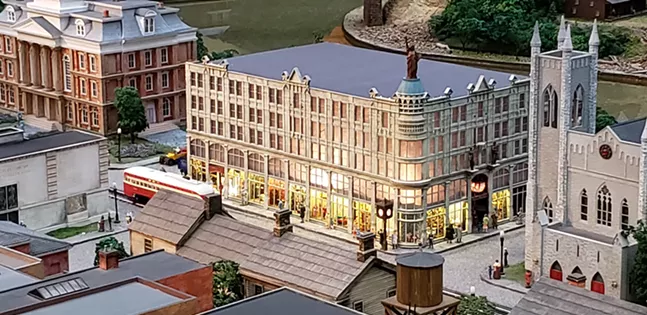 This year is the 100th anniversary of the Miniature Railroad & Village at Carnegie Science Center. And to commemorate this milestone, County Executive of Allegheny County Rich Fitzgerald was in attendance for the unveiling of the model's newest edition to proclaim Nov. 20 Carnegie Science Center Miniature Railroad & Village Day — a day all Pittsburghers are sure to have off from work.
The newly added Kaufmann's building is actually the first iteration of the Smithfield Street department store, which was known as The Grand Depot and was chosen over the larger building that stands today because it fit the O-scale model better.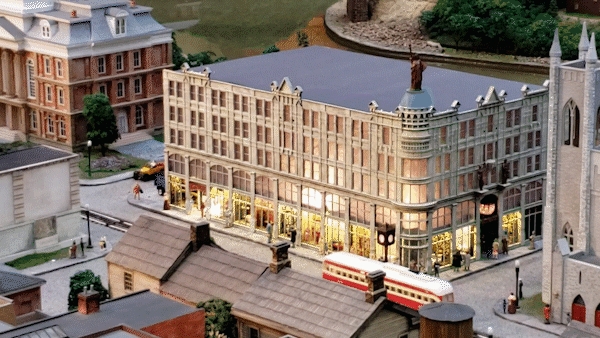 Creation of models for the railroad takes months of research, 3D printing, design, and construction. The designers used Heinz History Center's Detre Library & Archives to source information and images for The Grand Depot.
The building boasts 15 window displays, Victorian-style wallpaper and furnishings, chests, mirrors, a small train set, and, of course, the Kaufmann's clock, which at this point in history was a free-standing structure, unlike the current version which is affixed to the side of the building. There are even miniature people meeting miniature friends under the miniature clock.
The Carnegie Science Center Miniature Railroad re-opens to the public on Nov. 21 and is sure to be a visitor favorite with its many historically significant and accurate regional landmarks and buildings.