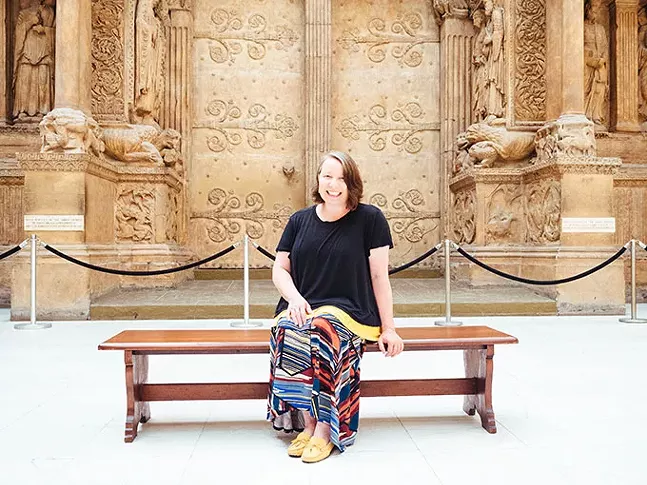 Name: Lucy Stewart, Westmoreland County
Work: Associate Curator of Education, Carnegie Museum of Art
What do you do?
I connect people to what we have on view, give them inroads, meet them where they are, and bring them into our conversation. I also develop and facilitate programs for people with different kinds of abilities.
What does this mean on a day-by-day basis?

Every day is different. We work on all exhibitions and the permanent collection, look at the complete picture, and provide opportunities across the board. I might be facilitating something with an exhibition on view at the moment but simultaneously working on something one or two years out in the future. It is shifting gears every hour.
In the planning stages, we're trying to figure out what are the most important points to highlight in an education program and the best ways to do that, educational goals. How do we best want to achieve those goals? Is it through a workshop, a lecture? Who are the other community collaborators that we could work with? If something is a little bit further along, it's about making those connections. I really try to get people from all over to participate, whether it be a living artist or expert of some sort. I look for various pathways into works of art; sometimes that comes via literature or music.
So exploration of an exhibition isn't just about the face of that exhibition?

We try to take it yet a step further. Ask questions and then continue that in conversation outside that scope. It varies dramatically depending on the exhibition.
That's the best part about art; it opens up a multitude of questions, things that you can talk about, approaches. That's what I find exciting about it.
Is your own education within the arts?

I have a master's in printmaking and metal arts. I started in science then shifted gears. I'm very much a maker.
How has what you do professionally changed how you interact with art personally?

It's influenced some of the art I've made over the years in a very much one-to-one way. I have deep appreciation and respect for artists because of where I come from as an artist, and I think any time we can have a living artist speak about their work and connect people directly, it's just such an important item that we can give to the community. I've always believed in that, but it solidifies it very, very much. And the sheer appreciation of being here that I experienced as a kid is something I try to help people have. You don't have to know the history of art to have that relationship with a work of art.
How long have you been here?

Twenty four years, always in education. I started as a secretary in the department. As people left, I assumed their jobs because we very often didn't refill those positions. So it was just kind of like, "Well, OK, Lucy will do it." The whole time I've been working on programming, I took classes here as a kid, so I love the museum, I love talking about art to people and sharing it with people, and that's what I've always done.
Do you have a favorite work of art in the mu-

I do.
What is it? You answered so fast. You're so ready with this.

It's the Magritte unicorn [René Magritte's Le Coeur du monde]. It's my favorite work of art because I looked at it all the time and I was fascinated by it. It's not on view now and has not been very often, but it was all the time when I was a kid. It's such an interesting work of art for a little kid to look at.