Don't take comedy lightly. Attempting humor onstage before an audience toes the line between thrilling and terrifying. After all, a failed joke can choke the noise from a room and leave behind a resounding awkwardness. It isn't pretty. Now imagine upping the anxiety factor by requiring use of a quick wit to improvise scene after scene of unrehearsed, thought-provoking humor that is at once funny and poignant, presenting ideas on modern culture, minorities and queer life. It takes guts, but someone's got to do it.
Pittsburgh's first and only all-gay improv group, LGBTQ*Bert, began as a one-off production in the shadow of PrideFest two years ago. "There were a handful of gay performers, and we decided to all perform together," explains LGBTQ*Bert founding member Connor McCanlus. Now it's a PrideFest tradition. This week, the group performs at Steel City Improv and as part of Arcade Theater's ArGAYde Comedy Show.
LGBTQ*Bert now includes Kayleigh Blanchette, Michael Buzzelli, John Feightner, James Jamison, Frank McDade, Ashley McKinney, Michael Quigley and Matthew Salinger. The group wants to book shows throughout the year. "We don't wait until February to see black comics," says McCanlus, also a noted local stage actor for troupes including Bricolage and barebones productions. "Why should we only perform during PrideFest?"
Not only is comedy a boys' club, says McCanlus, but it's a straight, white boys' club, and LGBTQ*Bert works to remedy that. While the current line-up is, admittedly, all white, "We want to make sure that there are voices heard from all minority groups," McCanlus says.
LGBTQ*Bert doesn't shy away from anything. On stage, gays and homophobes alike become exaggerated characters, along with teens, parents, and couples shopping at IKEA. Nothing is sacred. "We can't be afraid to make jokes," says McCanlus. "That's how we make progress."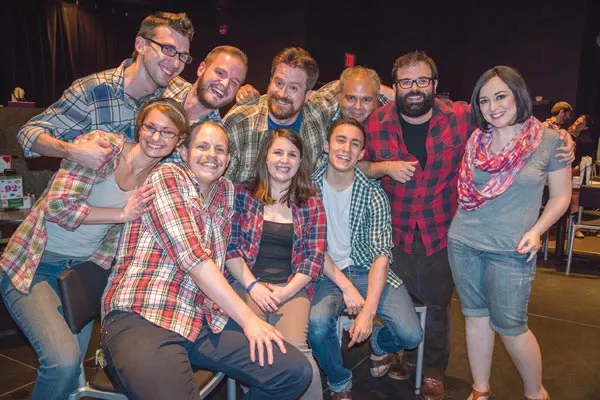 In April, in Claysville, Pa., a group of at McGuffey High School students organized an anti-gay day. Participants arrived at school boasting their unified disdain for the LGBTQ community by wearing flannel and writing the words "Anti-Gay" across their hands. The students flooded social media with photos of their flannel-clad group. LGBTQ*Bert had a simple but meaningful rebuttal.
"For a show [at April's Art All Night], we all wore plaid shirts," explains McCanlus. LGBTQ*Bert recreated the flannel-heavy photo that the anti-gay students posted online. "They're dressed exactly like us," says McCanlus. "You can put the photos side by side as proof that there's no difference between gay people and straight people," he says. "If I stand on a street corner, not many people are going to listen. But if these ideas are packaged in comedy that works, people laugh and they think, too."
Others have taken notice. "I feel like they know that they're doing something special and cool, and I think that makes them more invigorated and passionate than your average team," says Abby Fudor, who's director and a co-founder of Arcade and an LGBTQ*Bert coach. "LGBTQ*Bert takes the stage as an entire team. It's not just a few people, it's nine people, men and women. When they take the stage, there might be someone in the audience who sees Q*Bert perform and feels that his or her voice is important, their view of the world is important."
Fudor points to the way LGBTQ*Bert opens each show as something that sets them apart. It begins with a suggestion. "Sometimes we ask audience members to name the gayest word they've heard," says McCanlus. "Like chartreuse, or unicorn. It's a starting-out point." Rather than launch immediately into a scene, the group mills about the stage, discussing the suggestion from a first-person perspective. So "unicorn" can turn into a sarcastic reminiscence about hot-pink Lisa Frank binders, and provide a tiny bit of insight into a performer.
"During a rehearsal," explains Fudor, "the group started talking about a certain type of underwear. One of the girls told a story about how she was wearing that underwear the first time she was with a girl, and I just thought it was so personal and great," she says.
LGBTQ*Bert member and — full disclosure — McCanlus' boyfriend, John Feightner, likes getting personal with the audience upfront. "We wanted to do something at the start of the show to get our personalities across," he says. "We're telling people something about ourselves even before we step on stage, which is that we're gay. Now we're trying to work on a more personal relationship with the audience." But all of this has to add to the fear of going on stage and performing. When asked whether this form makes him feel even more vulnerable, Feightner says, "Yes. But it's a good vulnerable." Besides, fear is half the fun of comedy.