The focus in Mediterranea — immigrants pouring into a not-necessarily-welcoming Europe — could be ripped from today's headlines. But this has been an ongoing crisis, and director Jonas Carpignano began working on this film more than five years ago.
While covering the contentious relations between immigrants and residents in the southern Italian town of Rosarno, Carpignano struck up a friendship with Koudous Seihon, an immigrant from Burkina Faso, in West Africa, and an advocate for the mostly African workers who toil in the region's orange groves. Seihon became the subject of a 2011 short by Carpignano, and the filmmaker later decided to adapt Seihon's experience into a full-length docudrama.
Mediterranea begins in Algeria, as two buddies from Burkina Faso — Ayiva (Seihon) and Abas (Alassane Sy) — are en route to Europe. For them, it is a place of good jobs and beautiful women. But first, the hardships and dangers of the journey — trekking across the North African desert, fending off bandits and setting off to cross from Libya to Italy in a barely seaworthy vessel. The pair are lucky; they are rescued at sea and granted temporary residency in Rosarno.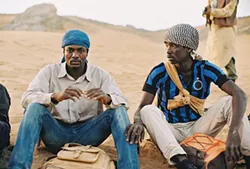 But this is no paradise. They are taken aback by the cold weather, shanty-town accommodations, shitty off-the-books jobs in the orange groves, and hostility and racially motivated violence from the locals. But it's not all bad: Some residents are kind, and there are other African immigrants to share beers and Rihanna songs with.
Of the two, Ayiva is more adaptable. While he trades today's miseries for what he hopes will be tomorrow's gains, Abas is dejected and depressed that the promised land proves to be a bust.
There isn't a lot of plot in Mediterranea, though the day to day of the immigrants' lives is disrupted by a violent incident (drawn from actual events that occurred in 2010). But the non-professional actor Seihon has a lot of screen presence, and he adeptly conveys the many conflicting emotions Ayiva feels, from hope and excitement to anger and betrayal. Carpignano employs a lot of long takes with handheld cameras which contributes to the film's intimacy and immediacy.
Ayiva and Abas aren't escaping religious persecution or the horrors of war, like so many in today's headlines. Rather, for them, Europe represents more and better opportunities, economically and culturally. Yet much of what they endure and encounter is applicable to those we spy in brief news round-ups. As such, Mediterranea helps define and humanize those who are too easily dismissed under the rubric of a "crisis."