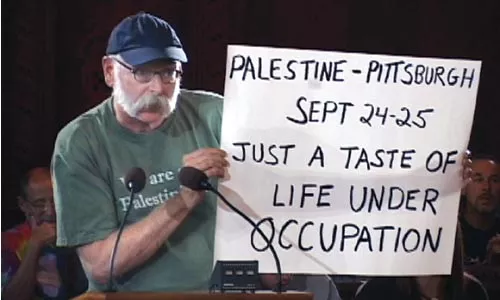 An increasingly vocal core of activists may convince Pittsburgh City Council to turn away police ordinances spawned by the G-20 summit -- measures protesters say will hamper free speech.
One of the proposed ordinances would cite people for wearing a mask or other face concealment with the "intent" to commit an unlawful act. Another would give the same penalties -- a $300 fine or up to 30 days in jail -- to those possessing "noxious substances," weapons or other equipment that could be used to prevent police from dispersing them. The measures have been set for their first vote Sept. 9.
"It is difficult, if not impossible, for police officers on the scene to determine what people's intent is," Vic Walczak, legal director of the state American Civil Liberties Union, told city councilors at the Sept. 2 hearing. Such ordinances will be "used just as a pretext to arrest and detain people" -- even those not involved in a crime.
"I have ... never before seen such a knee-jerk and poorly crafted response to ... fear-mongering by both city officials and the media," said Mel Packer of Highland Park -- one of several dozen activists on hand to object to the ordinances. Packer is organizing with multiple groups associated with Garfield's Thomas Merton Center -- all of which are seeking city-issued protest permits for rallies, educational events and marches.
But those groups aren't the real targets of the legislation, said Councilor Bruce Kraus. City officials are much more concerned about members of the Pittsburgh G-20 Resistance Project, a group of anarchists and their allies planning multiple protests. Those groups have not sought permits, or announced their tactics, although they have published fliers other city councilors have held up as incendiary.
"We reject any attempt by the city to repress dissent, to enable police violence or to change the rules of how and when people may protest," said Resistance Project spokesperson Jesse Ericson in a phone interview later. "We don't want to fall into the trap of begging the people we are trying to resist for permission to resist them in the way they would like."
The new legislation is "a disturbing move and I think it ought to be disturbing to everyone in Pittsburgh," Ericson added. "Especially because [the councilors] are not planning on letting this expire once the G-20 is over."
But councilors are voicing some dissent of their own about the proposed legislation.
"You have such wonderful things you're protesting for," said Councilor Theresa Smith. "Who can disagree with world peace? Jobs? I will uphold the Constitution of the United States," she added. Councilor Darlene Harris made a similar pledge.
"If council passes this, I will be protesting it," said Council President Doug Shields.
Councilor Ricky Burgess said he would "probably" vote yes on both laws. "[T]his G-20 is a once-in-a-lifetime thing," he said, "and we have to now balance the right of all people to have free speech and the absolute necessity for all people to be safe."
But Councilor Bill Peduto volunteered to sponsor an ordinance Merton Center activists hope will actually accomplish that: a resolution that would urge city officials to uphold free-speech rights during protests. While the resolution lacks the enforcement power of the crime ordinances, it asks the city to provide speedy approval of protest permits. It also requires the city to pledge appropriate training for the many police agencies set to come here. The city's 900-person force will be joined by 3,100 other officers and, as WPXI recently reported, 2,000 members of the National Guard.
Specifically, the ordinance requests that officers refrain from pre-emptive arrests, unnecessary force, surveillance or harassment of non-violent protest groups and "the deliberate distortion of information ... regarding protesters' intent, the circumstances of arrest, or the actions of police." It also seeks "the dispersal of public assemblages only in the event of an emergency" and "complete and timely disclosure of information regarding the location and condition of arrestees."
Shields seemed to embrace the resolution as well. "We need to make sure that the permits are granted, the streets are sufficiently open and you're not confronted by walls and walls of police," he said. "There's a lot wrong with the world. There are 20-some nations attending this thing, and they need to be told why."