"I can't donate my blood as a man who has sex with men, so I just use my blood in other ways."
As he puts the final touches on his installation exhibit "Taking good care of your things leads to taking good care of yourself" on the second floor of
The Mattress Factory
's Monterey Annex, artist Adam Milner gently holds up a glove, stained with his boyfriend Fred's blood. The glove is stiff; solid and molded as if a hand was still inside of it, but less like it was severed from a body and more like the rest of the body just quietly disappeared.
In the next room, a few days before the exhibit opens to the public, Milner points to a spot on the floor beside him where he says a vial of Fred's blood will soon be embedded into the floor.
Poor Fred!
"He has plenty," he laughs.
Milner is one of nine artists in the contemporary art museum's
Factory Installed 2019
exhibit of eight diverse installations
,
opening with a free reception Fri., Sept. 27 and on display
through 2020. He credits feminist and queer artists who have a long history of using blood in their art as inspiration. If most people can donate blood every 56 days, why not him? "As I draw it, my body makes more of it."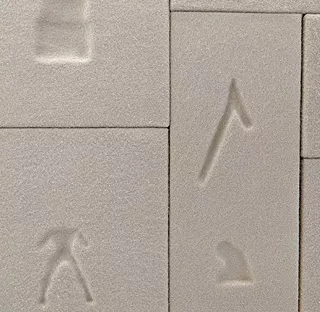 It's not the first time he's worked with body parts, something Milner says is not unlike embalming. Just this summer, his piece "Some Body," part of 937 Gallery's
What We Don't Talk About
, included a mixture of bones and teeth; in January, his piece "Pedestal (or, Imagine me this big!)" showed his wisdom tooth resting on top of a larger bronze tooth with patina, as part of Brew House's
The Self, Realized: Queering the Art of Self-Portraiture
.
The act of removing objects from their original space and memorializing them carries through his current installation. Milner's way of preserving his mementos — physical objects, tools, pieces of the body — feels like a reincarnation. During the exhibit, the blood-stained glove and other objects will be displayed in carved-out spaces on a foam mattress; parts of a body becoming a part of the objects taking the place of a body.
"The show's a lot about objects holding objects," he says. A display case holds tokens on loan from the museum founders. An entire wall is covered with the imprints of tiny objects; shapes of toys and minuscule tools and utensils, carved out of foam, creating an illusion of fossils or, as he prefers to think of it, hieroglyphics.
The title of Milner's exhibit comes from a quote from Marie Kondo, the neat freak star of Netflix's hit
Tidying Up with Marie Kondo
, which encouraged viewers to clean up their houses and let go of things that don't "spark joy." But what if everything you touch sparks joy? What if you don't want to let go? What if you think every object has a purpose?
Placed in the middle of the neatly arranged wall of cut-out objects is a small monitor looping an episode of the TV show
Hoarders
, with all of the people edited out, leaving screen after screen of objects piled from floor to ceiling.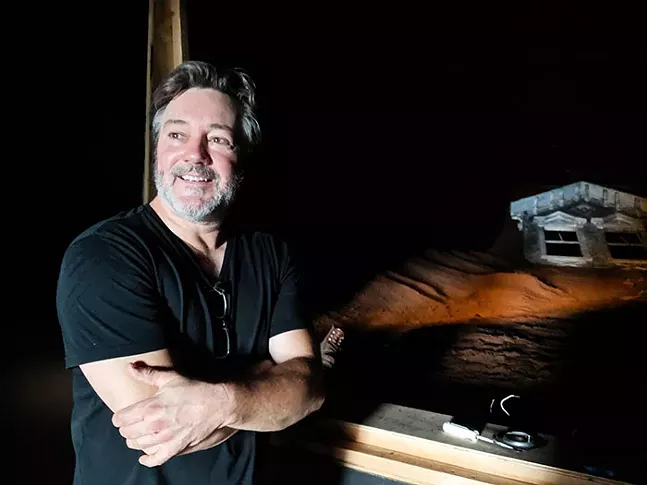 Down the street from Milner's exhibit, on the fourth floor of The Mattress Factory's main building, the facade of a gothic house peers out from the shadows. From afar, the scene could be mistaken for an underexposed photograph. Through a large viewing window, the weathered facade can be partly seen nestling mounds of dirt through streaks of carefully placed lighting, appearing as if an entire house has been buried beneath the soil.
Patrick Robideau, an artist from Buffalo, N.Y., says when he first saw the facade lying in a field at exactly the same 25-degree angle he's placed it in the museum, it reminded him of the house in which he grew up in Niagara Falls.
"All Is Not Forgotten," Robideau's evocative installation piece in this year's
Factory Installed
, uses fragments of objects like the antique facade to create an illusion of an entire house and the objects it once held, taking visitors on an intense voyage through moments long past.
A 40-feet dark and narrow hallway, smelling sweetly of newly-constructed wood, sits to the left of the viewing window. It's an eerie passageway, making one feel like they're traveling deep into the house whose facade sits at the front of the exhibit. The further one walks, the more it feels like time itself is passing.
"The important part," Robideau says, "is you lose track of the house facade as you're coming down this hallway."
Two small tunnels in the hallway give additional clues to the history of the dwelling. "I'm forcing the viewer to experience my early memories," he says. The maze is inspired by his memories of playing under the front porch of his childhood home. "If you really want to experience this piece, get down on your hands and knees and crawl through this tunnel." There's a surprise back there too, a piece that Robideau says is the heart of the house.
Lighting is as important to "All is Not Forgotten" as the objects themselves. It's intentionally theatrical and dreamlike, forcing the viewer to see the exhibit in fragments until your eyes adjust to the darkness. It's not until you've seen all of the exhibit's bits and pieces that you can get the entire picture, and even then, you're still viewing only the parts that can be remembered.
"It's the way that dreams and memories act in this gray area," says Robideau.
At the very back of the hallway, at the end of the long dark journey, sits a room that feels a bit like a secret. Robideau says the room is not unlike the memories he has of his grandparents' house — his grandmother's boots are there, his uncle's chair. But it feels like
my
grandparents' house too, and the jolt of seeing familiar objects is so realistic and unexpected, I find myself close to tears with my own memories flooding back.
I share my emotions with Robideau. "That's wonderful," he says. "That's the perfect thing. It's nice to have that feeling."
Factory Installed 2019
also includes "You're Not the Boss of Me," by Nathan Hall, featuring a harpsichord dangling from the ceiling with red bondage rope, as a soundtrack plays music from the instrument.
"Laboratory for Other Worlds," by Patte Loper, takes viewers on a trip into a sci-fi film set. "Dragonfruit," by Mexican artist Pepe Mar, creates rooms of brightly-colored mixed-media pieces, influenced by the fashion and queer club scenes. Tra Bouscaren's "Night Blooms," a trippy installation found in the basement of the museum's main building, mixes sculptures with video and lighting.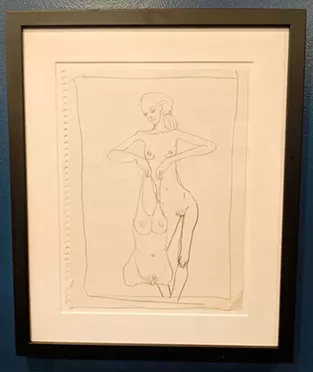 Two artists have worked together for "The Other Apartment": Pittsburgh-based artist Jon Rubin has recreated the apartment of Tehran-based artist Sohrab Kashani, which he uses as a space for exhibiting contemporary art in Iran. The identical spaces will display the exact same pieces at the same time on opposite ends of the world.

And finally, rounding out Factory Installed is Naomi Draper's breathtaking "Holding Fragments," exhibiting thousands of dried, pressed Queen Anne's lace flowers, gathered from the region over the last two months and woven together, becoming fabric. On the walls of her exhibit, a pattern of beautiful stamped flowers.

But for regular guests of The Mattress Factory, there's one more exciting exhibit being unveiled at the opening. Never-before-seen artwork from longtime museum favorite, transgender artist Greer Lankton, will replace the pieces that have been on display.


---