Love it or hate it, the American shopping mall is an iconic space.
At the height of mall shopping, it was seen by some as a triumph of American capitalism and consumer culture. Likewise, it's a tidy symbol for all that is wrong with rapacious American commercialism. Now at or nearing its nadir, the mall is seen as a symbol of American decay. The country is dotted with places like West Mifflin's Century III Mall, which is not technically dead, but certainly on life support.
Yet more than many other institutions, malls have captured the imagination. They are often deployed as a kind of shorthand for the adolescence of a specific generation — at least a certain segment of that generation which grew up and navigated the byzantine social order of suburban life in the 1980s. It's no accident that malls have played key roles in movies as disparate as Weird Science, Commando, True Stories and The Blues Brothers (not forgetting, of course, Mallrats). Perhaps no movie is as linked to the mall as Dawn of the Dead. Pittsburgh's own, the late George Romero, filmed his 1978 masterpiece at Monroeville Mall.
Like Romero before him, local writer Matthew Newton takes his inspiration from Monroeville Mall, a place where his mom worked and where he kicked around through his adolescence and young adult life. It feels different than plain nostalgia, though. The mall is a place where he feels calm and peaceful, like it's his own personal zendo.
Newton's book Shopping Mall is new this month on Bloomsbury Press as part of its Object Lessons series of short volumes about the hidden lives of ordinary things. Over 158 pages, Newton explores the life of the shopping mall from the first ground-breaking, in the 1950s, through the chaos and excess of the 1980s to the present, including the death rattle of many malls.
One of the first malls designed and constructed was Southdale Mall in Edina, Minn. It opened in 1956. The mall's designer, Victor Gruen, grew up in Vienna, Austria, and wanted to create a communal commercial space, a European-style piazza of sorts. With his design for Southdale, which included fountains, a goldfish pond, an aviary, and art and sculpture, Gruen was after a space of both beauty and connection.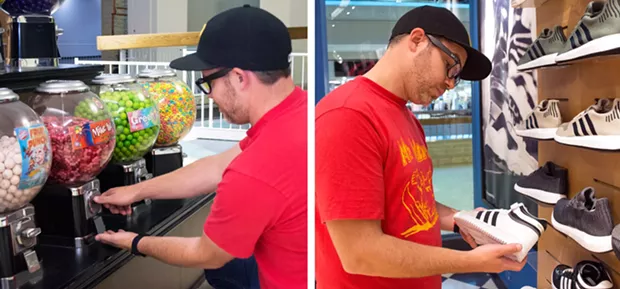 "He had these great European sensibilities," says Newton in an interview with CP. "Of course, what he wanted to replicate was these beautiful mixed spaces. When you hear that term now — 'mixed residential and retail' — you kind of want to scream. But when he was thinking about it in the 1940s and 1950s, I think it actually meant something. He thought of it on a smaller level: He thought of these nice little mom-and-pop businesses and cafes and boutiques, that it would be great to take that idea and bring that into [the] post-war American sprawl that instantly isolated people."
Over time, Southdale was less about community and more about profit margin. Other malls and developers followed suit. And yet for some, like young suburban kids, it was more than simply a commercial space. It was the street corner and the town plaza and a park bench. With an Orange Julius and a Sbarro. Perhaps The Mall fascinates because it is the one of the last symbols of modern American life pre-internet and social media — as Newton writes, "a landscape unspoiled by technology, a social network not yet digitized."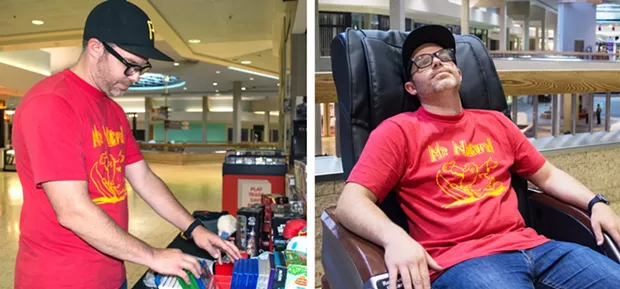 Newton, 40, lives in Churchill and is director of publishing at the Carnegie Museum of Art. In exploring a personal connection to the mall, he reveals a good bit about himself. The memoir elements of the book are eloquent and intimate, detailing his struggles with depression and anxiety. They also provide a reader with a walking bridge, an avenue for connection to the mall itself.
"The mall to me is like a container," he says. "I mean, if I had grown up next to a roller rink, the roller rink would have probably been the primary thing in my life, because I would have gone there. Because that's what that place means to you. For myself, there's so much stuff that happened at the mall."
"It maybe would have been cooler if it had been a park close to my house? But it wasn't," Newton adds, laughing.