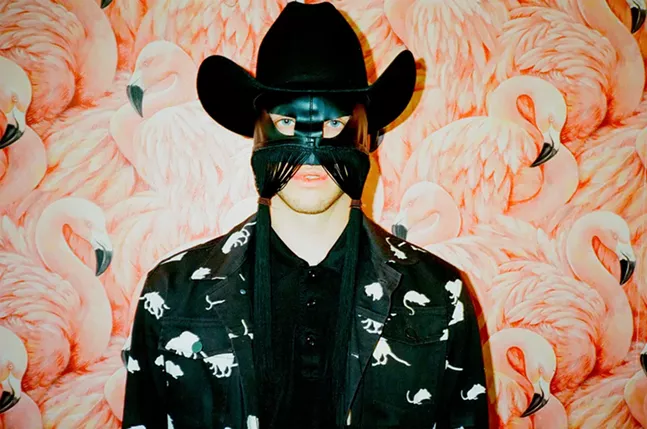 Orville Peck is a mysterious cowboy with piercing blue eyes behind a leather Zorro mask that drips with fringe to hide most of his face. His voice is a mix of Johnny Cash and the honey-tinged timbre of k.d. lang. His music combines country storytelling and warm croons into dynamic songs that tie in elements of '80s pop, shoegaze, and alternative rock.
Orville Peck is the persona of an unknown artist. He is secretive about the man behind the mask, but he shares personal details on social media and in interviews. He's a queer man who has been in the worlds of dance, fashion, and visual art. He's been in bands before. He's lived all around the world. He always has loved country music. He's making outlaw country in a time when being a visibly capital-Q queer person certainly can feel like being an outlaw.
He first appeared to me in the music video for his first single "Big Sky," an incredible song that uses simple ingredients to create an energy that is big and sparse and lonesome. A friend showed me the video and I couldn't stop watching it — it was an addictive stylized explosion of queer-coded urban cowboys and dancers shot on film and digital that was visually captivating, surreal, and moving.



A few months later, "Dead of Night" dropped, a tantalizing video that centered the women of the Chicken Ranch in Nevada, a legendary brothel outside of Las Vegas. Once again, the highly stylized music video paired seamlessly with Peck's dreamy croon and mysterious image.
At the end of March, his anticipated debut album Pony dropped, and it did not disappoint. Country drawl met handsome crooning to spin stories about lonesome cowboys, bitter blood, drag queens, and drifters. Peck strung country influence into a myriad of nods to other genres to create a cohesive record with melodies to be sung around a campfire on a dark, cool desert night.
Songs like "Kansas (Remembers Me Now)" and "Take You Back (The Iron Hoof Cattle Call)" are perfect introductions for more old-school country fans, while songs like "Turn to Hate" almost carry an old R.E.M. vibe. "Queen of the Rodeo," a personal favorite, has a chorus ripe for belting in the shower. It's country through-and-through, but the kind of country music that queens will gleefully lip sync to, not unlike country icon Dolly Parton.
While many are obsessed with figuring out the man behind the mask, I'm more content to just enjoy the character. Orville Peck's a queer cowboy making music accessible to anyone who will listen, telling intimate stories about characters we can see mirrored in the worlds we live in. That's plenty for me.