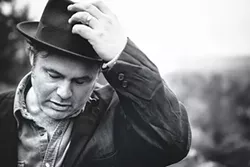 The idea of the mixtape is different in rock music than in hip hop, where the term is more common lately. The hip-hop mixtape is generally a semi-formal release, a sampler put together by an MC on the cheap for exposure or to keep the fans happy between studio releases; it's rarely an actual tape anymore, but it's ubiquitous. In rock circles, a mixtape is more of a relic: an artifact of the days when we collected records and CDs, and sequenced our favorite songs onto a cassette tape for a friend or beau, or to take on a road trip.
It's the latter that Martin Sexton looks to recall with the title of his latest album, Mixtape of the Open Road. 
"Unless an album is The White Album or Abbey Road," Sexton relates via email, "they tend to be a bit more uniform in their tracks. A mixtape is usually a complete mixed bag made for you by someone you love or know or whatever." (Sexton prefers email for interviews, in part because he spends a lot of his time in the Adirondacks, where he wrote much of the new album, and where, perhaps not coincidentally, he doesn't get particularly good cell reception.)
Mixtape, released in February, does have the feel of a mixtape: While Sexton's output has, over his 20-plus-year career, been plenty eclectic, he ups the ante this time around. It starts with Western swing (on the leadoff track "Do It Daily"), takes a detour through John Mayer love-song territory ("Pine Away") and veers toward R&B, on the album's first single, "Remember That Ride."
Sexton says the songs themselves were the impetus for the mixtape concept.
"Early on, I stepped on the gas in the mixtape direction, as the songs demanded they not be harnessed into one box," he explains. 
Driving metaphors notwithstanding, Sexton says the "open road" part is less literal.
"When it became apparent it was going to be a mixtape," he notes, "I took a tip from Walt Whitman's 'Song of the Open Road,' and titled it similarly."
Despite that protestation, it's tough to argue that the vehicular travel doesn't play some role in Mixtape's content and structure. The lyrical references are oblique: The ride in "Remember That Ride" is at a carnival or amusement park, not on a highway. "Shut Up and Sing" references Kerouac (inextricably linked to wanderlust like no other American writer), and "Virginia" would seem to be about a person, not the state. But it does little to dispel the idea that this album might be a good one for hitting the highway.
And any album with the mix of American styles — country to folk to blues — that manifest here will lend itself well to a cross-country trip. Add the gentle stops and starts and tempo changes that mimic off-and-on traffic, and perhaps Mixtape is more of a road document than even Sexton intended, or realizes.
Aside from its concept, much of Mixtape of the Open Road brings us the stuff that's become Sexton's stock in trade: velvet-smooth soul vocals, clever and earnest songwriting and storytelling, an occasional well-placed yodel or whistle. "Stock in trade," though, doesn't necessarily mean "stock." It's a tribute to Sexton's songwriting chops and effortlessly beautiful vocals that any song on this new record could have appeared on one of the albums the songwriter released on Atlantic back in the '90s, yet it all feels fresh.
Sexton's charm lies in his very ability to shift quickly and seamlessly across genres, the connecting thread being his narrative skill. The inherent risk in writing songs in so many different styles is sounding contrived — short of going off the deep end (a la The Magnetic Fields), a songwriter needs to tread lightly so as not to sound like the genre-shifting is a ploy to distract the listener from a lack of depth. Sexton walks the line with ease.
When Sexton appears at this year's WYEP Summer Music Festival, on June 27, he'll be playing in a two-musician configuration, with drummer Joe Bonadio accompanying him. It may not be a big band, but it gives Sexton the freedom to do what he does so well — fill the air with sounds. "Together, we create the sound of many," he says, "but still retain the moments of pin-drop silence."
It's not his first time working with WYEP. Sexton has been a fixture on the triple-A radio station's rotation since the '90s, and contributed a track to its first "Live and Direct" compilation, in 1999. 
This year's Summer Music Festival is the 18th for WYEP; it takes place at Oakland's Schenley Plaza, as it has yearly since 2008. Also appearing this year are alt-folk trio The Lone Bellow, up-and-coming indie rockers Kopecky (formerly known as Kopecky Family Band) and loud-and-upbeat locals Brightside. 
"Stations like WYEP are an essential source for good music that may not otherwise get commercial attention," Sexton notes. Despite the radical shift in music consumption in recent years, "I think terrestrial radio does still play a role because of the community it creates that you don't get with the Spotifys or the satellite stations of the world."
Of course, for Martin Sexton, sometimes what seems to others to be obsolete is precisely what works. 
"On a whim, we released Mixtape on cassette, as more of a fan piece than anything," he explains. "But to our surprise, it actually sells quite well, and we are on our second pressing now."