SPOTLIGHT: Sat., Jan. 17 – Festival
With racism again making headlines as a matter of life or death, and Selma in movie theaters, Dr. Martin Luther King Jr. Day feels especially timely. Commemorations blend social conscience, service and art. The annual free Let Freedom Sing concerts on Sat., Jan. 17 (Ebenezer Baptist Church, Hill District), and Mon., Jan. 19 (McKeesport Area High School) feature choirs from both city and suburbs; donations benefit area food banks. The Children's Museum offers hands-on art programs (through Jan. 19) and Jan. 19's King for a Day event (10 a.m.-4:30 p.m.), which lets kids and adults read King's iconic speeches aloud, and catch a performance by spoken-word artist Leslie "Ezra" Smith. Also on Jan. 19, from noon-4 p.m., the Kelly-Strayhorn Theater holds the sixth annual East Liberty Celebrates Dr. Martin King Jr. (pictured), with free family-friendly activities and performances. The Union Project hosts a free, all-ages open discussion about bridging our differences — race, cultural identity, disability — concluding with a free community meal. Service opportunities include the Student Conservation Association's day-long Jan. 19 event combining a morning's work removing invasive species in Schenley Park with an afternoon festival at the park's ice rink (rsouthers@thesca.org). And the Bloomfield Bridge Tavern hosts the annual MLK Day fundraiser for the North Side's Duncan and Porter House for the Homeless, a concert featuring Phat Man Dee, Raised by Wolves, ATS and more (9 p.m., 412-682-8611). Bill O'Driscoll
Fri., Jan. 16 — Screen
Its title notwithstanding, Titans of the Ice Age is not the new Michael Bay film. And even though it's animated, and depicts the ice age, don't expect talking squirrels. This release from Giant Screen Films (in association with Chicago's Field Museum) seeks to accurately recreate the world of saber-tooths, giant sloths and woolly mammoths. While its massive Pleistocene critters are CGI, the 45-minute film features backdrops shot on location in places like Alaska and Yellowstone National Park, and Paleolithic humans portrayed by contemporary Native Americans. The film's run at the Carnegie Science Center's Rangos Omnimax Theater begins today. Bill O'Driscoll First screening: 11:15 a.m. One Allegheny Ave., North Side. $5.50-8.50. www.carnegiesciencecenter.org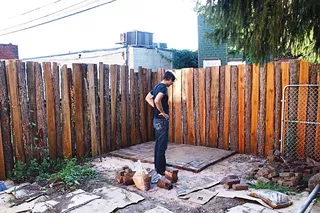 Fri., Jan. 16 — Art
Our great-grandparents spent all their time interacting with physical objects, and rarely saw pictures of themselves or their surroundings. Now many people live online, and daily send images of ourselves global. In his first solo exhibition, local artist Danny Bracken explores how technology has changed our idea of place. How do the physical and digital worlds conflict with each other, and how might they be compatible? Bracken uses video, sound, sculpture and printed matter to explore such concepts, sometimes employing Pittsburgh neighborhoods as subject matter. The opening reception at 707 Penn Gallery is tonight. BO 6-8 p.m. Exhibit continues through March 1. 707 Penn Ave., Downtown. Free. www.trustarts.org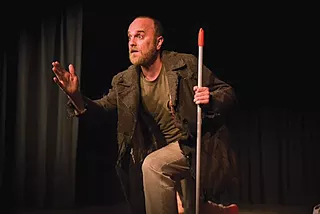 Fri., Jan. 16 — Stage
We're far from where the sidewalk ends in Shel Silverstein's The Devil and Billy Markham. To be exact, we're in hell. In a one-man show at Arcade Comedy Theater, Virginia-based actor Jonathan Stewart performs an epic rendition of a rhyming tall tale about a songwriter who loses a sucker's bet with the devil. Originally written for a 1979 issue of Playboy, the production is set to live devilgrass/folk music by duo Atoka Chase. And it's definitely not suitable for children. Zacchiaus McKee 8 p.m. Also 8 p.m. Sat., Jan 17. 811 Liberty Ave., Downtown. $5-$10. BYOB. 412-339-0608 or www.arcadecomedytheater.com.
Fri., Jan. 16 — Stage
The Mask of Medusa, a chapbook by locally based poet Sheryl St. Germain, has inspired Kiss Me or Cut Off My Head, a new play by Brooke M. Haney. The New York-based Haney blends St. Germain's poems with interviews of rape survivors. The hour-long work uses the myth of Medusa (who in one version of her myth was raped and punished for it) to confront rape culture in the U.S. and Kenya, and to challenge conventional thinking about sexual assault. Haney stars in tonight's free performance at Most Wanted Fine Art, which features additional actors on video; the play is slated to premiere in New York City later this year. BO 8 p.m. 5015 Penn Ave., Garfield. Free. www.kissmetheplay.org
Fri., Jan. 16 — Comedy
This might be something new in town: an original live monthly sitcom. The Sisters Sorella is the brainchild of No Name Players' Tressa Glover, who along with Julianne Avolio, Gab Bonesso and Maggie Carr wrote the script promising "3 sisters. 1 apartment. Total DysFUNction." Episode one at Arcade Comedy Theater features Glover, Avolio, Carr, John Feightner, Connor McCanlus and special guests Hustlebot. The show also offers live music and live commercial breaks. But is there a theme song? Find out when the premiere episode is staged late-night tonight and tomorrow. BO 10 p.m. Also 10 p.m. Sat., Jan. 17. 811 Liberty Ave., Downtown. $10. www.nonameplayers.org
Sat., Jan. 17 — Exhibit
Deep inside a January cold snap, it's easy to imagine the appeal of Phipps Conservatory and Botanical Gardens' annual Orchid and Tropical Bonsai Show. This year's iteration features hundreds of specimens of the much-loved flower, in both garden beds and hanging baskets. The show, which opens today, complements Phipps' permanent collection of tropical bonsai. Programming includes talks on orchids and bonsai, free with admission on selected Saturdays and Sundays. BO 9:30 a.m.-5 p.m. Exhibit continues through March 1. One Schenley Park, Oakland. $11-15 (free for kids under 2). 412-622-6914 or www.phipps.conservatory.org
Sat., Jan. 17 — Art
BoxHeart received more than 600 entries from artists around the world for its 14th annual iteration of Art Inter/National ... here and abroad. See the 24 works by 20 artists the gallery selected at today's opening reception. Contributors include Israeli artist Revital Falke, Malaysian hardwood sculptor Anniketyni Madian, Bulgarian-born Elena Peteva and artists from Canada, Colombia, Iran, Pakistan, Russia, Turkey and the U.S. BO 5-8 p.m. Exhibit continues through March 13. 4523 Liberty Ave., Bloomfield. Free. 412-697-8858 or www.boxheartgallery.com
Sat., Jan. 17 — Music
Formed in 1991 to play contemporary music, the Florida-based Amernet String Quartet has gone on to win awards and garner critical praise internationally. The group The New York Times lauded as "immensely satisfying" visits tonight courtesy of The Andy Warhol Museum and Pitt's Music on the Edge. The quartet perform works including Elliot Carter's 20th-century classic String Quartet No. 5, Eric Moe's "The Salt of Broken Tears" and Cambodian-American composer Chinary Ung's "Spiral III." And composer Amy Williams joins the group on piano for her work "Cineshape 2." BO 8 p.m. 117 Sandusky St., North Side. $10-20. 412-624-7529 or www.music.pitt.edu
Sun., Jan. 18 — Comedy
Kevin Hart is hardly new to show business: He's been acting in television and movies and doing standup since the early 2000s. But in 2014, Hart became huge. His buddy comedy Ride Along, with Ice Cube, made $154 million worldwide, and he's slated to star this summer alongside Will Ferrell in the prison comedy Get Hard and in a Ride Along sequel next summer. But at his core, this Philadelphia-bred performer is a standup comedian whose shows are full of high energy and quick wit. Hart is at Heinz Hall tonight and tomorrow for four shows. Charlie Deitch 7 and 10 p.m. Also 7 and 10 p.m. Mon., Jan. 19. 600 Penn Ave., Downtown. $59.50. 412-392-4900 or www.pittsburghsymphony.org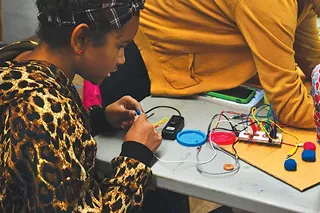 Mon., Jan. 19 — Learning
The creative space known as Assemble is offering a new weekly Girls' Maker Night to get girls in grades 6-8 interested in science, technology, engineering and math. The free, all-girl classes led by female instructors run every Monday afternoon. Hands-on activities are used to "teach tech skills, improve problem-solving and build confidence." Sessions like tonight's are limited to 10 girls a night, so contact Assemble ahead of time. BO 4-6:30 p.m. 5125 Penn Ave., Garfield. Free. 412-254-4230 or nina@assemblepgh.org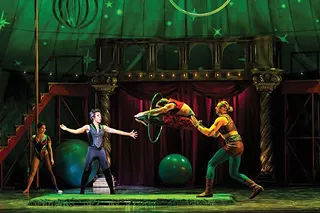 Tue., Jan. 20 — Stage
In a high-flying, death-defying revival, Pippin is on stages again for the first time in 40 years. This circus-inspired Broadway musical means to thrill with acrobatics designed by Gypsy Snider of the circus company Les 7 doigts de la main and soaring songs from Wicked composer (and Carnegie Mellon grad) Stephen Schwartz. Described by USA Today as "the season's best musical," Pippin follows a prince on a journey to find meaning in his existence. The Pittsburgh Cultural Trust, Pittsburgh Symphony and Broadway Across America host eight performances of the touring production spectacle starting tonight. ZM 7:30 p.m. Continues through Sun., Jan. 25. Benedum Center, 719 Liberty Ave., Downtown. $27-72. 412-456-6666 or www.trustarts.org.