The world that Marissa Nadler creates in her most recent release, July, isn't, as the title may suggest, one of sunny, heart-of-summertime fun. Instead, it's a little closer to what life is often actually like in the peak of the season: hazy, placid, with the faint sense of melancholy that comes with hot weather and too much time to think.
Nadler's music has always had a shadowy quality, though her past releases were more firmly rooted in Americana and gothic folk traditions. There were hints of something otherworldly on those earlier records — manifested mostly in Nadler's dewy vocals — but they were ultimately grounded with an earthy heft. While July hardly finds Nadler floating through space, the record is ghostly, seemingly straddling the line between this world and the next. "I feel like this record sounds like what I wish my other records sounded like," Nadler says. "I feel like it took me a really long time to get to a place where I was making music that was as dreamy and cosmic as I wanted it to be."
The Boston native started writing songs on her guitar as a teenager, and continued as a way to blow off steam while she studied painting at the Rhode Island School of Design. While, for Nadler, music and art occupy separate realms, there is something painterly about her songwriting: The sonic worlds she creates are as easy to envision as if she was sketching them out.
As her music career has taken priority, she's maintained her connection to the fine-art world as a teacher. "I [started] teaching when I was taking the time to make this record — I was like, 'Maybe I should get out of [the music] world a little bit while I'm writing,'" she says. "But I definitely think I'm a lot happier being an artist full time. I have trouble with the schedule, waking up that early," she says with a laugh. "It's, like, really early: 5:30 in the morning." She's since quit to focus on touring, though she admits, "I think it's good to get my brain out of the indie-music world."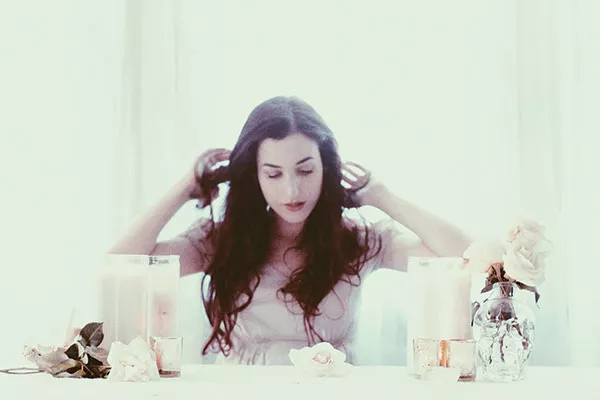 While July shares the influences that were evident in Nadler's earlier work (Joni Mitchell and Leonard Cohen are some of the most obvious), producer Randall Dunn, most noted for his work with bands like Earth, Sunn0))) and Eagle Twin, certainly had a hand creating the atmosphere that makes the new album some of Nadler's best work. Nadler is no stranger to the world of extreme music — she has offered her voice to the ambient black-metal project Xasthur, and collaborated with drone outfit Locrian. But, while the black-metal aesthetic has never been more popular (have you ever seen so many suburban teenage girls decked out in upside-down crosses?), Nadler's music is blackened in a way that is all her own.
"I think that I'm drawn to music that has a lot of emotion," she says. "It doesn't really matter what genre it is, but I think black metal and extreme metal has a lot of emotion in it, so that's really the unifying force right there. I don't want to pigeonhole my music by saying it's all dark, because it's not, but there's this element lyrically that we have in common."
July does have its murky and even menacing moments, but it's hardly a meditation on evil. Thematically, it deals with, among other things, the "ups and downs of a romantic relationship." But Nadler makes it clear that it is not a breakup record. (Though with haunted tracks like "Was It a Dream" — "It's true that I lost a year / stumbling from room to room / hoping to wake up / somehow next to you" — it could certainly serve a listener as such.)
It was Dunn who sought out Nadler, not knowing if she even had plans to make a new record. "Over the years," he says, "a lot of people were like, 'Hey, you two should work together!'" Both describe the recording process as easy and organic, and on it — as on records like Wolves in the Throne Room's Celestial Lineage — Dunn deepens and softens the existing darkness, infusing July with a mystic, naturalistic heaviness. He's modest when it comes to his contributions to the quality of the project: "A lot of it is the performance, in my opinion," he says. "It was the way the songs resonated with her, the confidence and clarity she had coming in had a lot to do with the sort of crystalline aspect of the record. That just allowed me to enhance it with ideas and bring other things to it."
And while Dunn might be best known for his work the metal world, he says, "Most of the time, I'm looking for something beautiful, and there's a peacefulness in [Nadler's] music that I find very enduring. There's a commonality in all music, a thread of expression that supersedes whatever style it is, and of course she has something really unique and special."