It's pretty easy to cherry-pick highlights of fall's visual-arts offerings. We can bet, for example, that a Marilyn-themed show at the Warhol will draw. Likewise the Mattress Factory's exhibit exploring race and racism in contemporary Cuban art. And the August Wilson Center for African-American Culture hosts its inaugural exhibition.
But in fact, Great Recession or no, all across town, galleries and museums seem as busy as ever.
Marilyn Monroe: Life as a Legend (Oct. 24–Jan. 2) is a traveling show, curated by Hamburg, Germany's Artoma. It features more than 300 works by some 80 artists working in a multitude of styles and media -- from publicity photos to pop art -- to evoke the sex symbol's career.
Besides Warhol and his famed silkscreens, the names on parade include Richard Avedon, Henri Cartier-Bresson and Bert Stern. There's also a Monroe film festival. And everything kicks off in grand style at The Andy Warhol Museum with a 24-hour opening celebration (courtesy of the Regional Asset District's RADical Days). The Oct. 23-24 party includes a Marilyn lookalike contest, artmaking, talks and more.
Never one to rest on its laurels, the Warhol comes back a week later with its own 15th-anniversary party, a big Oct. 30 gala featuring DJ ?uestlove (from The Roots).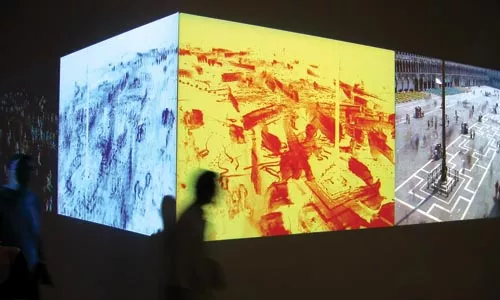 The Mattress Factory, meanwhile, dives into controversial waters with Queloides/Keloids: Race and Racism in Cuban Contemporary Art (Oct. 15-Feb. 27). The show, which premiered at an Havana gallery, is curated by Pitt professor Alejandro de la Fuente and Cuban artist Elio Rodríguez Valdés. It includes new work by 12 artists who've explored the traditionally taboo topic of discrimination toward Afro-Cubans.
For its debut exhibit, the August Wilson Center's novel tack was to have artists design rooms representing fictional African-American families of the 20th century. Echoing the "century cycle" of plays of the center's namesake, In My Father's House continues through July.
Also of historical as well as aesthetic interest is For My Best Beloved Sister Mia: An Album of Photographs by Julia Margaret Cameron (Oct. 23-Jan. 2). The Frick Art Museum hosts this touring show that spotlights the 19th-century photography pioneer, who got her first camera in 1863 (at age 48) and forged an innovative, painterly style.
Another photography innovator gets his due at the Carnegie Museum of Art with André Kertész: On Reading (Oct. 23-Feb. 13), a touring collection of the Hungarian master's work celebrating the written word. Meanwhile, the Carnegie draws on its own collection for Ordinary Madness (Oct. 16–Feb. 6), a show of contemporary work that "dwells on the bewildering experiences that people subconsciously synthesize on a daily basis."
Eastward on Fifth Avenue, Pittsburgh Center for the Arts continues through Nov. 7 with shows of work new (by Group A and Patricia Villalobos Echeverría) and old (paintings and works on paper by the legendary Maxo Vanka). On Nov. 21, the PCA fetes this year's Artist of the Year, filmmaker and painter Brian Dean Richmond, and Emerging Artist of the Year, Gregory Witt.
Downtown, at Wood Street Galleries, the team of Jem Finer (also known as co-founder of The Pogues) and David Rokeby offer sound installations collectively titled Audio Space (Oct. 1-Dec. 31). And SPACE tackles political posters (Paper Politics, through Oct. 24) and sustainable living (SCALE, Nov. 19-Feb. 6).
The Miller Gallery's homage to Steelers fan culture, Whatever It Takes, continues through Jan. 30. And Silver Eye Center for Photography's Spectra: New Abstract Photography, a group show, continues through Nov. 13.
Finally, numerous occasions to exercise your glass eye include Glass: A Decade and Change (Oct. 16-Dec. 31) at Lawrenceville's Borelli Edwards Gallery. The show features new work by Kathleen Mulcahy and Ron Desmett. They're the nationally known, locally-based pair who co-founded the Pittsburgh Glass Center -- which marks its own 10th anniversary with an Oct. 15 fundraiser, at American Eagle Outfitters Headquarters, on the South Side.