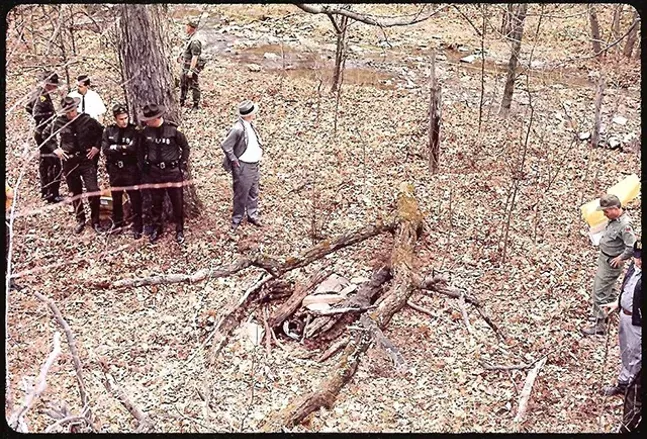 In its first episode, Kromatic Media's Mared and Karen displays all the earmarks of a popular modern true crime podcast. Two women — college freshmen at West Virginia University in 1970 — go missing after hitchhiking home from a movie on a Sunday night. Their bodies are later discovered outside of Morgantown, but their heads are never found. The story checks a lot of boxes: grizzly murder, prurient undertones, distinct location, hitchhiking.
But as the series develops, it becomes clear that the scope of the podcast is much bigger. It's about the unparalleled violence and crime rates of the 1970s, about psychopathy and the nature of evil, and finally, about the meaning of true crime's resurgence in popular culture. While at times it's horrific and upsetting — the "Parade of Horribles" episode is a straight-up nightmare — the show is head and shoulders above most of its true-crime contemporaries. There are other podcasts with twists and turns and intrigue and mystery, but none that navigate them as deeply and insightfully as Mared and Karen.
Pittsburgh City Paper spoke to host Kendall Perkinson, and contributors/authors Sarah James McLaughlin and Geoff Fuller about the show.
This story is really dark. How do you get away, or unwind, for the sake of your mental health?

Kendall: No one has ever asked us that before. There have been a couple people who have been surprised by how we try to joke a little bit in the podcast. You can hear laughter occasionally. I think that being able to remove yourself; that helps with the psychological component for me.
Sarah: I think definitely the gallows humor helps. But I also kind of cut out some of the darker shows that I've been watching on Netflix, because it was too much. I switched to really stupid movies to lighten things up, because it's been constant, for years now, that we've been focused on this.

Where does the story stand now?

Geoff: Sarah and I have been working on a book on the co-ed murders, same story but with a lot more detail.
What has surprised you the most in people's reactions to the podcast?

Sarah: I was surprised by how many people lived in Morgantown their entire lives and had never heard of the story.
I think one of the more innovative decisions on the show is the use of local Morgantown music. How'd you come to that decision?

Kendall: It's a local story, so that seemed appropriate. Also there were practical considerations. When you start picking music from bands that have no interest in providing it for free, then you start dealing with copyright and royalties. But all these bands are people in the DIY community in Morgantown. They support each other, they support the arts and projects like this. That was personally one of the best things I got out of it. Realizing just how cool that part of Morgantown is, how willing people are to help out.
It feels like you're sitting in the bar and someone's telling you this story and the band's playing on stage. It really puts you in the place.

Kendall: We actually had a show during fundraising for Mared and Karen. One of the things we donated was tickets to a rock show and we actually got to see the people who played on the podcast up on the stage. At least a couple of them actually narrated, like "OK, so in this part, it's this song and this is what's going on in the podcast."
I listened to it on a road trip to New York, and even though I was going the opposite direction of Morgantown, these backroads in Southwest Pa. were eerily similar to your descriptions of Appalachia and Morgantown. I think that's what I was drawn to. Pittsburgh is so close and it hangs over many aspects of the story.

Kendall: That opening monologue to the first episode really seemed to be something that was pointed out to by people. It really sets the scene, the creepy aspect of Appalachia.

Listen to Mared and Karen at kromatic.media and keep an eye out for Perkinson and McLaughlin's new show this spring.