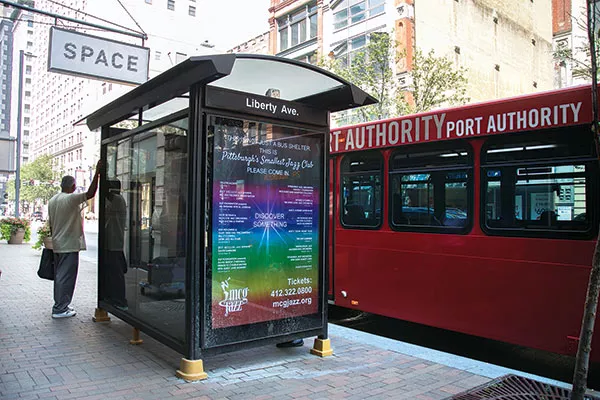 Downtown commuters may have noticed an upgrade at their bus stop last month. The otherwise typical shelter at Liberty and Strawberry Way was recently rigged with speakers and christened "Pittsburgh's Smallest Jazz Club" by Manchester Craftsmen's Guild Jazz, serenading all within earshot with upbeat, big-band jazz.
What they might not know is that the faces on the panels are those of three Pittsburgh-born jazz musicians — singer Dakota Staton, saxophonist Stanley Turrentine and bassist Ray Brown — and that every song playing through the speakers was recorded with local artists by MCG Jazz.
"We wanted to play stuff that was by Pittsburghers or featured Pittsburghers," says Amy Kline, marketing manager at MCG Jazz. Pittsburgh artists on the playlist include Mike Tomaro of Duquesne University, MCG Jazz's executive producer Marty Ashby, and the late jazz singer Maureen Budway.
"The intent was to prove that art is everywhere and jazz is easy," says Kline.
Funded by a $1000 grant from Awesome Pittsburgh and a sponsorship from Agile Ticketing Solutions, the "Club" is essentially just three components: a motion sensor to activate the playlist when people enter, the speakers and the iPod Shuffle — yes, there's really an iPod in there. The outer panel lists upcoming MCG Jazz events and declares "This Is Not Just A Bus Shelter. This is Pittsburgh's Smallest Jazz Club. Please come in."
"We loved it," says Leah Helou, one of the trustees at Awesome Pittsburgh. "It covered several bases that we care about — it's about Pittsburgh culture, art and music, and it involves an experience for Pittsburghers."
The location was chosen for its proximity to the Cultural District, says Kline, as well as for its high levels of bus traffic. Spend a few minutes at the stop and you'll see a variety of responses to the music: curiosity, indifference, amusement and, in people wearing headphones, unawareness. But for Kline, the object is to simply put the music out there.
"The goal was to share jazz music," says Kline. "The goal is to prove that jazz is accessible, that it's everywhere."
The "Club" will stay open through September.
Visit www.mcgjazz.org for more information.