Time was, your neighborhood probably had a little pizza shop. Maybe it just slung slices and pies for takeout, or maybe it also served a few sandwiches and pastas at tables with red-checked paper placemats. A few of these shops stayed open for decades, bucking the chains and achieving local-legend status.
But most passed from one proprietor to another with little change, let alone improvement, in the forgettable food or next-to-nonexistent atmosphere. The chief virtue of these establishments was their proximity.
Pizza shops have come a long way since. Imported meats, farmer's-market vegetables and artisanal cheeses have replaced the greasy toppings and cardboard crusts of yore. Plummy red wines and effervescent craft beers are suitably more sophisticated accompaniments than fountain sodas in red plastic cups. And the words "wood-fired oven" signal serious commitment to the ancient art of cooking flat bread.
More than that, the hearth-like wood-fired oven has a primal power to gather people around its warmth and glow. So it is at Mambo Italia, in the heart of Sewickley, where owner Robin Fernandez has created a restaurant that seems to function as the living — and dining — room of the community.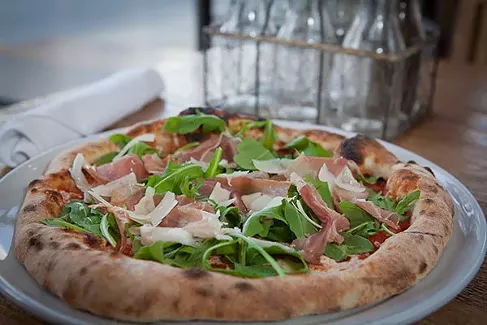 Even aside from the flicker and flame of the oven, Fernandez — who also runs the charming Lula up the street — got other things right. Big windows and an overhead door let Mambo Italia's interior spill onto the sidewalk, so that neighbors strolling down the street feel like part of the ambience, too.
The decor is a weathered mash-up of state fair and estate sale; a judicious application of modern seating and avoidance of calico ruffles keep it from spilling over into country kitsch. Shiny new appointments, like red enameled stools and a polished copper pizza bar, set off the patina of the reclaimed-wood tabletops, the rusted signs and hardware on the walls, and the agrarian imagery of cows and chickens.
The copper was radiant in the glow of the oven's flame, and it was a pleasure to watch the pies, perched on the end of a long peel, being moved around both the floor of the oven and the heat-gathering dome to develop the perfect airy lift and crisp browning. It was even more of a pleasure to consume them. The dough was chewy, light and well proportioned to its high-quality toppings.
A white pizza with prosciutto, sundried tomatoes and burrata (the mozzarella with a creamy center) mixed textures and flavors brilliantly. Whole basil leaves shimmered, translucent from the heat; paper-thin prosciutto hinted at crispness; and the burrata's silken richness was cut by the astringent intensity of the tomatoes.
Pizza Diavola was a sophisticated interpretation of that perennial favorite, pepperoni pizza, with the spicy sopressata being both less greasy and meatier in flavor than pizzeria-grade dried sausage. Fresh mozzarella brought a cleaner taste, and there were grace notes of grassy olive oil and peppery basil.
Beans and greens were sautéed with Italian sausage for a broth so deeply savory that we would have eaten it as a soup. We only wished there had been more creamy cannellini beans in this excellent dish.
Tagliatelle Bolognese, with broad ribbons of al dente pasta tossed with ground beef and veal, was a fine example of pasta in meat sauce. But it lacked that certain slow-simmered lusciousness that makes the difference between a good meat sauce and the extraordinarily complex character of Bolognese.
Extraordinary is the only word for Mambo Italia's gnocchi, however. Each dumpling was like an airy puff of mashed potatoes combined with sweet, creamy ricotta and held together by a just-firm exterior. Sage brown butter, that classic autumnal accompaniment, flavored the gnocchi without distracting in any way from their simple perfection.
We marveled again at the preparation of our Nutella dessert pizza. The disk of dough, puffed up in the oven, was cut around the edge with scissors, and then the middle was slathered with the better part of a jar of chocolate-hazelnut spread.
Dinner at Mambo Italia was a memorable experience in every way: warm, beautiful and delicious. Sewickley is indeed fortunate to have this as its modern neighborhood pizza shop.