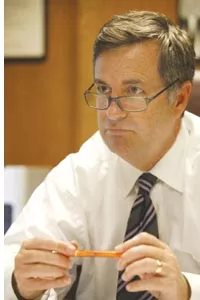 Pittsburgh Public Schools Superintendent Mark Roosevelt had turned in his 45-page report -- a self-evaluation of his second year as the district's leading man. And as he entered the July 25 meeting of the Pittsburgh school board, all he needed was a grade.
At the head of the long, slender conference table in the district's Bellefield Avenue headquarters, Roosevelt sat quietly as board members debated whether he had accomplished what he set out to do in his first two years -- and, subsequently, whether he deserved a pay increase of $15,000.
Not everyone thought Roosevelt deserved high marks.
"We need to show tough love to the man at the end of the table," said school-board member Mark Brentley, joining the meeting via speaker phone from St. Louis.
Leaning back in his chair, legs crossed and his glasses in one hand, Roosevelt clenched his forehead between his thumb and index finger as he endured the lengthy harangue from his biggest critic on the board.
Roosevelt, Brentley charged, had moved too quickly on his agenda to overhaul the district's K-through-8 programs. "We have major, major problems here," he added. "It is arrogant to move forward. We cover up another problem and another problem until it explodes."
Eventually, it was board member Theresa Colaizzi who exploded. Brentley, she said, hadn't helped the board with its evaluation of the superintendent.
"You have continually insulted this board," Colaizzi said firmly, projecting her voice toward the speaker phone near the middle of the table. "You can't pass judgment if you didn't participate."
"It's absolutely critical for the board and the superintendent to come together," added board member Patrick Dowd, one of Roosevelt's most vocal supporters. The superintendent, Dowd said, had "set an amazingly ambitious agenda. I see no reason to vote 'no' on this resolution."
"Everyone's expecting perfection out of the superintendent," said board member Daniel Romaniello Sr., also speaking by phone. But just before the board's final vote, Romaniello's phone connection cut out.
"I think he was going to ask if he could increase the raise by a larger margin," Roosevelt joked.
There were a few laughs, and a short time later the board voted, 6-2, to increase Roosevelt's salary from $180,000 to $195,000.
Roosevelt had passed the test, but the July 25 vote was at most a mid-term exam. A few weeks later, the state released standardized test scores that showed hopeful signs of improvement for the district. But debate over Roosevelt's sweeping agenda will continue; before it's over, in fact, he's already planning another series of reforms.
Shows Self-Confidence: A+
But if Roosevelt was shy about controversy, he would never have moved to Pittsburgh in the first place.
"In my first interview with the board, I said, 'Look, I'm not sure I want to come here,'" Roosevelt remembers, sitting at his paper-strewn desk. "'You've had very difficult relationships with previous superintendents. Over the past 12 years, it's basically been a neurotic knot of contention between you and superintendents'."
In fact, Roosevelt's hiring followed the ouster of the city's first black superintendent, John Thompson. According to the resolution that ended his contract in February 2005, the board believed that the district would best be led "under the guiding hand of a new educational and managerial leader."
The results of standardized testing underscored the concern.
According to test scores from the Pennsylvania System of School Assessment -- an academic-standards test for reading, writing and math -- about 40 percent of Pittsburgh Public Schools' high school students demonstrated "below basic" skill in math from 2003 to 2006. Only about 20 percent earned "proficient" ratings, a level reflecting adequate academic performance.
Under federal "No Child Left Behind" legislation, districts are required to demonstrate "Adequate Yearly Progress" toward achieving higher levels of proficiency. The Pittsburgh schools have failed to hit those targets in each of the past four years. If the numbers from the 2006-07 school year (which are due out at the end of August and are not available as this issue goes to press) also come up short, the district could be overhauled completely. Schools could be privatized or otherwise reconstituted from the ground up.
Meanwhile, Thompson's efforts to bring up those scores were complicated by a notoriously fractious board. At one point, bickering on the board became so testy that local foundations withdrew grant money supporting some educational programs.
But Brentley says factors other than academic performance played a part in Thompson's departure -- and in his replacement. Thompson's chief detractors on the board, a faction led by Carrick representative Jean Fink, were white. And Brentley says the process to replace him "was racially charged. Race and politics led the process."
According to Dowd, there were 10 semi-finalists interviewed for the position. Roosevelt, the great-grandson of Teddy Roosevelt, distinguished himself from the other candidates by showing he was "courageous enough to make bold changes, to radically overhaul the system," Dowd says.
"I said, 'If you like what you're doing now and don't want to do a significant reform effort, send me home!'" Roosevelt recalls, slapping his desk. "'Because that's what I would do if I came here.'"
But according to Brentley, the hiring decision "was slanted for Roosevelt from day one," he says. "Everything became very suspicious."
Roosevelt, after all, was applying for a job leading a district of about 30,000 students and 3,000 teachers -- even though he had never taught in a classroom or run a school building.
"Roosevelt did not meet the qualifications," says Brentley. "It's baffling how you can select someone who didn't even meet the bare minimum requirements."
"I'm kind of a traditional non-traditional," Roosevelt says. "I've been involved with educational policy for 20 years, but I had never been a principal, and I had never worked in a school administration."
As a state legislator in Massachusetts, however, Roosevelt chaired the legislature's Education Committee for three years. During his tenure, he helped develop and pass the Education Reform Act of 1993, which sought more equitable funding for schools and statewide standards for students, educators and school districts.
The act has received mixed reviews. According to the Center for Education Policy at the University of Massachusetts Amherst, successes included establishing equitable funding for schools and imposing high standards and tough assessments. But achievement gaps and weak math-testing scores continue to plague the state's school system.
Roosevelt also emphasizes his experience with the Broad Urban Superintendent's Academy, a 10-month management program training educators and other professionals to run large city school districts.
"I've had the great advantage of studying urban school districts with Broad," says Roosevelt. "That's what I did for a long time."
Still, he acknowledges, "Some people internally probably say, 'Well, he's not aware enough of what we go through, of how difficult it is to do something,' and that's probably right."
And racial distrust lingers. Brentley and fellow board member Randall Taylor -- who are both black -- voted against Roosevelt's appointment as superintendent; the only other African-American board member at the time, Alex Matthews, abstained from the vote. Brentley and Taylor were also the only board members to oppose Roosevelt's pay raise.
Roosevelt doesn't dwell on the negative, though.
"If you listened to people all the time here about how hard it is to make change, you wouldn't make any change at all," he says.
And while he recognizes that there may be resistance from the board, "[T]hey hired me. So in a sense, they have to own the fact that they hired somebody that came to them and said, 'I want to do systemic change.'"
Works and Plays Well With Others: A-
"Nobody could accuse Mark Roosevelt of not being ambitious," jokes Carey Harris, executive director of A+ Schools, an independent community advocate for improving public education. "But he doesn't have a choice."
The mark of Roosevelt's ambition is his four-year "Excellence for All" plan. Introduced in May 2006, the plan proposed a complete district overhaul, closing a score of schools, overhauling the training and accountability standards for principals, and developing new curriculum in every grade from K-8. Elements of the plan, Roosevelt says, were borrowed from districts like California's Long Beach Unified and Virginia's Norfolk Public Schools, which have been recognized as high-performing. He adds that while Pittsburgh presented a "complex series of issues," he couldn't let the district remain in its former state.
"Change always brings concern," he says. "The nature of an institution like this is to revert to the status quo. Educational institutions are as resistant to change as any institutions that we have. It's why our high schools look so much like they did in the 1950s, while the rest of the world changed hugely."
It's a plan whose scope Thompson, hemmed in by controversy and a fractious school board, might well have envied.
Roosevelt is "really changing the whole system," Harris says. "Thompson's plan was more incremental, but Roosevelt seems to pick big chunks."
Indeed, Roosevelt wasted little time making his first dramatic change, as he tried to reverse the financial spiral into which the district had fallen over the past few years.
One of his biggest year-one priorities, as set by the board, was to close schools, something he says desperately needed to happen to cut a $72 million operating deficit that was drowning the district. According to Roosevelt, the district had space for 50,000 students, even though only about 30,000 were enrolled.
His "right-sizing" plan closed 22 schools -- roughly one-fourth of the district's buildings. The cuts sliced the district's operating deficit to about $40 million in just six months.
Roosevelt's predecessors had also sought to close schools, with little success. "You have no idea how difficult it is to close schools," Colaizzi says. "It's easier to raise taxes."
But this time, says Roosevelt, a school-performance analysis done by RAND Corporation, a nonprofit research group, gave the district a "rationale" for school closings.
"When you look at other school districts, closings just seem willy-nilly," he says. "They seem either based strictly on finances, bricks and mortar, or on some other criteria that is harder to prevent." The RAND study, by contrast, looked at such objective figures as test scores.
Roosevelt and board members say the biggest reason for his success was cooperation between him and the school board. "The board gave him a challenge and then they backed him," Colaizzi says.
Well, perhaps not the whole board.
"I support closings, but not to the extent of Roosevelt," Brentley says. "To come in from out of town and close 22 schools. Twenty-two!"
Roosevelt's decision to close Clayton Elementary School on the North Side was particularly troubling to Brentley, who notes that the school had made impressive progress in recent years.
Clayton's third-grade reading-proficiency scores improved from 24.2 percent in 2002 to 61.3 percent in 2005, and math-proficiency scores increased from 12.1 percent in 2002 to 48.4 percent in 2005.
"Clayton was a particularly tough one," Roosevelt acknowledges. "It had seen gains in its scores, but it was definitely under-capacitated."
But, he adds, "When you're closing a school, there is nothing good you can say about it. People's pain is real. You have to acknowledge it, respect it, and at the same time, you have to do what you have to do."
Some district parents disagree, calling the school closings a huge failure.
"It was a very poor move the way he did it," says Barbara Phelps, a former Westwood School PTO President who removed her children from the district to attend a charter school after the end of last school year. "You can only stuff so much sand into a bag before it bursts."
"Right-sizing snuck up on us," adds Homewood resident Paulette Blakey, a mother of three students in the district.
"Roosevelt's trying to fit too many things in place at one time," says Dawn Dugger, of Sheraden, also a mother of three children in the district.
In fact, Roosevelt's reform hasn't targeted just school buildings. It also scrutinizes the performance of the people who run them: This year, he's rolling out performance-based pay for principals across the district.
Roosevelt says the job of a principal has "changed hugely" in the past 15 years. Principals, he says, used to consider themselves building managers.
"'Are the buses arriving on time? Is there food here?' That's what many principals viewed their jobs as. That is still their job, but the greater job is to make instructional changes to try to improve education for kids."
To encourage that, Roosevelt is instituting the "Pittsburgh Urban Leadership System for Excellence." The reform will eliminate the current pay-raise system, in which salaries are adjusted based on years of service. Instead, principals will have a chance to earn up to $2,000 more annually by meeting certain criteria, which have yet to be finalized. Principals can also earn a $10,000 annual achievement bonus by showing improved student achievement growth in their schools.
The 2007-08 school year will be the first district-wide implementation of the new principal contracts. But the approach is about more than money, he says.
"It's not just to say, 'You get X amount of your bonus because you did well in five of the seven areas,'" he says. "It's, 'These are the two you didn't do well on. Let's figure out a plan so that you'll do better on those next year.'"
But while principals must show proven results in order to earn their raises, Roosevelt himself has received $15,000 wage hikes in each of his first two years, even before there was time to see whether his reforms will work. That factor chafes some skeptics.
"I don't see how the board can give him raises when there is no evidence of any progress," says Phelps.
"How are you going to give him raises prior to scores coming?" asks Blakey.
Roosevelt notes that he has lived up to the terms of his contract, which required him to design and implement a reform plan as well as reorganize school finances and begin high school reform.
Moreover, says Dowd, "Those people who say [Roosevelt's plan] is too much or too fast, they're missing the point. Why would we wait to fix our school system?"
And there may be no need to wait. On Aug. 16, just days after Phelps and Blakey talked to City Paper, the district released its PSSA scores for 2006-07. The news was good: Students in grades 3, 5, 8 and 11 were showing improved proficiency in reading and math. The increase was modest -- less than 2 percent. But the news was heartening, especially given warnings that turmoil from Roosevelt's reforms might hurt scores. Just a week before scores were released, Roosevelt had told CP he didn't anticipate any increase in scores at all.
"We didn't expect that," Roosevelt says now. "Given everything that was going on in the district, [the scores] were excellent. It was good news."
Harris too says she expected the transitional year to negatively affect results. But, "Maybe it wasn't as hard on them as I initially thought."
Seeks help when appropriate: B-
Admittedly, Roosevelt has made some blunders. One of the biggest stemmed from his decision to hire Kaplan K12 Learning Services, a New York-based company, to craft a new, more rigorous curriculum for grades 6 through 12.
In March 2006, and at Roosevelt's urging, the school board gave Kaplan an $8.4 million contract to write up the curriculum materials for 27 core courses. But the results were a disappointment: A June 2007 analysis by RAND showed the Kaplan curriculum needed "considerable improvement." The study called the curriculum's materials "vague and difficult to navigate," and said that their late delivery to teachers "made instructional planning challenging."
For their part, teachers complained that the new courses were too easy, and that the pacing of the material made no sense.
"Teachers were feeling a little uncomfortable with Kaplan," says Ellen Estomin, senior program officer for students with exceptionalities. "There was not a whole lot of time to get a hold of the curriculum."
Amid widespread dissatisfaction, Roosevelt decided to bring some of the curriculum responsibility back inside the district. Kaplan will still be in charge of providing the "roadmap" for the curriculum, telling teachers what should be taught and providing performance expectations. But "teachers will be responsible for more specific work" like writing daily lessons plans, Roosevelt says.
Critics say he should have included Pittsburgh teachers from the start.
"Absolutely and without question, our view is that early involvement of teachers and other practitioners would have helped," says John Tarka, president of Pittsburgh Federation of Teachers.
"When you have people in the classrooms making these kinds of observations, that's pretty significant," Tarka says. "People in the classroom can be so valuable in terms of talking to curriculum people about sequence, timing and pacing."
Roosevelt acknowledges the mistake.
"The Kaplan program probably had the most missteps of our major changes," Roosevelt says. "If I had it to do over again, I would have involved our own teachers more in the process."
Another significant change made in Excellence for All has been the implementation of the Accelerated Learning Academies, which offer a much more disciplined environment in classes ranging from kindergarten to grade 8. Some of the district's lowest-performing schools, as determined by test scores, were converted into ALAs for the 2006-07 school year.
ALA Executive Director Christiana Otuwa says ALAs are different from traditional classroom settings because of their emphasis on rules and discipline. But Otuwa admits that the curriculum itself was a bit undisciplined. ALA courses relied on programs devised by four different contractors. Couple that with the fact that teachers and principals were getting used to new buildings and the brand-new ALA concept, and the result was confusion.
"We implemented the program, but the coordination was lacking," Otuwa says.
And again, some teachers felt they were being stuck with a decision they had little say in. Some principals and teachers volunteered to work in the ALAs. However, Otuwa says others were "bumped" there, because ALAs were the only teaching spots available after schools were closed.
"That created some problems," Otuwa says. "Because if I'm not somebody who believes in the rigorous curriculum and all that, I might not be able to buy in as much as somebody who volunteered to be there."
"It's unrealistic to think that every teacher in the ALAs would be completely happy with their assignment," Tarka says.
According to Tarka, teachers who volunteered to go to ALAs signed a three-year contract pledging to stay there, but teachers placed there did not, and some of them are leaving.
"It's always better to have teachers who choose to be there," Roosevelt agrees.
Solves problems with peers: INCOMPLETE
Although recent reports about improving test scores boosted the spirits of Roosevelt and others in the district, not all news was good.
The recent test scores re-emphasized the stubborn racial achievement gap that has plagued the district for years. Across the district, white students in grades 3, 5, 8 and 11 performed 33.7 percentage points better in reading than their black peers last year. That percentage is unchanged from two years before.
Roosevelt says the gap is a "persistent challenge." ALAs and the new curricula were implemented to help narrow the racial achievement gap, he says, but "even that strategy, which we think will help over time, is woefully inadequate.
"All of the studies on kids' home lives and community lives show the deprivation faced by kids in poverty, which seems to be exacerbated by race."
To illustrate the challenges faced by black students, Harris of A+ Schools points to Oliver High School, on the North Side. Oliver's student body is more than 80 percent African American. According to A+ Schools statistics, Oliver's graduation rate in 2005-06 was only 53 percent. Nearly half of its 11th-graders scored "below basic" on reading tests; nearly two-thirds scored "below basic" on math.
By contrast, at Squirrel Hill's Allderdice High School, which is more than 60 percent white, the graduation rate in 2005-06 was 75 percent. Only 11 percent of Allderdice 11th-graders scored "below basic" in reading, and only 20 percent did that poorly in math.
"Race is highly correlated with low student achievement," Harris says. "That is just the American reality."
The next major step in Roosevelt's four-year plan focuses on high school reform. And as the numbers from Oliver suggest, improvement there is crucial.
Only two of the city's 10 high schools currently meet standards for adequate yearly progress. And one way or the other, many students opt out of the schools entirely. More than one-quarter of the city's high-school-age students attend school somewhere other than the public schools. More than 35 percent of those who do attend the public schools drop out.
"We lose so many of our kids between eighth and ninth grade," Roosevelt says.
In order to reverse the downward trend, Roosevelt created a High School Reform Task Force, including administrators, principals, teachers and members of local universities.
Over the past year, the Task Force visited high-performing high schools in Boston, Denver, Detroit and other cities.
Based on models of reform it found elsewhere, the district devised a plan of its own: Excel.9-12. Among the goals slated for 2007 and 2008: planning university partnerships, establishing an alternative education center for behaviorally challenged students and continuing to develop the Kaplan curriculum.
Roosevelt says that reforming high schools won't be easy. He expects "a lot of disagreements and complaints," but "high school reform presents a lot of promise."
So far, though, the board has approved his comprehensive agenda, something Roosevelt cites as one of his biggest accomplishments. He says he's confident that people are beginning to understand what his administration is trying to accomplish. But even he admits that, at this point, the only grade he's earned is an incomplete.
"People know we mean business," he says. "People know we're not here to make incremental change. Pittsburgh needs systemic change.
"If we fail, it won't be for a lack of trying."