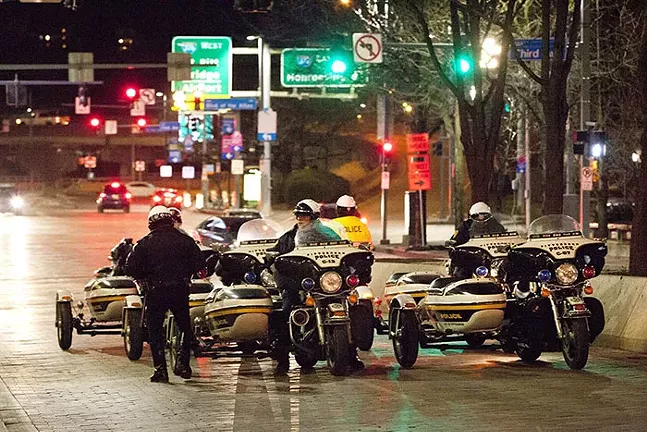 In Pennsylvania, about 1,300 communities don't have a police department, according to the Harrisburg radio station
WITF
. That is more than half of the municipalities in the state. In lieu of local police, Pennsylvania state troopers take care of these areas' policing needs.
But those communities don't pay extra for those services in the same way Pittsburgh local taxes cover the funds to pay for
Pittsburgh Police
. To cover the costs of the state troopers servicing local boroughs without police, the state is dipping into Pennsylvania's motor vehicle fund, which is meant to fund
transit and infrastructure needs
.
To cover the costs lost from the motor vehicle fund, Gov. Tom Wolf (D-York) has proposed charging towns without local police a per-resident fee. And according to a new poll from
Franklin & Marshall College
, Pennsylvanians support that or a similarly aligned effort.
The poll asked if the state should continue to siphon money from the motor vehicle fund to cover state police for towns without local police and 23 percent of Pennsylvanians said that should continue. A majority of 61 percent said communities without local police should reimburse the state for the coverage.
Wolf's proposal would make municipalities with fewer than 2,000 residents pay $8 per person, with a sliding scale for towns with more all the way up to municipalities with more than 20,000 resident would pay $166 per person. The governor's office has said his proposal would generate more than $100 million.
In 2016, state legislators responded to the growing hole in the motor vehicle fund by passing a rule limiting PennDOT's allocation for state police.
Several municipalities in the Pittsburgh region don't have local police departments and rely on state troopers, the largest being
Hempfield
in Westmoreland County, which has 42,300 residents and would have to pay $7 million under that proposal.
According to
WITF
, Republican leaders also seem open to some kind of mechanism to eliminate the gap in funding, but favor a funding model driven by how often residents request or use police services. Both these measures would take some pressure off of state police, which is suffering from its own financial hurdles and is apparently understaffed by 300 officers.
Support for finding another source of funding for state troopers also has bipartisan support, with 65 percent of Democrats and 64 percent of Republicans supporting. Respondents in Allegheny County also supported the measure but only by a 46-42 percent margin. Respondents in Southwestern Pennsylvania counties not including Allegheny, support by 70-18 percent.