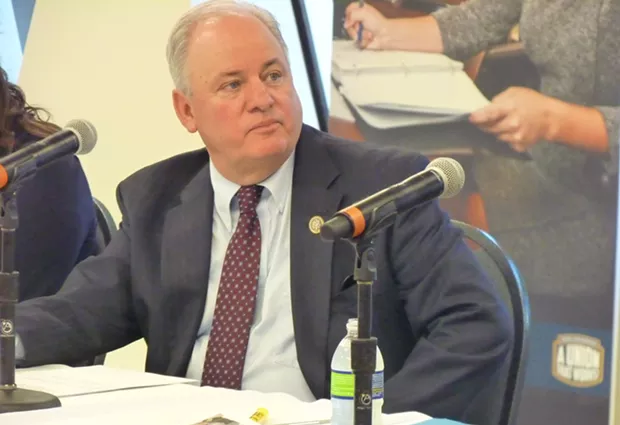 In September 2017, U.S. Rep. Mike Doyle (D-Forest Hills) told
City Paper
that single-payer health care, aka
"Medicare-for-all,"
would become more popular as long it stayed in the national conversation.
"The more people understand it, the more they realize it is a good way forward," said Doyle.
And a new poll shows that Pittsburgh's congressman was right.
According to a new Morning Consult/Politico
poll
, 52 percent of Pennsylvanians strongly support or somewhat support
adopting a single-payer health care plan, where "all Americans would get their insurance from a single government plan." Of that total figure, 23 percent percent strongly support single-payer, and 29 percent somewhat support it.
By contrast, 29 percent of Pennsylvanians strongly or somewhat oppose single payer. And 19 percent offered no opinion.
"I think the polling shows what I've felt for a long time," says Doyle, who has co-sponsored Medicare-for-all bills in the U.S. House since 2005. "To me the whole idea where everybody is enrolled and government becomes the single payer, that makes sense."
Now, Doyle believes it is time to lay the groundwork for what a
single-payer health care
system would actually look like. He believes the federal government doesn't have to necessarily be the sole provider of health care for all Americans, but it could be the sole payer. It would work similarly to how Medicare provides health insurance for seniors, but they receive care from private hospitals.
Doyle says representatives should start holding town halls in their districts to explain to constituents the process of transitioning to a single-payer and its potential
costs
, especially if Democrats take back control of the House after the midterm elections. Doyle believes Medicare-for-all can be cost-efficient if it provides just the basic health needs of citizens, with more specialized care covered by private supplemental insurance.
Doyle says Democrats need to be proactive about messaging about single-payer, since President Donald Trump has already
attacked the idea of Medicare-for-all
. He doesn't want a repeat of the rollout of the Affordable Care Act, during which Republicans won the messaging war early on.
"We need to learn our lessons from 2008," says Doyle. "We need to take our time and lay the groundwork for [Americans]. We can debunk the attacks against [single-payer]."
Some of the groundwork is already being laid by political groups supportive of single-payer health care, like the Democratic Socialists of America. Pittsburgh's DSA branch has been canvassing the region about single-payer for months, and Becca Tasker of the DSA says she isn't surprised the health-care policy is polling so well.
"Our neighborhoods have been decimated by the opioid epidemic, heightened asthma rates caused by pollution, and we can't afford our copays, even if we have insurance," says Tasker. "[Our health-care] committee had a lot of incredible conversations [while canvassing], and will continue to fight until nobody is dying from lack of access to health care and medication."
In speaking with constituents, Doyle sees how important health care is to people.
"It is the one thing that affects just about everyone," says Doyle. "Everyone knows someone who was denied coverage or couldn't afford coverage."
Respondents to the
poll
rated health care as their top issue when considering political candidates to support. Almost all respondents said health care was very important or somewhat important in determining their vote, with 74 percent saying it was very important and 20 percent saying somewhat important.
Trump and other
Republicans
are attacking single-payer health care, but the poll shows
more Pennsylvanians distrust them in handling health care than support them.
The poll shows 50 percent strongly disapprove or somewhat disapprove of the way Trump is handling health care, while 42 percent strongly support or somewhat support him. For Congress, which is controlled by Republicans, 60 percent strongly disapprove or somewhat disapprove of how they are handling health care, with only 26 percent approving.
Doyle recognizes not all Democratic members of Congress support single-payer health care, but he says many caucus members do. And he reiterates that none of this matters if Democrats don't take back control of some branch of federal government.
"Job one is win," says Doyle. "And then let's sit down and be thoughtful about this and make it sink in."