Whether you're in town for a day, a week, a month or the rest of your life (lookin' at you, Donnie Iris), you will never be bored. In the pages of this magazine, you'll find recommendations for places to eat, drink, shop, walk and whatever else you want to do while you're here. Regardless of the neighborhood, regardless of the day of the week, our neighborhood guides will help you stay busy. But we wanted to start off this edition with some marquee stops. Some of these are places for which Pittsburgh is well known, and others are spots we should be known for.
If you're in town anytime from May to September, or around Halloween, or in the weeks leading up to Christmas, you owe it to yourself to go to Kennywood Park on the banks of the Monongahela River, in West Mifflin. The park, which opened in 1898, is one of this country's oldest amusement parks. Its charm lies in its ability to offer modern rides and attractions while still holding on to the classic ambiance that your grandparents experienced. For decades the park has been an end-of-the-year destination for school field trips, and throughout summer, many of Pittsburgh's unique neighborhoods hold a community day at the park. In October, Kennywood runs its highly popular Phantom Fright Nights, which turn the park into an awesome haunted attraction. In November and December, the park gets into the spirit by offering a holiday-lights display. But summers at Kennywood are borderline magical. It's the time of year when every 'Burgher longs to hear that magical phrase: "Kennywood's open!"

Sandcastle Water Park (Homestead) is another great spot on the banks of the Mon, offering 15 waterslides, a wave pool and a lazy river. While you're in the neighborhood, make sure to check out The Waterfront (Homestead), a shopping center and entertainment destination located on a former U.S. Steel site. There are familiar chain stores and restaurants, and it's also home to the Pittsburgh Improv, which features performances from national and local funnypeople.
If you haven't guessed by now, Pittsburgh's three rivers are an important part of its identity and tourism. You can see where the Monongahela and Allegheny rivers come together to form the mighty Ohio at Downtown's Point State Park. The park is home to annual events like the Pittsburgh Marathon and the 10-day Three Rivers Arts Festival every June. That festival typically happens at the same time that the region comes together to celebrate our LGBTQ community at Pittsburgh Pride. If seeing the rivers by land is a little tame for you, then hop aboard a Gateway Clipper cruise (Station Square). This fleet of paddleboats has been traveling these waters for nearly 60 years, offering sightseeing cruises as well as dinner dances and special events. If you prefer your watercraft a little more mobile, jump aboard a Just Ducky Tour (Station Square) for a land and water adventure. Love water? Want to get right down in there and taste the history? Try Surf Pittsburgh and give wake-surfing a try. For a more vintage travel experience, hop on one of the city's two inclines, the Duquesne or the Monongahela.
If amusement parks and river travel aren't your thing, get to know our friends from the animal kingdom at the Pittsburgh Zoo and PPG Aquarium. Or if you'd rather act like an animal, you can climb trees, walk across a treetop rope course, and hit the zip lines at Go Ape Zip Line and Treetop Adventure in North Park. If the only animals you like are featured in video games and Japanese anime, make sure to check out the Steel City Con at the Monroeville Convention Center if you're in town in April, June (horror convention), August or December. In fact, if you're here Aug. 11-13, 2017, and you're a big fan of Sharkey's Machine, stop by and get a pic with Mr. Burt Reynolds!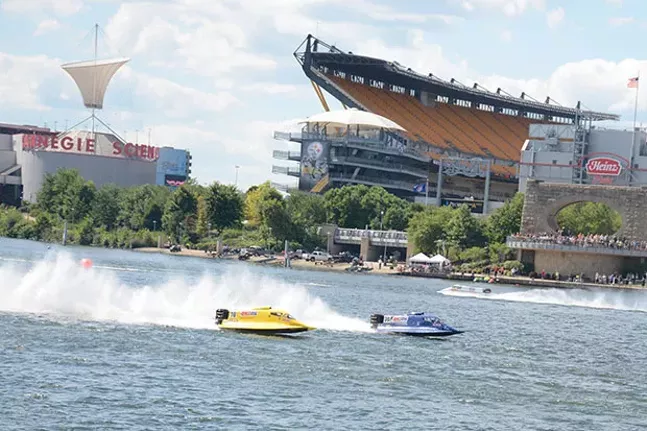 All of that touring and autograph-seeking has probably made you hungry. On the pages that follow, you'll find scads of restaurants, but there are some iconic Pittsburgh spots that you have to visit. Call it weird, call it uncouth or call it silly, but, yes, we put french fries and coleslaw on a sandwich. And the only place to get that as far as we're concerned is Primanti Brothers. There are a bunch of locations in the region, but you have to go to the original in the Strip District. How good is it? I personally saw New Jersey Gov. Chris Christie sneak out the back door with a sack of them. He may not know much else, but he knows a good sammich. Another local favorite with a bunch of locations is Eat'n Park. It started with one restaurant in the South Hills of Pittsburgh in 1949, and there are now about 70 franchises in the tri-state area. Eat'N Park's Smiley Cookie and strawberry pie are as iconic as their names. If pizza is your game, Pittsburgh is known for a lot of great pies, but Aiello's and Mineo's top the list of the favorites in the city. The best part of this rivalry is that the shops are just a few storefronts apart on Squirrel Hill's Murray Avenue. Looking for baked goods that are so tasty that you'd rip off your clothes and run naked across the Andy Warhol Bridge just to get them? For bread, you've got to try Mancini's. The bread is baked fresh and delivered to grocery stores across the region every day. But if you want to get it from the source, Mancini's has retail shops in the Strip District, McKees Rocks and Market Square. Sometimes a trip to Market Square is perfect because right next door is Prantl's Bakery. Pittsburghers rave about the burnt-almond torte, and they should. But you can't go wrong with any of the shop's offerings.
Now that you've eaten, let's work that food off by getting active or at least watching others get active. Our pro-sports teams are known from coast to coast like butter and toast. The Pittsburgh Penguins just won their second consecutive Stanley Cup (fifth overall), and they play from October to June (because we're always in the playoffs) at PPG Paints Arena, also home to a plethora of concerts and other special events. The Pittsburgh Pirates don't really suck anymore, so you can take in some competitive baseball at PNC Park (though we do apologize for sucking horribly between 1993 and 2012). Finally, our Pittsburgh Steelers start playing in September at Heinz Field and don't usually stop until after the first of the year. But this city is more than just the Big Three (This Is Us reference intended). We've got professional soccer with the Pittsburgh Riverhounds; women's tackle football with the Pittsburgh Passion; roller derby (Steel City Roller Derby); several professional wrestling organizations, including the International Wrestling Cartel and the Keystone State Wrestling Alliance; and a host of collegiate sports from schools including the University of Pittsburgh, Duquesne University, Carnegie Mellon University, Robert Morris University and Point Park University. Not to be outdone, our own Community College of Allegheny County is a member of the National Junior College Athletic Association and competes in a number of sports including men's and women's basketball and cross country. For something truly different, check out rugby with the Pittsburgh Harlequins and ultimate disc with the Pittsburgh Thunderbirds. There's also lots to do for those who want to get personally active. Rent a bike at a Healthy Ride Pittsburgh kiosk and find out about cycling activities from cycling advocacy group Bike PGH. If you're a little more skilled on your bike and want to be a little more adventurous, check out The Wheel Mill, an indoor cycling park. Prefer your adventure outside? Venture Outdoors is a nonprofit group that offers outdoor activities year-round. And although the only activity you'll get there is going for popcorn or throwing around the football before the show starts, the area has one remaining drive-in theater, Dependable Drive-in.
This list could never be long enough to include everything that goes on in this city, but there's always something special happening. Other ongoing events we haven't already listed include: the Pittsburgh Cultural Trust's quarterly Gallery Crawl; a monthly gallery crawl on the city's East End, Unblurred: First Fridays on Penn; the Polish Hill Arts Fest, in July; EQT Pittsburgh Regatta, starting Aug. 4; and the Heinz Field Rib Fest, on Aug. 31. Free concerts run all summer as part of the Allegheny County Summer Concert Series; June brings a lineup of the best female musicians in the city for Ladyfest. Downtown, Pittsburgh Light-Up Night is set for Nov. 17, and the city's First Night Celebration takes place Dec. 31. The ReelQ LGBTQ Film Festival is set for Oct. 13-21; the Three Rivers Film Festival begins Oct. 25; and March brings the city's St. Patrick's Day Parade.
For more event listings, and to keep up with all the city's happenings year-round, go to our event listings page.