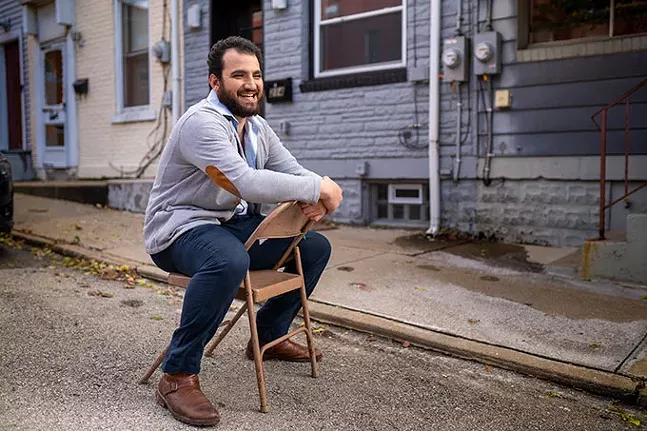 Talking to moudebabe on the phone is a lot like seeing him perform. The rapper, whose real name is Mahmoud Yacoub, specializes in freestyle performances, letting whatever comes to mind make its way from his head straight to his mouth. Yacoub's brain works in a stream-of-consciousness fashion, due in part to his bipolar disorder.
"I feel superhuman with bipolar disorder," he says. "The way I move is different. The way I think … I can juggle all these thoughts, all together."
But the Warren, Ohio native wasn't always so self-assured. He graduated from the University of Pittsburgh in 2014 with a BA in philosophy and English fiction writing, and like many students fresh out of school, Yacoub felt aimless.
"It's hard when you have a mental disorder and don't take care of it," says Yacoub. "At that time, I knew I had things but also didn't want to be beholden to it. So, I didn't take care of myself."
That summer, Yacoub had a drug-induced psychotic break and spent two weeks at UPMC Western Psychiatric Hospital. Yacoub says that Western Psych might be different now, but during his time there he was essentially stuck in a small space and not allowed to go outside, along with 12 others.
"It was a really terrible way to keep people who are sick situated," says Yacoub. "It was not an environment conducive to healing. But it did give me the space I needed and an opportunity to heal and get needed medicine."
After being released and heading back to Warren to live with his family, Yacoub couldn't look at Pittsburgh the same way. He was angry at the city for putting him in that position, angry at how he saw people treated at Western Psych, angry with the stigma that comes with mental illness, and how his mother didn't want others to know where Yacoub had just spent two weeks of his life. So, he decided to go to earn another degree, this time in Psychology. Yacoub also started making music.
"I wanted to rebuild my relationship with bipolar disorder," says Yacoub. "I definitely have personified my mania, my depression, in an effort to reflect and better understand it."
In Bastards of Babel, an album released this year by Mood Cru — a collaboration of Yacoub, Handamonium, Kaydus, and a few others — Yacoub dispels some of the pent-up feelings he had through the alter ego of Mineal.
"[He] was a character I created after psychosis as [an outlet] for all of my anger and distaste for myself," says Yacoub. "I could write through him with this anger that wasn't necessarily true to me anymore, but I was able to put it out, excise it."
Yacoub began working on that album in 2016 after graduating from Youngstown State University with a BA in psychology. Still feeling aimless, he and his partner spent some time in Palestine, where Yacoub taught English and history for high school students. While it was a beautiful place to live, Yacoub felt like he was stunting his growth. In 2018 he moved back to Pittsburgh after realizing he continued to harbor demons and a fear of the city.
"I was still angry that my life got shifted because of the psychosis," says Yacoub. "And I put a lot of that on Pittsburgh."
While studying again for another degree — a master's in clinical mental health counseling at Duquesne University so he can help improve the care and treatment of those dealing with mental issues — Yacoub began working more on music and found an outlet through freestyling.
"The art is how I sustain myself to be there for [others]," he says.
Now, Yacoub can often be spotted performing around the city, most recently on The Empty Space Project, and at open mic nights like Spirit Sessions, where he challenges himself by asking the band to play whatever they want.
"It's the purest extension of what I am because, in that moment, there's no thought," says Yacoub. "There's just me with the band. And I'm just rapping my ass off with whatever comes next. It's this weird fusion where me and the band are one, and we're all playing jazz, and I'm just moving. And I think that's powerful."