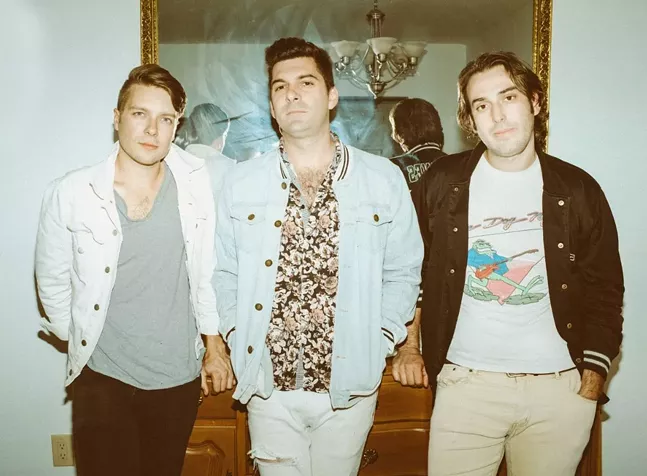 Magic City Hippies is approaching nearly a full year on the road.
The Miami-based indie-pop band started with Bay Ledges in November 2018, followed by a
run with Future Generations before taking the stage at major music festivals all throughout the summer. After performing at Lollapalooza on Thursday, Magic City Hippies will then head out for a leg with Thievery Corporation, which touches down in Pittsburgh on Wednesday at Roxian Theatre. Then they head out with Umphrey's McGee. Then it's finally time for a short break to prepare for their own headlining tour to support the release of their first LP,
Modern Animals
, dropping August 16.
"The album comes out the night we play in Miami with Umphrey's McGee, so that will be cool," says guitarist John Coughlin. But then, [aside from] a couple of festivals, we're off for a month, so that's kind of when we need to home in on the new music ... There's music that people already know that's going to be on the record but some of our favorite songs on the record are unreleased and unheard by our fans, so we really want to start nailing those live."
Starting with singer-guitarist Robby Hunter busking on the streets of Miami, Magic City Hippies solidified when Hunter, who had graduated from the streets to a regular performer at a popular Coconut Grove dive, connected with the rest of Magic City Hippies' present-day lineup: Coughlin and drummer/producer Pat Howard.
The band began playing covers and released its first single, "Corazon," in 2013 under the name Robby Hunter Band. After shifting to Magic City Hippies - a name they stole from a Robby Hunter Band album title, "Fanfare," the opening track off their 2015
Hippie Castle
EP, topped Spotify's Global Viral 50 chart. The group then rounded out its live lineup with brothers Ferny (keyboard) and Guillermo Belisario (bass) Magic City Hippies before embarking on extensive tours supporting bands like Hippo Campus and Moon Taxi while still unsigned and working towards
Modern Animals.
Now, it's three years later and the group is still touring, but
Modern Animals
is finished and its release on the horizon. Coughlin was able to take a few minutes on his way to Lollapalooza to chat with
Pittsburgh City Paper
ahead of their performance at the Roxian Theatre.
This interview has been edited and condensed for length and clarity.
As we speak, you're on your way to Lollapalooza. What has your summer been like, performing at music festivals all over the country?
Yeah yeah, it's cool. We started the year with a pretty big tour, we did part of the country, the western half. But then after that, we've had a lot of fly-outs for festivals or driving to stuff that's a little closer to Miami.
Festivals are their own animal. You're playing outside, obviously, but there's a lot about the energy that people bring to the festival environment. We've had a pretty busy summer, you know we had Bonnaroo, 420 Fest, we have Voodoo Fest coming up, we just played Peach Fest. But I'm excited about being on the road. After Lolla, we're opening up for Thievery Corporation and Umphrey's McGee and then hitting the road for our own headlining tour. There's nothing like playing the indoor theater setup, I really miss it almost - cause we play festivals all summer, and as beautiful as it is outside, something about the energy of a closed room and the way the music just bounces off the way, it just sounds different. So, I'm looking forward to that.
Your new album, Modern Animal, doesn't come out until August 16. Have you been playing music from your Hippie Castle EP or mixing in new stuff too?
I'd say a lot of the set is the EP. We've even had some songs we've released since the EP came out that we play that aren't going to be on the new album. But we are already cracking into stuff from the new album, which is a blast, going up and playing these songs that people haven't really heard.
The song "Modern Animal," the day it came out was the day we played Bonnaroo. We were literally onstage the moment it came out on streaming platforms and we played it like five minutes later. For us, the way we make music is very in the studio, in front of the computer. Pat [Howard] is our producer, our drummer. So it's the three of us kind of [trading riffs] on the guitar, and wading through in this freeform way, without having any idea how we're going to pull it off live. It really is whoever's guitar solos sound best, even if it's the drummer's guitar solo, that's what's going to make it on the record. With that, taking an original and bringing it to life in a live setting, took us a little bit to really nail. It was a new thing for us to be playing the title track to our new album for the first time in front of like, I don't know, almost 10,000 people at Bonnaroo. And you're like, "We've never played this in front of a crowd before. It just came out, here we go," and you just start counting off, you know. It's a really fun feeling.
How did the crowd receive it?
Great, people were jamming. Everyone we play the new record for is really excited about it, and it makes it really easy to share the music.
You were touring a lot while recording Modern Animals and I feel as though your music has a distinctive sunny, Miami beach vibe. How do you channel that carefree essence into your music while on the road or simply in the studio, in front of a computer?
It's crazy because you do, as a Miami band, find yourself in a blizzard in Montana and you're like, "This is not our element, necessarily." But when it comes to making the music, you can spend all day in the baking sun and then you go to the studio at night to work on music, so that vibe is already in your skin, so it's going to come out no matter what.
But Miami is a place where people, when they go to see music, are really looking to have a good time and dance. So everything we make is kind of good-time party music, despite how complex or layered the lyric might be. We do try to make music that is compelling and moves people – literally moves. And then when we hit the road … we are kind of more of a rock band live. We play with the rock [ideal of] jumping around stage, you know you bring this energy to the music of fun summer vibes. Then you also make sure that everything you play is just super grooving because a lot of people are there to have a good time. It makes it so easy. You just deliver what you've already made for them.
So you have a few more shows before Modern Animal drops. Once the LP is out, will you be changing your set to focus on the new music or will the older hits still be in the mix?
So we have even older music, we were the Robby Hunter Band before we were Magic City Hippies. We stole the name for the band when we released this album called
Magic City Hippies
and liked it so much we changed our band name to it. So we even bring music off of that sometimes.
The album comes out the night we play in Miami with Umphrey's McGee so that will be cool. But then, besides for a couple of festivals, we're off for a month, so that's kind of when we need to hone in on the new music and we're definitely going to be playing as much of it as possible. There's music that people already know that's going to be on the record but some of our favorite songs on the record are unreleased and unheard by our fans, so we really want to start nailing those live.
For the songs fans haven't heard yet, what can they expect?
It's an album that flows together. Every song can definitely stand on its own as just like, a banger, but you also get a lot of … we like to write these outros or these beat sections of a song that makes them sort of flow into each other. So it's kind of like this psychedelic beach party experience as the songs morph into each other. The genres might mutate but the whole time it's all very connected. It's a coherent album for us.
Anything else you would like people to know about the album, your tour, or your Pittsburgh stop?
For Pittsburgh, we're probably going to be playing more of our traditional hits. But actually, we will be playing some of our singles off [
Modern Animal
] so if you want to come out and see our set you're going to get a good taste of where we're going with our new music. We're excited to see people out in Pittsburgh.