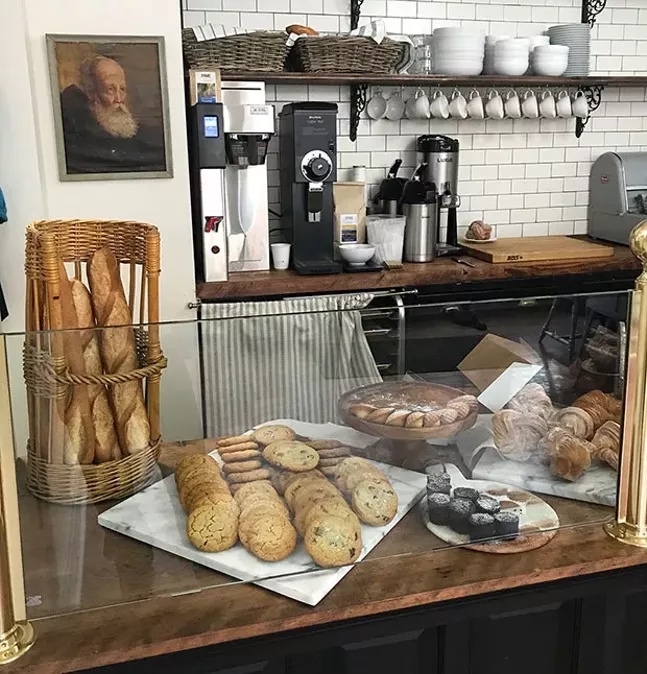 Madeleine Bakery and Bistro is the newest addition to local bakeries worth a morning visit.
The venue is tucked into a cozy corner of Trenton Avenue and Union Street, in Wilkinsburg, in a turn-of-the-century-building that has lived many lives: as a market, recording studio, yoga studio and, according to one customer, even a dairy. Now Madeleine's owners and spouses, Andrew and Abigail Stump, are bringing it new life as a French-inspired American bakery.
Prior to opening Madeleine, Andrew, who helms the kitchen, has held positions at Lautrec, Iron Born Pizza, Five Points Artisan Bakeshop and other local venues. At their new space, the Stumps want to focus on classic technique, while offering an approachable neighborhood spot. The bakery's periwinkle-colored door, accented with gold lettering, is both elegant and inviting.
Inside, the counter boasts a variety of baked goods from sea-salt chocolate-chip cookies, croissants (buttery and perfectly flaky), baguettes, scones and, of course, madeleines. Drip coffee and hot chocolate are also on offer, and the menu will see day-to-day changes and seasonal additions. A limited selection of sandwiches and salads is in the works.
The neighborhood has already responded with enthusiasm — on Madeleine's opening Saturday, the bakery quickly sold out of goods.
The refined curation of the menu extends to the interior, which was designed largely by Abigail. For the holiday season, simple wreaths are hung on the cream-colored walls, and the counter is capped with a sturdy butcher-block table and backed with white tile. Two small tables seat eight, and two standing tables are set just in front of the windows.
The name is, in part, an homage to the French pastry, a small lemony sponge cake baked in the shape of a shell, but it's also special to the couple. "We're actually going to name our first-born daughter Madeleine, and one day it just kind of popped off: 'Why don't we just name the bakery Madeleine?'" says Abigail smiling.