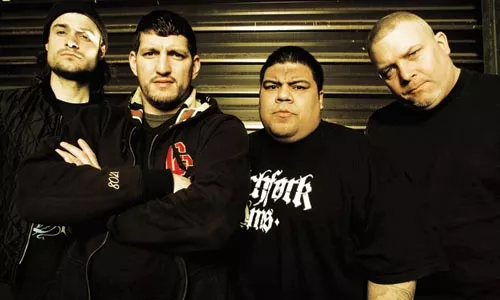 From The Beatles selling Chuck Berry back to America to The Hives reminding us of The Stooges' legacy, sometimes Europe behaves like a mirror, reflecting musical styles that have become neglected in our own country. I don't know what that means for American hardcore, but according to Freddy Cricien of New York legends Madball, Europe's the place to be.
"Europe is hands-down the biggest market for hardcore in the world right now -- without question," says the frontman. "I don't know why, that's just the way it is. Maybe they embrace the culture more. Or they have longer attention spans. Whatever it is, I'm cool with it."
That's an attitude befitting the hardcore pioneers, a distinction shared with Sick of It All and Agnostic Front, featuring Cricien's brother, Roger Miret. Apart from a year-and-a-half hiatus just after the millennium, Madball has kept the flame burning for more than two decades, with brutal chugga-chugga riffs, churning rhythms, growling vocals and fierce overall intensity.
Cricien was introduced to the music as a tween by Miret, 11 years his senior. His older brother would frequently invite him onstage to sing a few songs with Agnostic Front. Indeed, Madball's first album featured Miret and Agnostic Front guitarist Vinnie Stigma, and comprised several abandoned Agnostic Front songs.
"I always looked up to my older sibling, not even just musically," Cricien says. "It happens that Roger was getting into this cool subculture or genre that I was just really attracted to. He exposed me to it and I was all about it."
Madball has released eight albums in its 21 years, the latest of which, Empire, sounds as chunky, vibrant and hard-hitting as anything in the band's catalog. While 2007's Infiltrate the System purveyed a crisp polish that showcased more metallic glint, Empire is cast more like a circle pit, getting down and dirty in its grittiness.
"We got a little more raw production, a little bit more organic-sounding," says Cricien. "I think it's one of our best releases in a long, long time. It's actually the best in my opinion, but everybody always says that," he adds with a chuckle.
Despite the title and the band's take on British Petroleum and environmentalism in "The End," Madball has never been particularly political. The songs are often about the personal pain and frustrations of life, or the resilience that drives us forward.
Cricien's other love is hip hop; last year, he released a hip-hop album, Catholic Guilt, under the name Freddy Madball, and promises more in that style. Cricien acknowledges a connection between hardcore and hip hop: machismo.
"They're street music," he says. "It's like both genres were sort of born out of necessity, so there was always an element of having to be protective of each other and their territory -- so there was always going to be a little bit of machismo." Cricienadds: "I try to always speak from the heart about real experiences. Some people even take that and feel as if I'm posturing, but I'm just being honest."
While some might treat hardcore as their personal domain, holding acts to a dogma or insisting they conform to a set of rules and standards, a big part of what Cricien values in hardcore is acceptance.
"It started with people from all walks of life coming together at a show somewhere and finding some common ground," Cricien says. "It was different political views, different religious backgrounds, different upbringings -- some street kids, some suburban kids. It's a shame people started to build all these walls, like 'You do "tough guy" hardcore.' 'Oh, you do "political."' 'You do "emo."' I don't like to put up walls, it was never about that."
Without those walls, hardcore expresses human struggle, greeting it with the ferocity and vigor the challenge deserves. It's a struggle Cricien's been facing down for years.
"I got an early start," Cricien says. "I'm not a spring chicken, but I'm alright. I'm in my 30s. It's like I'm a young vet, which is a cool thing. That's what Madball kind of is, bridging that gap between the old vets and the newer school."
Madball with Lionheart and Bitter End. 7:30 p.m. Tue., Dec. 14. Altar Bar, 1620 Penn Ave., Strip District. $13. All ages. 412-263-2877 or www.altarbarpittsburgh.com