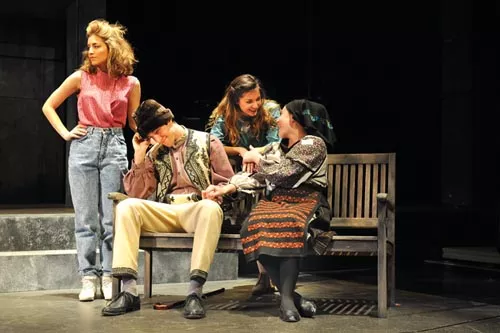 There are always two emotions running side by side whenever I see a Caryl Churchill play. And the Carnegie Mellon Drama production of Mad Forest, her examination of the 1989 Romanian revolution, is no exception.
The first reaction is always shame. Churchill is blessed with one of the most awesome intellects of the 20th century, and with each play she drives herself and the audience to use every bit of comprehension we have. Meanwhile, I use what little intelligence I've got left on things like crossword puzzles and movie magazines.
My second, and overbidding, emotion is sheer awe. Churchill's vision of what theater can be is as broad as it is deep. Mad Forest isn't just a play about the Romania revolution and the dispatch of the Ceauşescus -- like that's not enough. It's also an examination into how theater can be used to tell a story.
Her use of meta-theater and deliberate fracturing of the emotional through-line is, of course, Brechtian by design. But Churchill gets even more mileage out of "alienation" than Brecht ever did: While his dramaturgical ends always seem to me to be a bit intellectually dry, Churchill's are more full-blooded. Her refusal to play up, or even point out, the emotional content of her story somehow makes it that much stronger.
So good luck to anybody with the chutzpah to attempt a production. Jed Allen Harris directs a quite strong student company in this really epic piece of Epic Theater; they've done a great job of capturing the dread and paranoia of what it must have been like to live under a Communist dictator.
Less successful is Harris' handling of the show's second act. Here, several characters (based on real-life stories) address the audience directly, relating what they did during the revolution. Harris has videotaped their performances and projects them high above the action; what should have felt dangerous and bristling with immediacy now plays as removed and safe.
Churchill's oblique writing can seem barren, and this company hasn't yet quite ferreted out the emotional weight. But there's a wealth of talent on stage and this production is a great chance for this cast to learn how to "do" Churchill.
MAD FOREST continues through Sat., Dec. 10. Philip Chosky Theater, Carnegie Mellon campus, Oakland. 412-268-2407