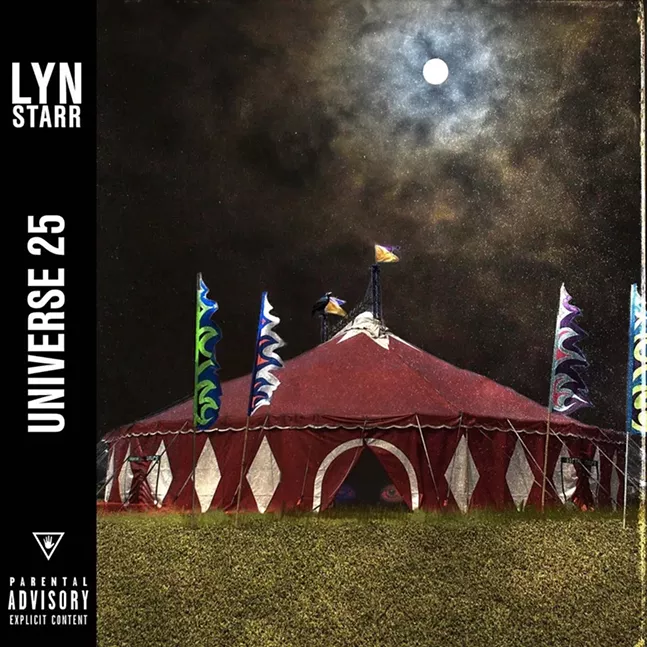 Lyn Starr
Universe 25
Using John B. Calhoun's
1973 study on rats
as inspiration, Pittsburgh rapper
Lyn Starr
released his third solo EP
Universe 25
today. Funded by a Lift Grant from the Greater Pittsburgh Arts Council, the seven-track hip-hop EP uses Calhoun's work to break down the Pittsburgh rap scene.
For the study, Calhoun created a sort of rat paradise - elaborate colonies free of predators and disease, with an unlimited supply of food. Soon, the rats' home became a crowded dystopia, bringing to the light effects of overpopulation.
Women at Resonance Works
A 2018 study compiled by the
Donne - Women in Music
project and
Drama Musica
found that about
95 percent of classical concerts
feature music only composed by men. Pittsburgh-based Resonance Works, which showcases orchestra, chorus, vocal soloists, chamber musicians, staged opera, and musical theater, is starting its 2019-2020 season with at least half of the compositions composed by women.
Resonance Works' founder and conductor, Maria Sensi Sellner, has always hired at least 50 percent women, so this new announcement is in line with the organization's values. However, the impact of the commitment could be tremendous; Pittsburgh audiences will be introduced to many classical composers who are often overlooked.
Resonance Works began announcing the
new season
on June 16th, and the shows begin in November. Check out
resonanceworks.org
to find out more.


The KRUNK Movement
Thinking Out Loud
Students in The KRUNK Movement, a youth hip-hop program at the nonprofit Center of Life, know that to be a teenager in America right now is complicated. Not only do they have to navigate dating, school, and finding their path in life, they also have to contend with school shootings, police brutality, political upheaval, and more.
The KRUNK Movement's new album,
Thinking Out Loud
, aims to reflect a full picture of teenage life in 2019, in all its joys and sorrows.
"Over the past year, student artists were thinking out loud about religion, spirituality, politics, mental health, history, and their own lives," says Luc Mickens, The KRUNK Movement Program Coordinator. "On this album, you can really hear them coming into their own as young artists and thinkers."
Instructed by professional artists, youth in The KRUNK Movement are trained to a high standard and represent the next wave of Pittsburgh music talent: students have been invited to perform at the Wheeling Arts and Culture Fest, Pittsburgh Light Up Night, and the August Wilson Birthday Celebration Block Party. Alumni of the programs include members of popular local acts such as
The Commonheart
,
Afro Yaqui Music Collective
, and
Starship Mantis
.
Students participating in The KRUNK Movement get the opportunity to collaborate with experienced artists from across the city and express themselves freely with the support of great mentors. The program also functions as a production company, teaching students the professionalism and technical skills necessary to succeed in the music industry.
Summer Breakout

gfx's Summer Breakout weekend is coming up June 28-July 1. There will be three visiting acts - rRoxymore, Liquid Asset, and Isabella - who will all be hosting free workshops on Monday, July 1 to round out the weekend.
gfx is a collective of women & non-binary artists, DJs, and organizers presenting workshops & DJ sets at Hot Mass and more.
The weekend lineup is as follows:
Fri., June 28, 1 a.m.-6 a.m., Hot Mass
• rRoxymore [Room 4 Resistance, Berlin]
• Axolotl [gFx]
• Visuals by Julie Malice [gFx/BOOM Concepts]
Sat., June 29, 12 a.m.-7 a.m., Hot Mass
• Liquid Asset [New York Trax]
• Isabella [IDEAL Records]
• BEIGE [Seraphine Collective]
• Boo Lean [gFx/VIA/NewForms]
Sun., June 30, 9 p.m.-12 a.m., Apteka (Free)
LONELY NO MORE with Scout [gFx/Detour]
Mon., July 1, 7 p.m.-12 a.m., Ace Hotel Pittsburgh (Free)
IN THE WEEDS x WORKSHOP with rRoxymore, Liquid Asset, Isabella, Malzof
Summer Breakout💦 is just days away! https://t.co/70edjTW6Wu @Rroxymore, Liquid Asset, Isabella, @deejaybeige, Boo Lean, Axolotl, @acosby, @juliemallisart pic.twitter.com/pUM5he4Bgi

— gfx (@gfx_pgh) June 25, 2019
Silent Library
MTV's strange game show
Silent Library
is back (well, a knock-off version) and "Valley" by BBGuns was chosen as the theme song.
Did you catch @BBGunsPGH providing those tunes for @lizakoshy new series #SilentLibrary ???? Click click: https://t.co/qTJc8GAbr6 pic.twitter.com/7MKXdnldTI

— Crafted Sounds (@craftedsounds) June 25, 2019