All India
315 N. Craig St., Oakland.
412-681-6600 / allindiapgh.com
With a menu full of good Indian eats, including chicken tikka masala and tandoori chicken, All India is a fresh choice for foodies of all ages.
The Artsmiths of Pittsburgh Koolkat Café
1635 McFarland Road, Mount Lebanon.
412-341-2299 / artsmithspgh.com
This trendy café located inside The Artsmiths is bursting with artisanal and fresh foods from real ingredients. Gourmet grilled-cheese sandwiches, big salads and hearty soups are just a few things on the menu.
August Henry's City Saloon
946 Penn Ave., Downtown.
412-765-3270 / augusthenrys.com
Stop by this Downtown landmark to enjoy shareable appetizers, large salads and build-your-own burger options. Or try a lunch combo, available everyday.
Bella Sera
414 Morganza Road, Canonsburg.
724-745-5575 / bellaserapgh.com
This bistro serves up a quick and tasty lunch experience with an all-you-can-eat weekday lunch buffet. With a daily-changing menu, you know you're guaranteed the freshest of ingredients.
Benjamin's Western Avenue Burger Bar
900 Western Ave., North Side.
412-224-2163 / benjaminspgh.com
A relaxed neighborhood bar with craft beers and great burgers, try the "buffalo blue," "surf & turf" or the "fancy pants." Watching your waistline? Opt for a veggie burger.
Carmody's Grille
4905 Grand Ave., Neville Island.
412-458-1813 / carmodysgrille.com
Awesome lunch specials are in store for you here. American staples such as onion rings, BBQ chicken flatbreads and cod sandwiches are just a few of the items on this menu.

China Palace
5440 Walnut St., Shadyside.
412-687-7423 / chinapalace-shadyside.com
Authentic Chinese food at a great price is this restaurant's motto. Offering up a variety of lunch-hour dishes at special prices, stop by to check out what specials they currently offer.
Culture
130 7th St., Downtown.
412-338-2222 / culturepgh.com
Revel in this restaurants American comfort cuisine menu pre-theater or just for a friendly lunch. Accompany your meal with one
of the many drink specials.
ExtraVEGANza Pgh
1317 E. Carson St., South Side.
412-212-8816 / 98poundchef-pgh.com
If you're looking for delicious and healthy lunch, ExtraVEGANza is
the place for you. Get a vegan, gluten-free lunch or try the Juice
bar with 25+ ingredients.

Gaucho Parrilla Argentina
1601 Penn Ave., Strip District.
412-709-6622 / eatgaucho.com
This restaurant takes its food seriously. Complement your taste buds with the tastiest cuts of meat cooked on a wood-fired grill.
Hoffstot's Café Monaco
533 Allegheny Ave., Oakmont.
412-828-8555 / hoffstots.com
Get a jump-start on your lunch break by trying one of Hoffstot's
signature sandwiches, like the grilled-veggie quesadilla or the Pittsburgh crab cake.
Joe & Pie Café Pizzeria
955 Liberty Ave., Downtown.
412-402-0444 / joeandpie.com
Embracing a new concept of pizza and coffee, Joe & Pie feeds hungry Downtowners during lunch hour, and gives an afternoon pep-up with specialty coffee drinks.
Kasai Pgh
146 E. Main St., Carnegie.
412-279-5500 / facebook.com/kasaipgh
Fantastic sushi can be found at this hideaway spot in Carnegie.
Try a bento box for lunch or one of the many rolls, such as the crunch munch or the Pennsylvania.
Kaya
2000 Smallman St., Strip District.
412-261-6565 / bigburrito.com/kaya
Eclectic island entrees inspired by the sea and the sun. Try the Kaya vegetable burger or the grilled mahi mahi sandwich.
Mad Mex
Multiple Locations.
madmex.com
Grab a margarita and pull up a stool. Enjoy this funky Cal-Mex inspired restaurant featuring fish tacos, burritos and one the most popular dishes of all, the gobblerito.
Modern Café
862 Western Ave., North Side.
412-321-4550 / themoderncafe.com
Classic American favorites are served up at this café. Indulge
in all of your favorites, like fried jalapeno pickles, chicken gyros and Pittsburgh cheesesteak.
Morcilla
3519 Butler St., Lawrenceville.
412-652-9924 / morcillapittsburgh.com
Morcilla dishes up authentic Spanish cuisine to the Lawrenceville neighborhood. Whether you enjoy the pimentos de padrones or the queso de cabra, this restaurant delivers works of art.
Nakama
multiple locations.
eatatnakama.com
Nakama delivers a lunch menu not to be messed with. Enjoy
anything from hibachi scallops to filet mignon. All served with a salad or onion soup and fried rice.
Nicky's Thai Kitchen
Multiple Locations.
nickysthaikitchen.com
A must-try for any lunch occasion. Indulge in the savory tastes of Thailand while enjoying dishes like massaman curry or the garprow lad kao topped with a fried egg.
NOLA on the Square
24 Market Square, Downtown.
412-471-9100 / nolaonthesquare.com
Treat yourself to Louisiana fare by stopping by NOLA on the Square for lunch. Try the crispy fried alligator, soup and salad lunch combo or the blackened catfish.
Peter's Pub
116 Oakland Ave., Oakland.
412-681-7465 / mypeterspub.com
This relaxed eatery near the University of Pittsburgh campus draws an easygoing college crowd while dishing out a variety of pub grub and tasty drinks.
Pizza Care
1525 Fifth Ave., Uptown.
412-281-8585 / pizzacare.net
Simple pizzeria serving up Italian comfort food but with a health-conscious focus is Pizza Care's motto. Try the buffalo chicken hoagie or the Tuscan chicken pasta.
Rose Tea Café
5874 Forbes Ave., Squirrel Hill.
412-421-2238
Satisfy your craving for delicious Chinese food by indulging in all of your favorites, like Kimchi fried rice with shrimp or the house special lo mein. Don't forget to try one of the popular bubble teas!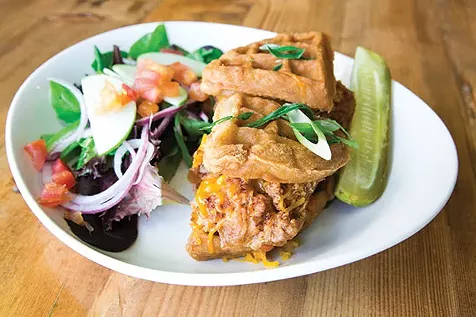 Shady Grove
5500 Walnut St., Shadyside.
412-697-0909 / eatshady.com
This friendly and hip establishment is full of different American comfort food options to try. Indulge in fried-green tomatoes and BBQ-pulled-pork tacos and wash it all down with a beer or glass of wine.
Slice on Broadway
Multiple Locations.
sliceonbroadway.com
One of Pittsburgh's favorite pizza parlors. Choose from some of its most popular specialty pizzas, like the Athena or the Frisky Billygoat.
Social
6425 Penn Ave., Larimer.
412-362-1234 / bakerysocial.com
This trendy hangout spot in Bakery Square has mastered the art of relaxation, craft beers and eclectic American dishes. You can't go wrong with a restaurant that has a build-your-own ice cream cookie
sandwich option.
Sonoma Grille
947 Penn Ave., Downtown.
412-697-1336 / thesonomagrille.com
Sonoma Grille is a Downtown favorite. Known for its delicious menu and an impressive wine list, Sonoma is the place to be for lunch. Be sure to try the salmon burger.
Sorrento's Pizza Roma
233 Atwood St., Oakland.
412-621-9129 / sorrentospizzaroma.com
Add some pizzazz to your life with this Italian favorite. Choose from calzones, hoagies, specialty pizzas and more.
The Souper Bowl
910 Fifth Ave., Uptown.
412-471-0216 / souperbowlpgh.com
Adjacent to the CONSOL Energy Center, stop here if you're headed to a game or in the neighborhood. From the loaded grilled cheese to the spinach and strawberry salad, The Souper Bowl provides quality cuisine.
Sushi Fuku
Multiple Locations
sushifuku.com
Roll it or bowl it is Sushi Fuku's motto. Believing everyone should have a choice when it comes to sushi, try the crunchy salmon featured roll, or create your own masterpiece.
Ten Penny
960 Penn Ave., Downtown.
412-318-8000 / tenpennypgh.com
Stop by this chic Downtown eatery for an amazing lunch. Featuring American cuisine, such as the mega meatball appetizer, crispy Brussels sprouts and a beer-battered fish sandwich.
Tonic Bar & Grill
971 Liberty Ave., Downtown.
412-456-0460 / tonicpgh.com
This modern dining bistro's menu features classic American lunch fare with made-to-order dishes. Start your lunch off right with the pork quesadilla or one of its delicious sandwiches like the calamari po-boy.
V3 Flatbread Pizza
11 Fifth Ave., Downtown.
412-456-0500 / v3pizza.com
Your search for the ultimate pizza experience is over! With a build-your-own pizza bar you have the option to choose everything you want, even down to the crust. Or if you aren't feeling creative, choose one of the specialty creations.
West End Café
777 Casino Drive, North Side.
412-231-7777 / riverscasino.com
Located inside Rivers Casino, West End Café is the perfect spot to grab a quick lunch and get back to the slots. Try a wide variety of sandwiches, pizzas and salads. Don't miss out on the signature Duquesne hoagie!
Wheelhouse Bar & Grill
777 Casino Drive, North Side.
412-231-7777 / riverscasino.com
Watch the game on the largest TV in Pittsburgh while you score big with the Wheelhouse Angus half-pound burger. Need something lighter? Try the Italian wedding soup or one of the fresh salad options.