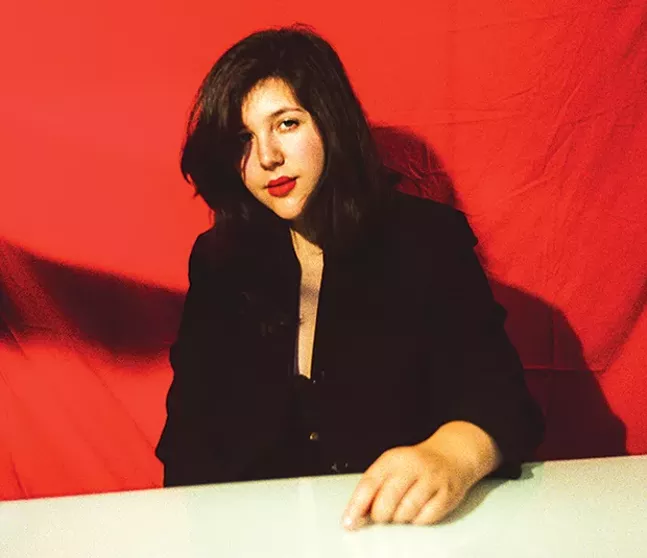 There are well-worn clichés to use when writing about an artist like Lucy Dacus: bookish, vulnerable, wise beyond her years. I doubt she likes to hear these, but there's no getting around that she is often the smartest person in the room and also happens to be a brilliant writer and musician. She proves as much on Historian, her first album for Matador Records and second overall; it brims with epics that rarely impose as heavily as the word "epic" tends to imply.
Dacus emerged in 2015 with the transitional and whip-smart "I Don't Wanna Be Funny Anymore." What followed was her strong debut album, No Burden, and the kind of label bidding war you almost never see in indie rock these days. If this is your first encounter with Dacus, I'd steer you to Historian's slow-burner of an opener. "Night Shift" is a song about volleying guilt and pain with an ex-lover, but just keeping most of it for yourself anyway. It's a monster.
City Paper talked to Dacus about other things ahead of her show at Club Cafe on Friday.
What's the most inspiring thing about music to you right now?
I'm liking the trend of quieter, thoughtful music. I really like the Haley Heynderickx album from this year, and Lomelda and Phoebe Bridgers, and Big Thief. There's a lot of really good music that has a softness to it that's really comforting to me, because the world doesn't really seem soft right now. If that's the trend — having meaningful, comforting music — I'm down. I feel like I'm learning a lot from people who can do more by doing less.
I saw you tweet recently a list of the top five places where you've fallen asleep, and I have to ask about one of them. You fell asleep halfway through running the mile in high school. How did that happen?
I'm basically clinically a big baby — like I'm a sensitive, weak child. And if I do cardio, I lose my vision, my blood just does not know what to do. And I told the gym teachers my freshman year, "Hey, I really shouldn't do the mile, it messes with me," like "Yeah right, get out there, everybody hates the mile, you're gonna hate it just as much as everyone else." And so, I did what I could, and then I started losing my vision so I went to a grassy patch and laid down and everyone was like, "Are you OK?" Then I think the gym teachers were maybe a little embarrassed and let me be, and I napped through the rest of the period and woke up and went to my next class.

What's some advice you wish you had known before getting into music?
You become a vehicle for a lot of people's baggage, and that's a pretty heavy weight to hold. Specifically, in your immediate life, at least for me, being more well-known — like I'm not even famous — but being slightly more well-known, it triggers something in other people like resentment or jealousy or some sort of vague negativity that's actually about their own place in life. And that's been the hardest part about all of this for me, is just having to be the vehicle for a lot of people's negative emotions wherever they're coming from. I feel like you should recognize those changes that would happen in your life 'cause a lot of people want to do this, but I don't think that it's worth it for some people. And occasionally I think about how to regain a sense of security that I'm not just a symbol of people's discontent.
On the flip side, you have the opportunity to improve a lot of people's lives and provide solace or comfort or understanding, and that does make it worth it. But the dozen or so people that really hate you or your position —I don't know, they stick with me.
__
Lucy Dacus w/ Deau Eyes 7 p.m. Fri., July 27. Club Cafe, 56 S. 12th St., South Side. $15. 21 and over. clubcafelive.com