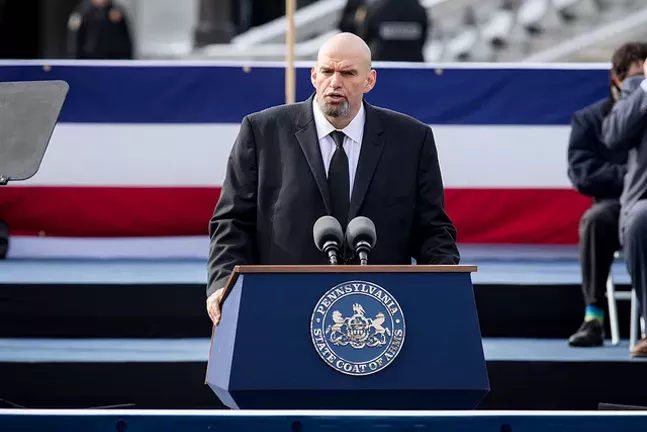 Pennsylvania Lt. Gov.
John Fetterman
(D-Braddock) has always been a proponent of legalizing marijuana for recreational use. He campaigned on it when running for U.S. Senate in 2016 and for lieutenant governor last year. He believes it can bring in significant revenue for state coffers and play a big part in criminal-justice reform.
But in his first big move as a newly elected statewide official, Fetterman is putting his personal opinions on the back burner and embarking on a 67-county listening tour to hear constituents thoughts on recreational marijuana.
His first stop will be at a
Cannabis Education Forum
hosted by state Rep. Ed Gainey (D-East Liberty), Jan. 26 in Homewood.
"We recognize that there will be a diversity of opinions," says Fetterman. "We want this to be a fully participatory conversation."
We want to hear from you, PA.
Every County. See you soon! https://t.co/7PyF9Fu0yU

— John Fetterman (@JohnFetterman) January 24, 2019
For those that missed their chance to meet with Fetterman, his office is also creating a website where Pennsylvanians can share their opinions on recreational marijuana.
Fetterman says the tour is about getting out of "echo chambers" when talking about marijuana. He realizes that everyone doesn't share his opinions. He says that Pennsylvanians have a broad spectrum on opinions on the matter; people in Potter County might think differently than people in Pittsburgh.
"I am looking forward to the
culturally conservativ
e
areas," says Fetterman. "I am excited to hear these views."
He also recognizes that his counterparts on the Republican side of the aisle have already indicated they don't support any legalization efforts. But Fetterman says that politicians and constituents alike are welcome to weigh in.
"I am happy to meet with any representative and they will be invited," says Fetterman. "I would be honored to share a stage with state [Senate Majority Leader Jake Corman]. This is about listening."
A poll taken in September 2017 shows that
59 percent
of Pennsylvanians support legalizing recreational marijuana. State Auditor General Eugene DePasquale estimates the state could see
$580 million in annual revenue
through marijuana legalization, not to mention the potential savings in the judiciary system since marijuana possession would no longer be a crime. A
bill to legalize recreational marijuana
has already been introduced in the state legislature by state Rep. Jake Wheatley (D-Hill District).
Fetterman also has the support of Gov. Tom Wolf, who was not initially a proponent of legalizing recreational use. Wolf tweeted in Dec. 2018 that Pennsylvania should
"take a serious and honest look at recreational marijuana."
Fetterman expects the tour will make multiple stops in large counties, but he wants to reach all 67 counties in the commonwealth. Fetterman hopes to wrap up the listening tour in the next three months, but says it could be extended through August.
Cannabis Education Forum. Jan. 26, 12-4 p.m. Homewood Brushwood Carnegie Library. 7101 Hamilton Ave., Homewood.