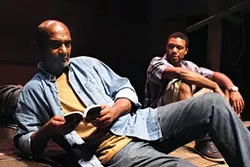 Ten years ago, the Lower Ninth Ward was still soaked in destruction following the flooding of New Orleans, one of the worst disasters in U.S. history. Beau Willimon's one-act 2007 take on the indelible image of African-American survivors clinging to rooftops is less about the event than about relationships. The Caravan Theatre of Pittsburgh's production of Lower Ninth, directed by Edwin Lee Gibson, effectively peels back the levels of those relationships in a crisp, music-filled hour.
Spoiler alert: I won't. Since Lower Ninth is a play of discovery and identity, plot details — even full descriptions of the characters — would give away too much. Maurice Redwood adds macho to the tetchy young E-Z; Jomo Ray brings gravitas as the Bible-misquoting Malcolm; and Sam Lothard towers as the menacing, if deceased, Lowboy.
The shoestring budget does not prevent Gibson, Caravan artistic director John Gresh and their production team from putting on a fine show. Terry Jachimiak II designed both the lighting and the raked rooftop stage; Cheryl El-Walker's costumes are her usual high quality; and Nik Nemec well manages the stage at the Hill House Association's Elsie Hillman Auditorium.
Disclaimer: As a white person, I have some difficulty with portrayals of African-American life by privileged white guys. I'm not saying that Willimon, best known as the showrunner for the American version of House of Cards, is either untalented or insensitive. But there's too much "in the 'hood" kind of vibe that belies the reality of that ward, which boasted the highest percentage of black home-ownership in New Orleans.
And just to set the record straight, NOLA actually "dodged a bullet" with Katrina. It was not the hurricane but a flood of bad engineering that nearly destroyed the city. There were multiple breaches of many levees, attributed to the U.S. Army Corps of Engineers' poor design and maintenance, all exacerbated by the Corps' Mississippi River Gulf Outlet Canal.
But that's not what Lower Ninth is about. Gresh has said he considers the community's displacement analogous to what happened in the Lower Hill District in the 1960s, not to mention the current situation with East Liberty's Penn Plaza Apartments.