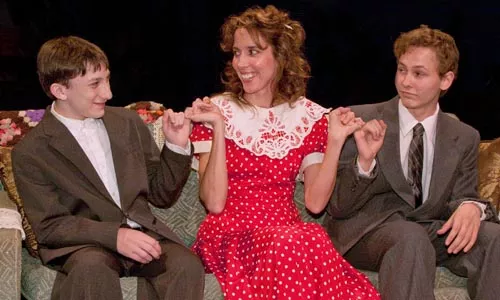 Among all the changes in the theatrical landscape over the past couple of years (jukebox musicals, the Disneyfication of Broadway, ticket prices hitting $350), there's one thing I never thought I'd live to see -- the fading away of Neil Simon as a theatrical force.
Time was you couldn't swing a dead critic around 42nd Street without hitting a patron rushing to make the 8 o'clock curtain of some Simon comedy gem. I don't have the figures, but there's no question that Simon is, head and shoulders, the most commercially successful playwright of the 20th century.
And then something happened: His last few plays seemed to go nowhere. And then last year's horror: A revival of two of Simon's best-loved plays (Brighton Beach Memoirs and Broadway Bound) were announced. Brighton opened to good reviews ... and less than two weeks later, the show closed, and Broadway was canceled.
Nobody cared. On the street he once ruled, Neil Simon couldn't find enough people to keep his play open.
And yet there are those who don't believe the Rapture is at hand!
Before fortunes turned against Simon, they smiled on him in a big way with his Pulitzer-winning Lost in Yonkers, a 1991 comedy/drama about two boys who, in the midst of the Depression, are forced to move in with their frighteningly hateful grandmother. And a respectable production is now playing at Little Lake Theatre.
A complaint often lodged against Simon is the mechanical precision of his comedy writing -- he really does have it down to something of a science. What's interesting, then, is that when he writes a drama, the results are just as mechanical. And that's not necessarily a bad thing: His writing is efficient and purpose-driven, and with Yonkers Simon has clearly achieved precisely what he set out to do.
The Little Lake production, under the direction of Charita Nemec, is focused on Simon's sentimentality, which is certainly a justifiable choice. There are all sorts of moments in the script when you can, as we say in the theater, play to the balcony and wring out easy tears from the material. (Although, as a friend once remarked, "It's hard to feel bad for people when they're so busy feeling bad for themselves.")
A far more interesting choice, however, might have been to play the opposite: The grandmother is a monster, after all, regardless of what happened in her past. And I did cringe when this production "redeems" her at the end and she becomes -- in the words of Paddy Chayefsky -- a "crusty but benign" figure with a heretofore unseen heart of gold.
Oh, well. Americans love happy endings, and this cast does their best to provide one. Pat Cena Samreny and Mary Liz Meyer play mother and daughter with a great chemistry; you can see the mangled love the two share. Ben Nadler and Pete Fernbaugh have fun as the wisecracking son and uncle, and John McGovern does a fine work as a young boy forced to live through adult anguish he can't really understand.
Lost in Yonkers continues through Sept. 4. Little Lake Theatre, 500 Lakeside Drive South (off Route 19.). Canonsburg. 724-745-6300 or www.littlelaketheatre.org