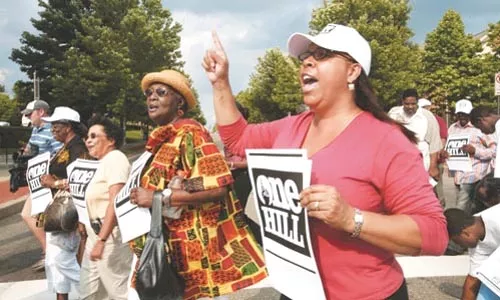 Discussions about sports and society usually start and end with whether some point guard's a good role model. The 45-minute 2009 documentary titled "Lost in the Hype: African Americans in a Super Sports Town" is a thoughtful and provocative change of pace. Local activist Aisha White, of the group Rights & Responsibilities, offers a fast-paced survey of how sports racism plays out in a town that's long linked its identity to athletics.
Drawing on interviews with everyone from scholars to community leaders, youth-league coaches and former athletes, the film is thematically ambitious. It incorporates the boxing contests that enslaved blacks were forced into -- as well as how the athletic stereotype of blacks shifted from simply "inferior" to "physically gifted but unintelligent." The latter trope survives, often insidiously, today.
Much of this is not Pittsburgh-specific, of course. The film asks, for example, whether dress codes for pro athletes, and rules against end-zone dances, are inherently racist. And it laments a shortage of black coaches and -- especially -- of owners and other front-office personnel, particularly at the pro and college levels, that is hardly peculiar to Pittsburgh. Moreover, when the film does get local, it's occasionally misleading -- as when it implicitly perpetrates the notion that the Civic (now Mellon) Arena, whose construction leveled the Lower Hill, was built for the Penguins. (While there's no question the neighborhood was wronged, the arena predates the team by six years.)
Still, there's plenty to ponder. Community leaders like Malik Bankston and Sean Gibson (grandson of baseball great Josh Gibson) point out that most basic of inequities -- the lack of places in many neighborhoods for poor black kids to simply play. Meanwhile, millions in public subsidies prop up stadiums whose demonstrable economic benefits to the community are zero, as is pointed out here by nationally known sportwriter Dave Zirin.
Also illuminating are interviews with local folks who teach kids golf, swimming, tennis and bowling. These "life sports" often go unacknowledged in the inner city, though they offer the same benefits, and are subject to the same inequities, as their team-sports cousins.
2:30 p.m. Sat., Jan. 9. Carnegie Library Homewood (third floor), 7101 Hamilton Ave., Homewood. Free. 412-337-7405