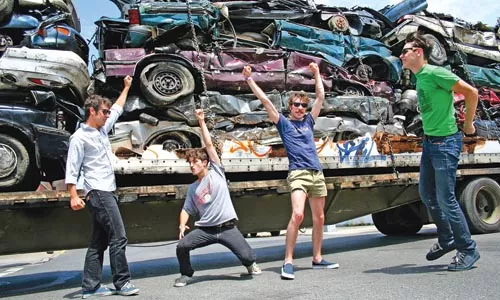 "Why does everybody and their brother have a metaphorical boner for the Black Lips?" My friend's brief query, e-mailed sometime last year, sent me off on a digging expedition through the piles of CDs on my desk. I eventually emerged victorious with a copy of Good Bad Not Evil, the band's studio album on Vice Records, and flipped through the album art, which featured the band members looking pretty raggedy-ass. I eventually replied, "Well, it's probably not the Daisy Duke cutoffs."
Cole Alexander, the Black Lips' guitarist, didn't really have an answer to that question either. "Does that mean when writers write weird metaphors in reviews and stuff?"
Not exactly. But however literal you want to get about it, the Black Lips have gathered quite a buzz -- especially for a group that, as Alexander says, mixes "some '70s punk with oldies." Since the hipster-friendly Vice label took them on, releasing the purportedly live-in-Tijuana Los Valientes del Mundo Nuevo in 2007, they've even managed to hit the charts in the U.K.
"We had to get a little bit of promotional push there to get that success," says Alexander with a laugh. "It took money and hype and things like that."
Now, not everybody has a boner for Black Lips. Soon after discovering Good Bad Not Evil, I tried it out on a long road trip through the Southwest. After a couple of songs, my friend behind the wheel had had enough. "Dude, no offense -- but this band is kind of annoying." And I hadn't even shown him the cutoffs yet.
But as they say, the kids dig it -- except in the Black Lips' case, literally, children like it. This past summer, the band performed in Israel at the invitation of some fans and a promoter, and with a little hookup from the Vice squad, passed through a military checkpoint to play an acoustic set outside a Palestinian mosque. "There was this huge wall separating Palestinians and Israelis," says Alexander. "But I felt right at home when we got across to the Palestinian side -- I looked at this huge wall, and there was a big Flipper spray-painted tag.
"Some people were giving us dirty looks, and we were like, 'Oh shit, we're gonna get killed out here playing this Western, fuckin' sin music.'" But little kids began gathering to hear the music, followed by the kids' parents. "It was really sweet, wholesome feeling," he says.
However you decide to view its rise, it's been a long time coming for the quartet, which currently includes bassist Jared Swilley, drummer Joe Bradley and guitarist Ian Saint Pé. After a slightly different lineup formed in Atlanta in 2000, they spent the next several years as road dogs -- "kinda like Mad Max minus apocalypse," Alexander says. "When we first started, we were really suffering a lot on the road." For about five years, a crowd of 20 was a great show, and staving off hunger was often a tricky business. "We had to go to a homeless shelter to eat a couple of times," he says.
All that's changed, of course: When they're in town headlining Mr. Small's this Friday, I doubt they'll be lining up at a soup kitchen afterwards. But that scrappy, raggedy-ass past is probably partly what people like about the Black Lips. I dunno.
For my part, I can tell you exactly what I like about them. I like that echoing "For What It's Worth"-style sample that plays through the entirety of "Veni Vidi Vici," as the fuzz guitar comes and goes and the vocals sneer like Eric Burdon. I like the Ventures-meets-Clash stomp of "Cold Hands," dark and sexy in the way you tend to forget early rock 'n' roll often was.
"We're incorporating a lot of things, but definitely our main roots are oldies, country blues and soul, garage rock. That's the building blocks for us," Alexander says. "The way I look at it is, every musical riff, every pop riff has been written already. And a lot of times it just changes context. Eighties songs, a lot of times, are the same songs as the '60s ones, except done with synthesizers instead of guitar, bass, drums."
"Pop is simple, you know?"
But pop-ular ... well, that takes some doing.
Black Lips with Quintron & Miss Pussycat and Br'er Fox. 8 p.m. Fri., March 7 (doors at 7 p.m.). Mr. Small's Theatre, 400 Lincoln Ave., Millvale. $12. All ages. 412-821-4447 or www.mrsmalls.com