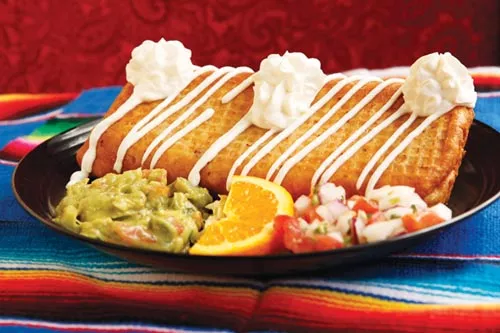 It's an exciting time to be a lover of Mexican food in Pittsburgh. 2011 is shaping up to be the year that welcomes several new restaurants serving a variety of cuisines from Mexico and from other Central and South American countries.
One of the first to open is Los Cabos SoCal Mex. Located in Bloomfield, across Penn Avenue from the new Children's Hospital, Los Cabos wears its Southern Californian origin and allegiance on its sign. We see more Tex Mex around these parts, so we were excited to try a taste of Mexico interpreted through another state's distinctive culinary point of view.
The fish taco was a good start. There are lots of ways to enjoy fish wrapped in a tortilla, but Los Cabos offered the West Coast classic of breaded, deep-fried fish drizzled with a creamy, spicy sauce and topped with crunchy cabbage slaw. The kitchen got the details just right, with a piece of fish thick enough to stand up to its breading without overcrowding the tortilla. As at all good taquerias, the corn tortillas were doubled, and the sauce deftly blended its assertive kick with the cooling richness of cream.
Seafood made a less successful showing in the campechana cocktail, offered alongside shrimp cocktail on the menu. Neither much resembles the steakhouse standard with which most Americans are familiar; Mexican shrimp cocktail (which we did not sample at Los Cabos) is served in a zesty ketchup sauce along with avocado and cilantro, while campechana features a mix of shellfish, prepared in its broth with vegetable juice, lime juice and diced fresh vegetables. We were first disappointed that Los Cabos was out of octopus, but the plump sea scallops in the campechana were tender and sweet, and the shrimp were firm and succulent. But, though Mexican seafood cocktails are often prepared ceviche-style, it was hard to pick out much citrus flavor here; in fact, there was really just not that much flavor at all. The crisp cucumber, astringent tomatoes and spicy jalapeños offered a nice array of accompaniments to the seafood, but the broth was as watery as, well, water, and didn't taste like much of anything had been cooked in it.
A chicken quesadilla got mixed reviews at our table. The fillings were satisfyingly salty-savory and well proportioned; however, while we've grown accustomed to quesadillas that are cooked on a more or less dry griddle, resulting in crisped, browned tortillas, Los Cabos uses more oil, resulting in a tortilla that almost melded with the cheese within. This isn't to say that it was greasy, and the oil did add some depth of flavor, but we think we prefer dry-fried.
At first, the Pittsburgh burrito -- with, you guessed it, meat, fries and slaw all packed inside -- seemed like a slightly patronizing effort to impress us locals. Moreover, Angelique, who has never taken to the all-in-one approach on a bun, was unconvinced she would like it any better in a burrito. But the employee behind the counter assured us that it's one of Los Cabos's most popular items, so Jason decided to give it a go. It was a little dry, and the drizzle of "secret sauce" -- undisguised tartar, as far as we could tell -- was distracting in the absence of fish. But the real flaw was that the meat, a blend of carnitas (pork) and carne asada (steak), was dry and bland.
The pork in the chile verde burrito was quite the opposite: almost preposterously tender and full of flavor from the mild but nicely seasoned green tomatillo sauce in which it had been cooked. Its heat melted the grated cheese which swirled together with the sour cream, beautifully melding the crisply vegetal and creamy-cheesy flavors. Interestingly, potatoes cooked in the same sauce played the role of starch in this burrito, substituting for the more usual rice. The menu offers a chile verde dinner, too, and the burrito seemed like the dinner had simply been scooped up and wrapped in a tortilla. Our only complaint, but a fairly major one, was that there was not nearly enough of the pork -- only about one bite in four included a piece of this delicious meat, and that was far too few.
There was a time when any newcomers bearing Mexican food to Pittsburgh were sure to welcomed, but we are beginning to have enough good choices that it takes a little more to get us excited. We'd like to get excited about Los Cabos, and we could with a few more dishes like those fish tacos, and a lot more meat like the pork in the chile verde.
Los Cabos
4108 Penn Ave. Bloomfield. 412-251-5105
Hours: Mon.-Thu. 10 a.m.-10 p.m.; Fri.-Sat. 10 a.m.-3 a.m.
Prices: $3-11
Liquor: BYOB