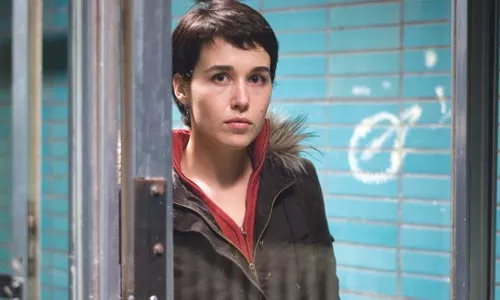 Lorna needs to find a new profession. By day she presses clothes in the back of a dry-cleaning shop in Liège. She does it well enough, not that it requires very much, which is a good thing, because that's about all she has to give. It's her second job that's the problem: She's Albanian, and she's gotten herself into a jam of a scam to earn Belgian citizenship papers.
It goes like this: Lorna (Arta Dobroshi) has married Claudy (Jérémie Renier), a Belgian junkie, with the intention of divorcing him after she becomes a citizen. But her real (and impatient) partner in crime, Fabio, wants to kill Claudy with an overdose, which will quickly free her to marry a Russian who wants his Belgian citizenship. And then, with the money Lorna earns, she can marry her real boyfriend, Sokol, also Albanian, and the two of them can open a diner.
This is not the sort of job you can do very well with a conscience, and it certainly doesn't help to develop one in the middle of things. Just as Fabio prepares to give Claudy his overdose, Lorna decides to freelance: She fakes abuse (bruises on her arm, a gash on her head) to get a judge to give her a quickie divorce. It works -- just not on Fabio, who decides he wants to stick to the plan.
More things happen to this quintet in the second half of Lorna's Silence, and that's the problem: For about an hour, we watch Lorna grudgingly tend to her obligation, caring for her clingy ersatz husband through his withdrawal, and we wonder where the filmmakers are going. Then, when she finally gets her divorce, she strips in their apartment, and he strips, and they make love (for the first time) against the door. What? It's the kind of moment that normally re-defines a character and a relationship, except in the case of Lorna's Silence, it's the first substantial thing to define it, and it's nakedly unmotivated.
This sort of lean storytelling is a trademark of Jean-Pierre and Luc Dardenne, the Coen brothers of Belgium (you could say). Their gritty, gloomy, realistic work recalls many better and more emotionally balanced French films of the early 1970s, and over the years, it's sort of set the tone for the slice-of-life dreariness (generally, I mean that as a compliment) of Belgium's small national cinema.
But the thing about a mere slice of life is that it doesn't list its ingredients, so you just sort of have to take a bite and see what it tastes like. The Dardennes parcel out their plot points so sparingly in Lorna's Silence that you begin to wonder if the actors even know what they're doing. Then comes the sex, and everything significant that happens afterward predicates upon it.
If you can tolerate such haziness, Lorna's Silence has its rewards. The actors -- especially the sullen Dobroshi and the edgy Renier -- inhabit their roles in a way that compels you to watch, even if you don't know exactly what's happening. Of course, having context would deepen our attachment, not just to their emotions, but to the film's ideas about love and redemption that the Dardennes want to explore. The hand-held camera, natural lighting and lack of a soundtrack keep it real, and slowly, you begin to feel a little something for Lorna's struggle to achieve a sense of consolation in her increasingly cornered life.
But how can you love and trust anyone when you know how corrupt the world is? And how can you point your life in a different direction when you're headed for disaster? The Dardennes give Lorna that chance in the end, although keeping with their affinity for the opaque, they don't say how it will work out. (Hint: It won't.) Moreover, you're not even sure if there is something to work out. (I'm not being vague, like them: I just don't want to give too much away.) In the final moment of the film, a very needy and desperate Lorna says to her companion, "Someone's bound to give us something." Good luck with that. In French, Russian and Albanian, with subtitles.
Starts Sat., Sept. 26. Harris