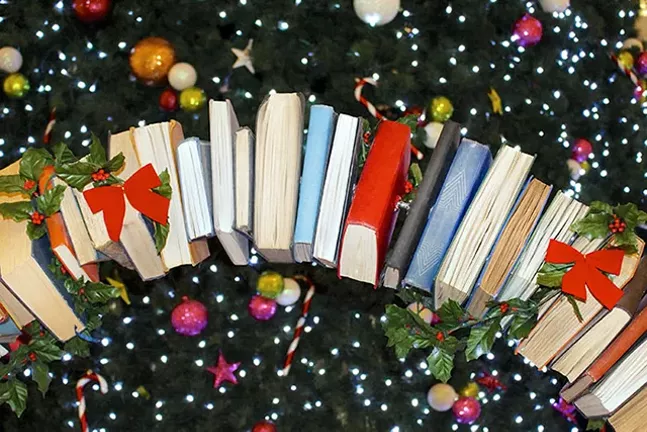 It's hard to wrap a book and make it look like anything else. But book lovers and avid readers usually don't mind, because they don't want anything but books for presents.
Pittsburgh is home to numerous indie bookstores and one of the best writing colonies in the country, if not the world. Who better to ask for book recommendations than some of the region's most noted literary figures? Here's what they are gift-wrapping for the holidays.
The holidays are a great time to curl up with a book and get into a really juicy story. My gift book this year is Ants Among Elephants: An Untouchable Family and the Making of Modern India, by Sujatha Gidla, a multi-generational family history set in India and that focuses on a segment of society we so rarely read about. Gidla writes about her larger-than-life uncle, a communist leader and poet, and her mother, who worked hard to overcome the limitations placed on her as a woman from a lower caste. It's completely riveting nonfiction with all the drama of fiction. - Geeta Kothari, director of the Writing Center at the University of Pittsburgh, author of I Brake for Moose and Other Stories

The subtitle of [Inside My Pencil by Peter Markus] says the book is about teaching poetry in Detroit, and it is — but to me it's also equal parts guide to great literature and philosophical tract with a vision of hope and light. I feel the world could really use this right now. Markus shows his readers the magic hiding in plain sight through the eyes of the writer's life and through the eyes of his young students. The words of the young writers transform the world into a place of wonder. Life-affirming and inspirational! - Scott Silsbe, author of the poetry collection Muskrat Friday Dinner

I fell in love with Franny Glass [from Franny & Zooey, by J.D. Salinger] when I was 18 and have never looked back. I didn't even have to see her in that sheared-raccoon coat; didn't have to see that unworthy Lane's hand betray his cool by shooting into the air when she stepped off the train. I was a goner just from the letter he'd read over and over. It not only made me fall in love with her, but also with the notion that you could make people fall in love with someone who didn't exist until you put her on the page. If I give you this book, I love you a lot. If you don't love it in return, we likely won't speak again. - Philip Beard, author of the novels Swing and Dear Zoe

A Farewell To Arms is, to me, where Ernest Hemingway's legendary prose and storytelling coalesce at their absolute best. His story of romance, determination, and fortitude told through the lens of the most unforgiving of human circumstances: war. A Farewell To Arms is always on my "to give" list, because it is one stunning read, and hopefully those who receive the gift of Hemingway's words will also agree. - Edward Banchs, author of Heavy Metal Africa

For a friend who enjoys feeling cocooned and spooked on a dark winter night, I would wrap up with Michelle Paver's Dark Matter, a ghost story set in the Arctic Circle in the 1930s, in which British explorer/scientists cope with bitter-cold isolation, both from the outside world and from each other. For a friend who can't bear to be scared, I'd go with The Snow Child by Eowyn Ivey, set in 1920s Alaska, for a gentler, more hopeful, but still emotionally hefty winter tale. - Emily Winslow, CMU alumnus and author of the memoir Jane Doe January, and suspense novels set in Cambridge, England, where she now lives

Watership Down by Richard Adams might be my favorite novel and would make an excellent gift for any reader. A small band of rabbits, heeding the dire premonitions of one of their own, set out across the treacherous countryside to find a new home. Gorgeously written, full of adventure, hope, and sorrow, this novel will change the way you view the world around you. - Tom Sweterlitsch, author of the novels The Gone World and Tomorrow and Tomorrow

Did you know we are living among majestic creatures whose lives play out in slow motion? We don't get to see their children grow up, nor do we comprehend their language, their survival strategies, their consciousness. Though I was always a lover of trees, I will never look at a forest — or a solitary tree on a city street — in the same way after reading The Hidden Life of Trees by Peter Wohlleben. We have so much to learn about the true strengths of community, and how it benefits all living things. - Zoje Stage, author of Baby Teeth

I'd recommend I'm So Fine: A List of Famous Men & What I Had On, by Khadijah Queen. The '90s R&B nods will have you tripping in all the best ways. Some things are just un-Google-able. You had to be there. But this book will speak to every smart woman in your life, no matter her birth year. Queen's poems will spark many conversations about gender, body image, and American fame and celebrity culture in fresh, witty, and complicated ways. - Yona Harvey, poet and author of the collection Hemming the Water, creative writing professor at the University of Pittsburgh, contributor to Marvel Comics World of Wakanda series.

If I were to recommend one book for the new year, of course, I'd tell everyone to read the updated edition of Sex, Lies and Handwriting with the additional chapter on secrets revealed in Donald Trump's handwriting. After that fun read, I'd suggest The Great Alone by Kristin Hannah. The book is beautifully written. Hannah explores the saga of one family's survival in the beautiful, often violent, and mercilessly lonely landscape of Alaska. - Michelle Dresbold, handwriting expert, author of Sex, Lies, and Handwriting

I have a number of books I'm giving as gifts this year, but [Root of All Evil by Liz Milliron] is one that shouldn't be overlooked. Gritty, compelling, and engaging, it's Blue Bloods set in Pennsylvania's lush Laurel Highlands - USA Today bestselling author Annette Dashofy, author of the Zoe Chambers mystery series

"[Mark] Whitaker's research into Black Pittsburgh from the 1920-50s [for Smoketown] is impressive. He lays out the city's own Harlem-like renaissance using the Pittsburgh Courier, the nation's premier black newspaper, as source material. The book itself is not just a profile of the African-American art, music, and sports scene, but of that important newspaper." - Sherrie Flick, author of flash fiction collection Thank Your Lucky Stars, creative writing lecturer at Chatham University

If I could convince people to buy one book this season, it would be The Sound of Holding Your Breath, a collection of short stories by Natalie Sypolt. Natalie is a West Virginia writer pushing back against the Appalachian stereotype that coalesced around Hillbilly Elegy after the 2016 election. Her characters invite the reader into their confidence, telling fiercely human secrets to strangers and trusting us not to judge. I read it months ago and cannot stop thinking about it. - Arlan Hess, owner of City Books, North Side

The God of Small Things is pure poetry. Arundhati Roy casts a sharp eye on a pair of fascinating twins and the caste system in India. The book will nourish your brain with its imagery. In The Metal Shredders Nancy Zafris writes about blue collar workers in Ohio with her usual compassion and utterly unique humor and sensibility. - Jane McCafferty, Carnegie Mellon professor of English, author of the novels One Heart and First You Try Everything