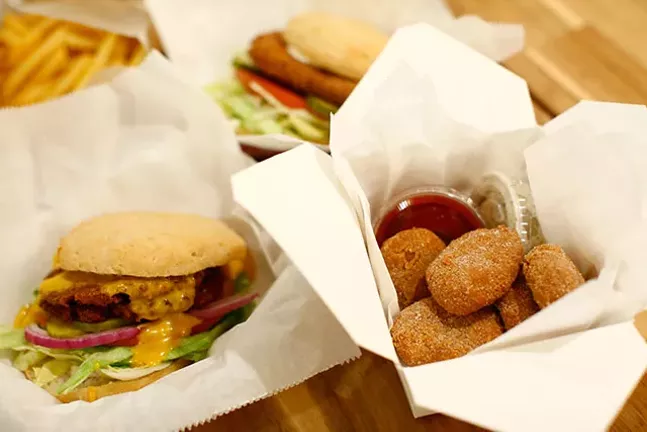 When crumb. left Smallman Galley in January, the vegan community mourned the loss of yet another dining option. Abbigail Marie Hansel, creator of the plant-based eatery, was the first chef to bring an all-vegan menu to the food hall; her comfort food was sorely missed the moment it left.
But the loss was short lived. In mid-May, Hansel launched another version of crumb., this time using fast-food as inspiration for the late-night "plant-based pop up experience" in Garfield.
Crumb. is Hansel's second all-vegan venture.
In 2016 she started Relish, a doughnut and brunch pop-up. In late 2017, Hansel announced plans to open a permanent shop in Bloomfield. Less than a year later, after a successful Kickstarter campaign, Relish was forced to vacate its building due to construction issues.
In December 2018, a few months after Relish moved out of Bloomfield, Hansel brought crumb. to life inside Smallman Galley through a month-long pop-up. It was a sharp, savory turn from her menu at Relish (though pastries still made a regular appearance). Her menu, full of plates typically off-limits for vegans — wings, burgers, biscuits and gravy — was an immediate success. Once January hit, crumb. and Hansel disappeared once again, promising there was more to come.
Hansel returned to the scene in March, assisting with the first dinner menu at Gluten Free Goat Bakery & Café in Garfield. Two months later, she announced plans for her nighttime pop-up in the same space.
When I walked into the Gluten Free Goat late on a Friday night, I had no idea what to expect. Vegan fast-food sounded like an oxymoron. Everything to love about the cuisine was anchored in my ability to eat anything.
Hansel proved me wrong.
The menu looks like every other fast-food joint until you take a closer look. There are four burgers, two "chicken" sandwiches, fuggets, fries, and a few homemade sauces. At the bottom, it notes that the menu is totally vegan and gluten-, soy-, corn-, oat-, and peanut-free.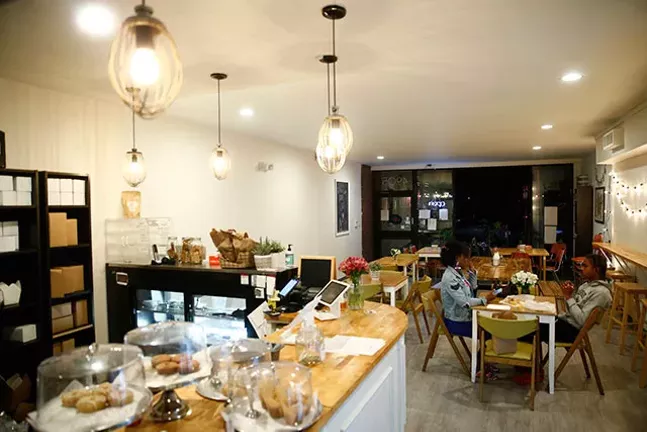 Fries and fuggets (fake nuggets, as the menu described them, were "a garlic bread, chickpea, poultry seasoning hybrid" that was deep-fried) were fantastic, the perfect vessels for Hansel's sauces. Her cashew ranch was full of dill, creamy, and thick; the "hot honee" packed a punch of heat that was mellowed beautifully by the sweetness.
Hansel's Cheese Thicc burger was stacked high with four patties, cheese sauce, and fixings. If I was more accustomed to plant-based patties and vegan cheese, I think I would have been sold on the sandwich (my vegetarian companion loved it). But without the experience, I found the substitute lacking.
Her gluten-free bun, however, was a triumph. It escaped the gluten free stereotypes — dry and crumbly — and instead, was moist and slightly dense. With Hansel's bun on my side, I didn't miss "real bread" at all.
My table was full of friends with food restrictions: two gluten-free and one vegetarian. Crumb. gave them, along with the neighborhood, a chance to eat from a menu without asking, "is this gluten free?" or "does this have meat in it?" Hansel created nostalgic, plant-based food that's delicious for all-eaters, and not just vegans.
Favorite Features

1. Pastries
Hosting a pop-up in an established bakery has perks. Need a sweet finish? Peruse the pastry case.

2. Packaging
Crumb. feels like a true fast food joint, even in their packaging. Burgers are wrapped in paper and fries in thin, wax paper bags.

3. Delivery
Hansel's late-night treats are available through GrubHub until 2 a.m. You can even pre-order them!
crumb. Gluten Free Goat Bakery & Café, 4905 Penn Ave., Garfield. crumbpgh.com