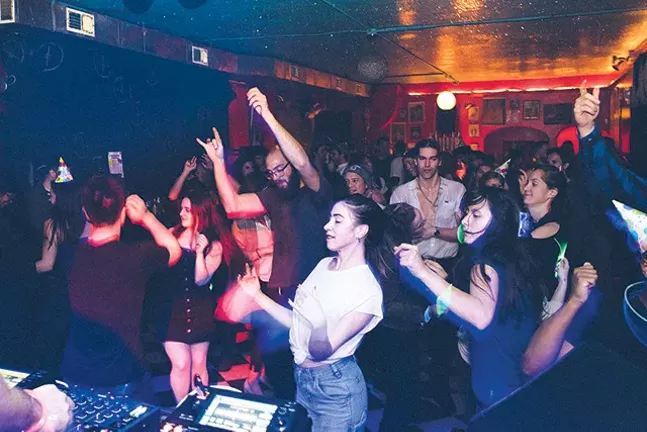 None of the four founders of DJ union Longturn Music are from Pittsburgh. To find their niche in a new city, they started attending electronic music shows and found that the environments weren't that welcoming to newcomers. They felt like interlopers in the local house and techno music scene.
"When we first moved here respectively," says Brendan Barstow, one of Longturn's founders and current head of social media, "we all found parties that we liked and occasional shows that we were into, but overall it seemed like those scenes were insular. Or like, you had to be in the know, and it felt a little inaccessible for us as outsiders coming into Pittsburgh."
The idea for Longturn Music was born. The intention was to create a music collective that would link people that might not have otherwise met and to make the underground techno and house scene feel more like a community, rather than a one-off party every few months.
"We wanted to create more of a feel of getting to know each other and building more of a deeper relationship with the people that come so they could be like, 'Hey, every month I know these guys are throwing a party, and I know there will be people I know there,'" says Barstow.
A passion project rather than a source of income, the three Longturn officers – Barstow, Liam Regan, who's head of business, and head of booking, Elias Menninger– have 9-to-5 jobs. They plan events, book acts, and run the collective during their free time.
"Right now, we all have pretty intense day jobs," says Barstow. "Sometimes it can be tough, like we'll be posting stuff or discussing booking over a lunch break, but most of the time the two don't overlap. Honestly, it's a really cool balance."
In addition to working a second shift to make the DJ union possible, they wanted to bring Pittsburgh ties and the blue-collar work ethic into their creation. During the manufacturing boom, factory workers would work 12-hour day or night shifts. In order to switch shifts after two weeks, one of the groups would work 24-hours straight. That all-day labor was called the "longturn." While learning about Pittsburgh history, Menninger and his dad came across that information and felt the name was perfect for the collective.
Unlike the factory workers, Barstow, Regan, and Menninger don't make any money from Longturn Music. All the income goes right back into the business, giving them more freedom when planning events.
"To not have to worry about whether it's going to pay bills liberates us to be way riskier and more exciting with our bookings and what we make our parties like because we're not thinking 'How are we going to make money?'," says Barstow. "We're thinking 'How are we going to make this an awesome time?'"
Since creating Longturn a little over a year ago, the attendance at shows has unexpectedly grown. The first show the collective held had a decent turnout, but it was mainly friends and friends of friends who came to support, but weren't necessarily into the genre of music.
At the most recent Longturn event, Kill Frenzy – a Belgian DJ – played at Spirit. Barstow says 400-450 people attended. "I knew like 50 of them, which is crazy to me because that means people are finding out about us through the music and more organically, it's not just friends."
The first Saturday of every month, one of Longturn's resident DJs plays at Brillobox, the collective's home base. The group also brings in acts from out of town, mainly DJs from Europe and the U.K. because house and techno music is significantly bigger overseas than in America.
"Our resident DJs are really strong, but in terms of getting people interested that otherwise don't know what we're doing, bringing in a bigger name brings in so many different faces who might not otherwise check us out," says Barstow. "But we always want to make sure that when new people come to our parties that they feel welcome. We don't want them to feel like an outsider and have us create the same experience that we came into."