The scene at 8:27 p.m. Nov. 13, 1971, on the Ohio River Boulevard in Edgeworth was of Frank Capra-like innocence: A station wagon full of seven boys -- one of them celebrating his 16th birthday -- waiting to turn into the local Burger King so they could get some burgers on a crisp, fall, Saturday night.
The parking lot was less than 30 feet away. The car would never make it. By 8:28 p.m., four of the boys inside would be dead.
What happened in that minute began a long period of collective grief throughout the Sewickley Valley. In the weeks and months afterward, people rallied around the survivors and buried those who died. But the heartache -- and the hatred for the man who caused the tragedy -- would be harder to lay to rest.
I grew up in Sewickley. I was 5 years old in 1971. Like many people who learned to drive at Quaker Valley High School in the 1970s and 1980s, I still have a heightened sense of awareness when driving along the boulevard. The old Burger King has since been rebuilt, but it never failed to bring back the horror. And the memory of the accident has shaped my driving habits: When I'm waiting to make a turn, I never turn the wheel until I'm actually ready to begin moving -- because an urban myth claimed that this might have saved the lives of those four boys.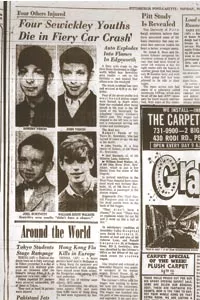 Three years ago, I moved back home after an 18-year absence. And through conversations with those who'd remained in Sewickley, I discovered I wasn't the only one who still held on to these patterns and memories.
One day about six months after I moved home, I ran into a relative of one of the boys in that car. We caught up on our history, and the conversation turned to the crash.
"I heard that guy who did this was killed by the Mafia," she told me.
People in Sewickley have been saying that for years, though I never gave it much credence. But now I began to wonder if it was true. I began interviewing the survivors and the families of those who died. I dug through news stories and police reports. I learned that the crash spawned urban legends, and may have saved an untold number of other drivers. Over nearly 40 years, it spawned not just heartache but compassion, strength -- and even forgiveness.
As one resident told me: "It was our Columbine."

The seven boys crammed into that station wagon that night were sons of a steel worker, a landscaper, a cabinet maker, an electrical engineer, a laborer and a salesman. But despite their varied backgrounds, and Sewickley's upper-crust reputation, they all lived within a mile of each other.
Even so, none of the boys would have been in that car if it wasn't for a coincidence involving a pair of last names.
Home-room assignments in Quaker Valley Junior High were made in alphabetical order, and two of the boys, David Burtnett and Tony Brunette, started each day of seventh grade side-by-side. They lived just a half-mile apart -- David in Osborne, Tony in Sewickley -- and found a common interest in bowling. "He was the better bowler, but I wasn't bad," David, now 54, said recently.
David, whose father was a salesman for Dravo Shipbuilding, was often lonely, thanks to severe allergies that resulted in acne-like breakouts which confounded doctors for years.
"Kids called me names: 'pizza face,' 'scabbie,' 'Uncle Festus,'" Burtnett says today. "I hated school. I just hated it."
Tony, the son of a steelworker, was more gregarious and confident. "I felt bad for the other students making fun of him," Tony, now 54, says.
So on that November night Tony, then 16, and David, then 17, planned to do what they did on most Saturdays: go bowling at the Baden Lanes.
Ordinarily, it would have been just the two of them riding in the Burtnett family's brand-new 1972 Dodge Monaco sports wagon, a blue car with faux wood paneling. But shortly before the two left the Burtnett home at 8 p.m., David's 12-year-old brother Joel asked to come.
Joey, as everyone in the family called him, was a sweet-natured sixth-grader who wanted to be a mechanical engineer. He liked to play with his trains and Matchbox cars, and always wanted to hang out with his big brother.
"We got in a big fight and I initially left him at home," David said.
But Tony talked David into going back home and taking his brother. "Otherwise he wouldn't have been with us that night," Tony said.
"It was just kind of weird the way things happened that night; weird, like it was supposed to happen," David recalls. "Why did I go back to get Joey? Why didn't I go onto the Boulevard in Osborne?"
But instead of getting onto Ohio River Boulevard as quickly as possible, David decided to drive through Sewickley's Beaver Street business district instead.
On the way, they passed Sewickley's teen hangout: the corner of Beaver and Locust Place. Nearby, the one-screen Sewickley Theater was showing Stanley Kubrick's 2001: A Space Odyssey. As they passed the Thrift Drug, located across the street from the Isaly's ice cream, they heard four guys they knew holler: "You guys run us to Burger King?"
In the group were cousins John and Bob Vescio, who lived five blocks apart in Sewickley; Scott Walker, who lived in a home right on the Boulevard in Sewickley; and Ernie Russo, who lived in Edgeworth just 200 yards from the Burger King.
Bob had turned 16 that day. He was a junior honor student who liked to take things apart and put them back together. Scott, his best friend, was also a junior honor student, a Boy Scout who delivered the local weekly newspaper and wanted to be an electrical engineer.
Ernie, then 17 and a junior, was the biggest in the group, over 6 feet and 200 pounds. The youngest of eight boys, he played football with Bob. His parents were from Italy -- four of the boys were Italian -- though his dad had died six years earlier.
John, 16, and a junior at QV, loved baseball, and was the youngest of seven children. He was born in Italy; at age 3 he came to the U.S. with his mother to join his father, who'd started a cabinet business here.
They all piled into David's station wagon: Ernie sat up front, forcing Tony to sit in the middle of the front seat, while Bob, John and Scott squeezed in back with Joey. It was a tight fit, but only a half-mile drive to Burger King.
"They were good kids, not going some place bad, whipping it up, you know?" Scott's older sister, Eileen Maranuk, recalls today. "I mean, they're going to Burger King. What kind of trouble could you get into going to Burger King?"
Earlier that day, Ronald R. Carpenter had woken up at about 11 a.m.
Carpenter was 31, a divorced father of three who lived with his mother and stepfather just outside Osborne. A truck driver at the nearby Dixmont State Hospital , Carpenter contemplated going hunting, but decided it was too hot. Instead, he took a bath, got dressed and at about 3 p.m. went to the Sewickley VFW.
Carpenter later told investigators that he had two water-and-whiskey drinks while watching football at the VFW. He left about 4:30 p.m., went over to a friend's house and then made his way over to a Sewickley bar, Bobby's Nitelife. By that time, he was so drunk that a bartender refused to serve him, according to police and court records.
Carpenter stayed for more than an hour, talking with a friend, before getting in his 1967 Ford Galaxie convertible and heading down to the Boulevard.
At about 8:25 p.m., an off-duty Haysville police officer, Paul Cernansky, was sitting in his squad car. He was waiting for his wife to finish shopping when he noticed Carpenter gunning his engine while waiting at a stoplight where Chestnut Street meets Ohio River Boulevard
When the light turned green, Cernansky recalls, Carpenter's tires squealed as he turned right onto the boulevard, heading toward the Burger King.
Cernansky took down Carpenter's license plate number, vowing to call it in after he got his wife home.
"I noticed him going down the Boulevard and I said to my wife: 'I hope he makes it,'" says Cernansky, now 82.
Just up the street, David Burtnett had pulled to a stop, just in front of the Burger King. Turn signal on, tires pointed to the left, he was waiting for oncoming traffic to pass so he could pull into the parking lot.
"I didn't see him. I didn't hear him," Burtnett remembers. "It happened so quick. It was boom! And then fire."
Carpenter, driving at speeds investigators estimated at 62 mph in a 40 mph zone, struck Burtnett's car. Carpenter hit the station wagon's left rear side, where its full, 20-gallon gas tank was located.
The impact drove the station wagon's rear compartment into the back seat, ripping open the gas tank. A spark ignited, and a fireball exploded through the shattered windows, spreading across the width of the four-lane road. The collision forced Burtnett's car into oncoming traffic.
David, the only one in the car wearing a seat belt, was also held up in the seat by the steering wheel. Tony was shoved onto the floor under the dashboard. The impact drove Ernie's head into the dashboard, opening a deep gash over his right eye. But he was the first to jump out.
"I went to the back door and grabbed hold with both hands and put all my weight on it to get the other kids out," recalls Ernie, 54, who now works as the custodian at Edgeworth Elementary School. "But the door wouldn't open."
He burned both hands trying, and he went to get help as flames and smoke enveloped the car.
The driver's side door was jammed shut, so David went across the front seat for the passenger door, unknowingly crawling over Tony.
His hands already burned, David too tried to open the back doors. As the flames grew, he ran in front of the car yelling: "My brother! Get him out! He's in there!"
Tony had been knocked momentarily unconscious. And because he was sitting in the middle seat -- where, unlike the driver and passenger seats, there is no head rest -- his head was hit by the flying gas.
His head on fire, his polyester bell-bottom pants ignited, he scrambled out of the car, screaming. Two people saw him, grabbed a tarp from their pickup truck and ran after him, smothering the flames.
Carpenter was knocked unconscious. Someone pulled him from the car and laid him in the Burger King parking lot. Eventually he would be treated for numerous injuries, including three fractured ribs.
Someone grabbed David and sat him down on a curb next to Tony, whose head was charred black and smoldering.
"Joey's gone," David told him. "Joey's gone."
So were John, Bob and Scott. Tony would soon wish he had died, too.
Edgeworth Police Officer James Creese witnessed the crash in his rear-view mirror: He'd been 200 yards up the boulevard, waiting to make a turn of his own.
He went to interview Carpenter at Sewickley Valley Hospital. Carpenter had regained consciousness, but still smelled of alcohol, according to a police report.
Assisting Creese was a Bell Acres officer, James Russo -- Ernie's brother.
Breathalyzer exams were rare in 1971, so Russo asked Carpenter to have some blood drawn to test his blood alcohol level. Carpenter turned down the request, according to police reports.
Later that night, after the bodies and cars were removed, Creese examined the roadway. Some witnesses thought Carpenter had tried to brake -- and Carpenter himself said he tried to stop -- but Creese found no skid marks.
One by one, the fathers of the four boys who died were called to the Allegheny County Morgue to identify their sons. All of them were burned beyond recognition.
"My brother had a 10 p.m. curfew and when he didn't come home on time, Dad was really upset because it just wasn't like him," said Eileen Maranuk, Scott's older sister, now 58. "Then he saw the 11 p.m. news, and right after the police called and he had to go down and ID Scott's belt buckle and ring. That was all he could ID."
A few months after his release from the hospital with minor injuries, Carpenter went to trial, charged with four counts of involuntary manslaughter.
The five-day-long trial in March 1972 was prosecuted by Terrence McVerry, now a federal district court judge in Pittsburgh. A series of witnesses testified that Carpenter was drunk before and after the crash.
Carpenter's attorney, the late Byrd Brown -- a noted civil-rights champion and head of the Pittsburgh NAACP -- argued that there was no real proof that Carpenter was drunk. But the jury deliberated less than three hours before convicting Carpenter. He was sentenced to 11 ½ to 23 months -- the standard sentence at the time. He was paroled after four months.
"It was a joke," says Frank Vescio, 69, John's older brother. Back then, drunk driving "was like a misdemeanor. There was so much bitterness, but there was nothing I could do about it."
"It was accidents as horrific as this that spawned Mothers Against Drunk Drivers and spurred the tremendous impact they had," says McVerry today.
The short sentence was only part of what bothered the grieving families, though.
"He never apologized to us -- never," recalls Mary Jane Farrar, 66, Bob Vescio's older sister.
The families also sought justice from Chrysler, the maker of the Burtnett station wagon. The Burtnetts, the Brunettes and the Walkers filed civil suits alleging that the car's side-mounted gas-tank design was defective. Nearly four years after the crash, the two sides reached an out-of-court settlement. Each family got $90,000 from the company (one-third went to their lawyers). Perhaps more importantly, Chrysler had changed the gas tank's design in 1974, shifting it from the left side of the car to beneath the floor.
In documents filed during the lawsuit, the company claimed it changed the design because of "interchangeability and capacity considerations" -- not because the design was dangerous. But Louis M. Tarasi Jr., a Pittsburgh attorney whose firm represented all three families, said Chrysler "can say what they want. It's obvious why they changed the design."
Yet there were many who felt that justice had not been done to the crash victims. Even before the jury rendered its verdict in Carpenter's case, rumors circulated that he might face more dire punishment outside the courtroom.
Bob Haley, who'd been driving in the other direction when the station wagon struck his car, says that during the trial, one of the boys' relatives "told me they didn't care what Carpenter got [for a sentence] because they were going to take care of it."
And four months after Carpenter was paroled, he was allowed to leave the state because he said had been "subjected to harassment from unknown parties and has been unable to secure gainful employment," according to court records.
In Carpenter's absence, rumors began springing up. Relatives of the boys said they heard that before he moved, Carpenter received a black rose. Others heard someone had painted a black hand on his doorway. Both messages would mean he was targeted for death by the Mafia.
But in the John Vescio household, at least, there was little thought of vengeance. "All my Dad would say is: 'He's gonna have his day.' He meant Judgment Day. We weren't an eye-for-an-eye family," Frank says.
John Vescio's mother, meanwhile, "built shrines. She had candles by his pictures. ... His bedroom was always the same for 20 years. The same clothes were laid out, the pictures, the mementos from school.
"That's what killed my mother. ... It'd eat her up, this grief."
For David Burtnett's parents, the grief was mixed with the knowledge that David had survived.
"My dad was a pretty tough person. It bothered him, but he was never one to let it show," he says. "I don't think my mother ever got over it."
For years, he says, the family held memorials, and his mother kept a folder in a cabinet with news clippings about the crash and its aftermath. Eventually, his parents retired, bought a motor home and traveled the country.
"It got [my mother] out of here and that was good for her," Burtnett says. Not that anyone spoke about it: "It hurt so bad, no one really talked about it a whole lot," Burtnett says. "I just kind of kept it to myself till later in life."
Outwardly, at least, Ernie and David suffered little damage from the crash. Both had minor injuries which healed with weeks. Ernie credits the thick, brown suede coat he was wearing that night -- it was partially burned, but did not ignite -- for saving him further injury. For six years he wore his "lucky jacket," until his mother told him it was starting to make him look like a bum.
Though the scar on his forehead is still visible, Ernie said it's the anniversary every year that brings the accident back. Ernie, who was never close with David or Tony, hasn't seen either of them in more than 30 years. But like nearly everyone connected to the crash, he still avoids using the boulevard if he can.
What haunts him most is the memory of a picture he glimpsed during the coroner's inquest. It showed the body of one of his friends burned beyond recognition "like charcoal," he says.
"I still have nightmares about it," says Ernie.
Tony's scars were far more obvious. He spent four months in the West Penn Hospital burn unit, undergoing torturous treatment for burns over 54 percent of his body. His entire head, both legs, both hands and his left foot had all suffered third-degree burns.
The first, most painful, treatment involved removing the dead skin cells as the body began healing.
"With third-degree burns like I had, initially there's no pain. But as your nerve endings start to heal, that's when you start to get the pain, a couple weeks after the initial trauma," he said. "Oh, I remember the pain. Unbelievable pain. There's just no words to describe it."
On March 4, 1972 -- six days before Carpenter was convicted -- Tony Brunette returned to his family's home.
"I cried when I left" the hospital, Tony remembers. "The staff was my family. I didn't know anything else. I was safe there."
The physical pain would ease -- although never completely, due to the 35-and-counting surgeries he has had to date. But his emotional pain and social struggles were only just beginning.
Tony was one of the first burn victims in the region to wear the scar-reducing mask, gloves and wrap -- the pressure from them prevented the repairing skin from building up scar tissue -- but it drew unwanted attention for the two years he wore them.
Once during that time, some Pittsburgh cops stopped him outside of Three Rivers Stadium and told him to take off the mask, before they realized why he had it on. Another time, several nuns outside of West Penn Hospital asked if he was getting ready for Halloween. "My dad was with me and he almost lost it that time," Tony said.
"There was a time I didn't like mirrors. I quit looking in mirrors," he adds. "I didn't really believe that was me. You had to touch yourself to know it was you." Even today -- after numerous surgeries and skin grafts have helped enormously -- it is still obvious Tony suffered significant burns, most notably around his ears, which were nearly burnt off.
Early on, he admits, he wanted to go back to the hospital. "In the burn unit, everyone there has a burn of some kind and they can all relate to you. When you come out into the real world, then you have to deal with kids.
"Young teen-agers even today still make fun of me. I'm used to it."
Tony began psychotherapy, but it was his friendship with David that helped him most -- for a time.
For the first couple of years after the crash, the two had drifted apart, because it was so awkward seeing each other.
Because he'd been driving, David says, "deep inside there was some guilt" about the accident. "What could I have done differently? What if I had gone down a different street?" And now their situations had reversed: It had once been David whose face was scarred, and attracted unwanted attention.
But Tony, to his own surprise, fell in love and married a woman five years after the accident. David also got married, and the two young couples became fast friends -- even though the men could no longer bowl together: The burns had destroyed the tendons in David's hands.
But in 1981, Tony and his wife separated -- and she had an affair with David. Tony says he's to blame for problems in his marriage; he'd had an affair of his own. Still, he says, shaking his head, "My best friend." He has since remarried, but says "that's where my relationship with David ended."
David eventually married Tony's ex-wife. The two now have three children and live in Georgia. "It was hard on all of us," is all David will say of the break-up.
What got Tony through, perhaps, was his decision to turn his trauma into something positive. Inspired by the medical care he received, Tony became a nurse, working for 13 years in the trauma unit at Allegheny General Hospital. He later worked in the burn unit at West Penn Hospital, where he'd been treated.
"It probably took till I started in nursing in 1979 to begin dealing with it," he says. "I started working with the patients and seeing what happens to people, the horror stories.
"I think God had a reason to save me, and I think it was nursing," he said. "Because I use my burns to help other people."
Many myths arose in the wake of the crash, some of which have persisted until today.
One was that Carpenter was being chased by Officer Cernansky when he struck the station wagon. He wasn't. And for years, Quaker Valley students have been taught that, when waiting to make a turn, they should keep their tires pointed forward until they were actually beginning to move. The widespread belief was that if Burtnett's car hadn't swerved into oncoming traffic, it might not have exploded. That wasn't true either, although experts say it's a good idea to keep your tires pointed forward anyway.
But the most pernicious rumor was that the Mafia had murdered Carpenter. Almost everyone I interviewed for this story had heard the rumor. And the stories were very specific, even though they varied widely: A truck had hit him and the driver was never caught. He was found dead floating in a swamp. Someone shot him on the street outside his home.
Mary Jane Farrar, Bob's older sister, hated hearing those stories.
"They kept saying that just because we were Italian," she told me recently.
And in fact, Ronald Carpenter is still alive.
With a little luck, and with access to court records and other available documentation, I found him living in a small southern town. He lives in a comfortable ranch home that has a country-style wooden sign just inside the front door that proclaims "God Bless America."
"I really don't like to talk about that," was the first response he gave me after I introduced myself.
He didn't come across as the uncaring ogre some people had imagined. A white-haired, shuffling man of 68, he seemed nervous, wracked with guilt.
"There's a lot about the accident people don't understand," he told me. "I couldn't have suffered more than the people who lost the children. But you don't know how many times I've asked: Why'd I live? Maybe I should have died. Sometimes I wish I did.
"They say time heals all, but, I don't know if that's true."
Was four months in prison enough time to pay for what he did?
"What about 36 years?" he asked. "That's a long time. That's been my real sentence. I've never been able to escape it."
Carpenter gave varying explanations about what happened the day of the crash. At one point, he denied being drunk -- "Anyone can smell of alcohol after two beers," he says.
But later in our 90-minute conversation, his wife, Marlene, told me, "You know, he hasn't had a drink in 35 years."
"It didn't appeal to me anymore," Carpenter explained.
But his wife corrected him: "Because of this awful accident is why."
In the years since he got out of prison, Carpenter built a new life for himself, retraining as a machinist. A 1975 fall at that job broke five vertebrae is the cause of his shuffling walk. He is now retired.
"I was a good person before this accident, and I was a good person after the accident," said Carpenter. "People say I was a bad person. They don't realize I worked two or three jobs to support my kids. ... I wasn't a bum. I worked hard."
Carpenter says he has no recollection of anyone leaving behind black roses or black hands at his house. But he and his wife say that after he got out of the hospital and prison, there were three or four incidents in which several men came banging on his door in Sewickley late at night. They told him they had guns, and that they wanted him to come outside.
Carpenter says he was so afraid for his life that he has never returned to Pennsylvania, even though his now-grown children still live there. He consented to an interview only if I did not reveal his precise whereabouts.
Also painful was the way his friends drifted away, leaving his wife as his sole source of support. Carpenter says his parents, too, "had a very hard time," because their friends no longer wanted to be associated with them.
"Let me tell you about friends," Carpenter says. "You know people who say they have a lot of friends? Well, when it comes down to it, you're lucky if you have one or two."
And while grieving families thought Carpenter was unfeeling, he says that after the accident he was merely numb. "After something like this happens your mind wants to block things out," he later wrote in an e-mail. "I didn't even remember the lawyer or what happened in court. I was like a robot then, people just made sure I was there for whatever."
At the time, he's convinced, an apology would have been unwelcome anyway.
"There was so much anger and hate for me," he said. "I couldn't say I was sorry. I couldn't go to the funerals. If I sent them anything, they'd just throw it in the trash."
"I don't ever expect anyone to forgive me so I will carry this demon with me for the rest of my life," his e-mail said. "The past is the past and I can't change that, but I do apologize for it."
During my visit, I told Carpenter that Tony in particular wanted him to know he forgave him. As I was on my way out the door of his home, Carpenter stopped me.
"If you talk to Tony," he said, "please tell him I'm sorry."
If it's hard to apologize, it can be even harder -- and more complicated -- to accept the apology. Especially from someone you thought was dead.
The family members of the boys in the crash had mixed responses to the news that Carpenter was still alive, and that he expressed remorse. None said they wished him ill, though some were indifferent to his sorrow.
"It's too far gone. It's been too many years," says Frank Vescio. "Maybe if he had said this at the trial or something, it would have made a difference."
But most were glad to hear an apology.
"It does help," said Mary Jane Farrar, Bob's older sister. "I don't think I ever blamed him to begin with. If I had, I would have had a harder time with my brother's death. I just felt God wanted him. But it's good to hear an apology."
Bill Vescio, 55, Bob's older brother, agreed: "We were raised Catholic and we learned to forgive," he says. Doing so "made me a better person. I know I raised my kids differently than I would have. I'm much closer to them. I don't take them for granted, because you never know how long you'll have them."
David, who long blamed himself for the crash, says that while it's nice to hear an apology, "After all these years, I don't care one way or the other. He'll get his due. He's got to feel guilty. And to live with that the rest of your life? I couldn't."
But for Tony, who has spent much of the last four decades in self-examination, hearing an apology from Carpenter "means a lot," he says. In fact, while I was reporting this story, Tony asked me for David's phone number, and the two men spoke for the first time in 26 years. Neither man was sure the two could reconcile, though Tony says, "I'd like to."
As for Carpenter, Tony says, "I don't want him to have that guilt on his shoulders. That's too much for anyone."