Mass transit is considered an environmentally friendly means of transportation. Each passenger on a bus or light-rail car, after all, is one less driver in a car clogging up the roads and creating emissions. But as anyone who's ever been caught behind a bus knows, transit vehicles have their own emissions problems. And environmentalists say that Pittsburgh has just started down the road to a more sustainable transportation network. 
Efforts to make buses more environmentally sensitive are already underway. Allegheny County's Port Authority boasts of purchasing cleaner-burning diesel fuel since 1991, a move it estimates has reduced emissions of particulate matter — sooty particles that can aggravate breathing problems— by 96 percent. The authority also currently operates 32 hybrid diesel/electric buses, which generate fewer smog-causing emissions and get better gas mileage.
Local officials espouse a more sweeping change: converting the entire bus fleet to run on compressed natural gas. Allegheny County Executive Rich Fitzgerald — who has championed natural-gas drilling in the Marcellus Shale — has been a vigorous proponent of the move. In fact, the authority's lack of progress on the issue was a key reason he gave for ousting the transit agency's former CEO, Steve Bland. 
But there's a cost to the conversion. The Port Authority operates roughly 700 buses; converting the fleet would cost $49 million. New fueling facilities and other upgrades at just two garages where it's feasible would cost between $15 million and $20 million, the authority estimated last year. And in recent years, the authority's more pressing challenge has been keeping existing routes running.
"We're all for this if we can make it work and somehow find that right partnership so that those transition costs ... are covered," says authority spokesman Jim Ritchie. "There is a potential benefit obviously, considering the price of gas right now. We're still exploring it."
Communities elsewhere have been reaping the benefits of such a conversion: In California, the entire Los Angeles County Metropolitan Transportation Authority fleet runs on compressed natural gas. "Obviously there has been a reduction in emissions," says Metro spokesman Rick Jager. (Such efforts have been financed by L.A. residents, who voted in favor of supporting mass transit with a 1.5 percent sales tax.) 
The Metro system is experimenting with other approaches as well. Using federal grant money, it has converted two heavily trafficked corridors into "high-occupancy toll" lanes. Driving on them requires using a special transponder — but only solo drivers are charged to use them. The goal, says Jager, is to reduce traffic while encouraging carpooling.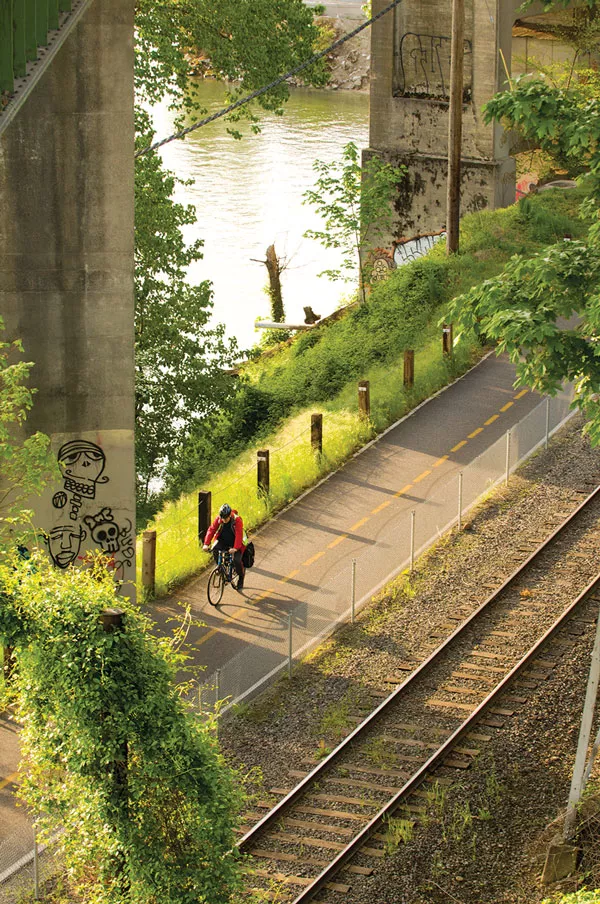 "It's really trying to change commuting behavior in Los Angeles," says Jager. "We're car-crazy here."
Portland, Ore., is encouraging commuters to do away with internal-combustion engines entirely. It frequently earns accolades as a bike-friendly community, including a platinum rating for bikability from the League of American Cyclists. Among its efforts are "greenways," city streets dedicated primarily to walking and bicycling and connected to mass-transit options. While cars can still access the streets, there are speed bumps placed every two blocks in addition to signage.
"The most fundamental thing is looking at the shape of community," says Michael Armstrong, Portland's sustainability manager. "So over time, we want to have a community that people want to live in, to make sure we can thrive and succeed from a quality-of-life and equity perspective ... without relying on fossil fuels."
Green advocates say there is room for similar experimentation in Pittsburgh.
"We very much see [transportation] as needing to be a comprehensive strategy," including non-motorized transportation, public transit and more efficient passenger vehicles, says Lindsay Baxter, project manager for the Pennsylvania Environmental Council. The council is a co-convener of the Pittsburgh Climate Initiative, which seeks a 20 percent reduction in greenhouse-gas emissions by 2023. The initiative recommends a slew of approaches, ranging from encouraging non-motorized transportation, ride-sharing and telecommuting to incentivizing hybrid vehicles and using alternative fuels — like the bio-diesel fuel the Port Authority already uses. 
Baxter says the road to sustainability, like every road in Pittsburgh, is complicated. "We are never going to get every single person to use a bike or a bus."