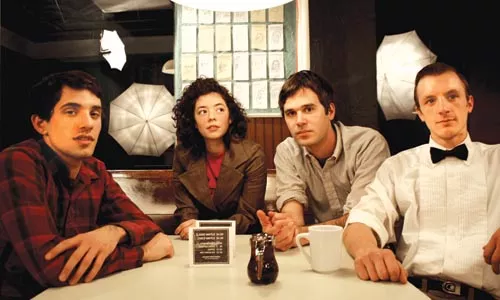 The singer-songwriter is often cast in a solitary role, even when he or she employs backing musicians. Though his Americana-infused songs can partake of that isolation, Lohio's Greg Dutton is the kind of songwriter who craves the camaraderie of a band -- one who works best in a community setting, and who has done much to help build up those in his larger musical circles.
"I never felt comfortable enough to promote 'Greg Dutton' as an entity," he says.
At home one evening in his Lawrenceville bachelor pad, Dutton talks about his role in that larger circle, but also more personal details -- such as his trademark Western shirts. The presence of books like American Houses: A Field Guide to the Architecture of the Home -- and the fact that his first description of a recording studio is "a Cape Cod" -- are clues to his day job, with a Squirrel Hill architecture firm.
Originally from Ohio, Dutton relocated to Pittsburgh after college, where he soon discovered a circle of musical friends -- such as Boca Chica's Hallie Pritts -- and started Lohio.
"It was just a bunch of people that were talented in their own bands, that had time to help me, but aside from that, they were friends," Dutton says. Those people included Josh Verbanets and Matt Miller, of Meeting of Important People; Trevor Baker, of Good Night, States; and Blindsider's Craig Smith and guitarist Erik Cirelli. With this lineup, more or less, Lohio released two stark yet arresting recordings: 2007's Sleeping Stereo and last year's History, The Destroyer.
Even though these musicians could have been supporting characters, "It always functioned as much as it could as a band," says Dutton. "Even now, it's not as much me separated from the other people that are playing. We get together and make decisions."
But Lohio's origins came during a period of incubation for several of its members' primary bands; as those bands became more successful, schedules became more demanding and something had to give. Since the beginning of the year, Lohio's had nearly a brand-new lineup: bassist Liz Adams; drummer Sven Stens; and keyboard player Chris Ryan. Apart from Dutton, Cirelli is the only holdover. "The lineup we have now, it feels a lot more like there's a foundation there," Dutton says.
Like its larger circle, Lohio has shaken off its adolescence, and seems more sure of itself than ever. The new self-titled EP, which will be released this Fri., Nov. 20, finds Lohio taking chances that a less-secure band wouldn't consider.
The five-song EP kicks off with "Grandfather's Chaise," an eerie tone-poem divided by a sprawling, Neil Young-ish guitar workout by Dutton. In the background, Cirelli adds atmospheric tension by applying a screwdriver to his guitar strings. It's a weird way to start the EP. The second song, "Waiting for the End of the Summertime," with its upbeat groove and backing vocals by Donora's Casey Hanner, seems the far more obvious choice -- one that might hook listeners early on.
"I felt like that was the most successful song," Dutton says, of "Grandfather's Chaise." "It seemed like a good way, maybe a challenging way, to invite the listener. If people like this song, they're gonna kinda get us."
The song is also indicative of how the band's sound has evolved along with the lineup changes. Dutton, who used to play acoustic guitar almost exclusively, has taken up the electric again with the departure of Verbanets. "I was getting excited about playing electric guitar anyway, around that point," Dutton says. "People were just falling into different roles than they had before."
The EP was recorded mainly live at Jake Hanner's studio in Gibsonia -- the "Cape Cod" Dutton mentioned. "It's a nice, homey kind of space," he says, which added an atmosphere that worked well with the earthy, organic undertones of Lohio's music. Although the band already had several songs ready to record, they were scrapped in favor of five tunes Dutton penned while on a recent trip in Maine. The band ended up recording them as they learned them, instead of road-testing them with gigs.
The disc ends on a melancholy note with "Fold Your Book," the kind of introspective song that Dutton says comes easiest to him, but which he avoids in favor of more inclusive material. And even here, he's not so much exploring himself as his community -- taking in the emotional currents of his friends.
"As you're going through the year, there's different peaks and valleys," Dutton says, and he'd noticed a couple of friends in a valley. "I wasn't directly writing it for somebody, but maybe it was something in the air -- those feelings were a little closer then." As always with Dutton, it seems, there's the interaction with a larger circle. But "even if some of the songs aren't directly personal, it's my personality."
Lohio EP release with Donora and Harlan Twins. 9:30 p.m. Fri., Nov. 20. Brillobox, 4104 Penn Ave., Bloomfield. $6. 412-621-4900