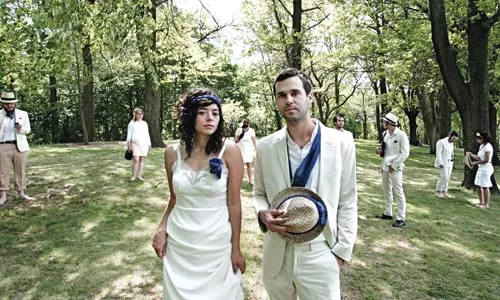 On a recent Thursday night, Greg Dutton is at Artist Image Resources, finishing up some new T-shirts for his Pittsburgh-based group, Lohio. By day, Dutton is an architect -- it's not until the sun sets that he gets to focus on the band. Luckily, Dutton's nocturnal.
"I try to get by with not much sleep," he says, as the last of the shirts dry in the North Side studio.
For Lohio's new five-song EP, Family Tree, out on iTunes Sept. 28, Dutton put his night-owl nature to work. For four weeks this summer, he and bandmates Liz Adams, Erik Cirelli and Paul Smith would leave work, truck up to a studio in Gibsonia run by Donora's Jake Hanner, record late into the night, drive home and do it all again the next day.
"By week four, it was a little bit of a shit show," says Dutton. "I had no perspective on anything; we were just keeping this really intense pace. By the end, we were wiped out. We worked non-stop those weeks."
The result, arriving just 11 months after Lohio's last release, may be the band's best work yet: catchy and colorful folk songs, perfect for summer's slide into fall. In writing the songs, Dutton avoided using his usual acoustic guitar. "When you pick up a new instrument, even a new guitar rather than your normal guitar, all of a sudden new ideas will pop out," he says. "I'm such a novice on new instruments, everything was exciting. The songs came quick."
Once they came, Dutton tore the songs apart and reconstructed them in the late-night sessions. "Adelai," for example, originated as "a pumped-up rock song with a lot of big guitars," says Dutton. On Family Tree, the song is a whispered march that would've fit perfectly on Sufjan Stevens' Illinois.
"With my job as an architect, I was trained to have the initial idea for a design, but then come up with different ideas to solve a problem," says Dutton. "When it comes to a song, that carried over."
Each song's transformation matches Dutton's lyrical themes: change, impermanence, transition. Tucked inside Family Tree's bright, delicate folk music, the heavy themes don't weigh down these songs. The piano-driven opener "Leave the City, Leave Your Room" is similar to "the Walden escape-to-nature thing," says Dutton. "It's about embracing the chapters of life that are fading and the new ones starting up."
Lohio EP Release with Donora. 9:30 p.m. Sun., Oct. 3. Brillobox, 4104 Penn Ave., Bloomfield. $8. 412-621-4900 or www.brillobox.net